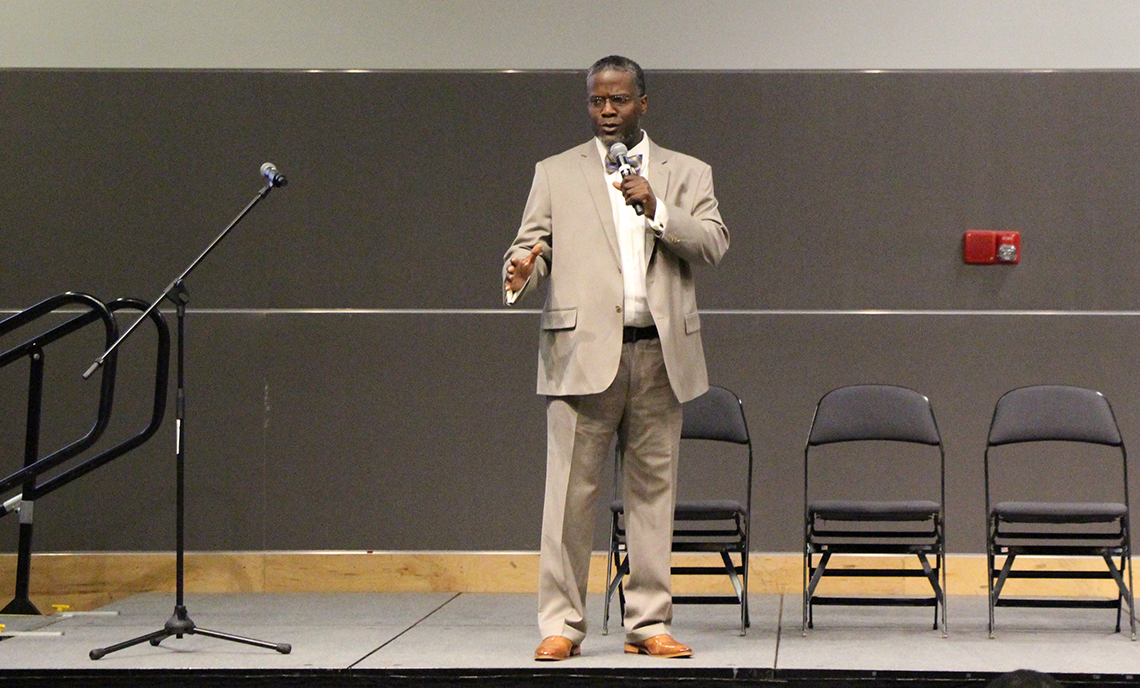 Human Services Grad Turned Uncertainty Into Education
January 24, 2018
For Bryant Watts, the educational journey began with a lot of uncertainty.
Following a 21-year career in the United States Army, Watts found himself wondering what should come next when he retired in January 2012. A desire to help people and interest in teaching and counseling led him to Clover Park Technical College's Human Services program that fall. While the initial process was daunting, he found himself in a supportive environment that helped guide his journey.
"It was wonderful. I had three instructors in a night cohort," Watts said. "The first quarter was very different because I had never been in a structured school environment before, so I started from zero. But the first quarter I did very well. Then the idea came to me to just keep going. I did well again and enjoyed the process, and then my instructors continued encouraging me to keep going."
As he was considered the possibility of continuing his education, Watts hit a road block in finding that some of his credits would not transfer to University of Washington – Tacoma. So he took another big step by dual-enrolling in a direct transfer program at Pierce College. Upon graduating from CPTC in 2014, he was ready to continue his pursuit of a Bachelor of Arts in Social Welfare.
"As I went through the process, I realized I would need more training to do what I thought I wanted to do," Watts said. "The skills I gained at Clover Park taught me to do the research and the critical thinking and ask the right questions. That was very scary for me, because coming out of the Military there was a lot of drive and grit, but not a lot of direction. Clover Park helped me follow through with that."
He uses one word to describe his bachelor's experience at UWT: fast.
"The Clover Park Human Services program covered every aspect of the Bachelor of Arts in Social Welfare, with the exception of in-depth theoretical content," Watts said. "But I was more than prepared for what UW had to offer, and the process was very easy and very fast."
By that point, he was on a roll. The idea came to him that if he made it this far, he could just keep on going. After graduating from UWT in the summer of 2016, he qualified for an advanced standing Master's in Social Work program at University of Southern California, which took him only one year to complete. For someone who began his education with uncertainty, he sure persevered through it.
"I went through the entire process nonstop," Watts said of his educational journey. "I would not necessarily recommend a person do that, as I can't speak for other people about their level of dedication or grit or commitment. For me, there was a drive and a crave for more information, better information and understanding and better opportunities. That drive kept me going through a lot of late nights."
While at UWT, he did practicum work at a local homeless shelter, and he's continued working there in a staff member position. He does a little bit of everything – a little bit of counseling, some very informal case management, a lot of moral support, and a lot of time, patience, empathy and understanding. He says the key is just being there and showing up for people. He also teaches a few courses as an adjunct instructor at CPTC.
"One of the things that's happened with the education is I've gained a lot of agency, so I have the ability to maneuver in and out of a lot of different places and spaces," Watts said. "I can create more options for myself, and that started here at Clover Park. I didn't realize how big of an impact that would have on my life."
Watts says that the educational experience helped him realize who he is and how best to represent that to the world. And barely six years after leaving the Military with an uncertain future and a lack of education, he has earned a master's degree and is putting it to use in the community. And he recommends an education to anyone he can.
"There's a lot of inherent fear with going to school; the process can be overwhelming," Watts said. "However, the more we do it, the better we become at it. I figured I owed it to myself to give it a shot to become involved. CPTC is really active in the community, so I had a chance to do practicum work with a lot of different organizations and groups. I would advise anyone considering going back to college to just do it, if for nothing else but the experience."