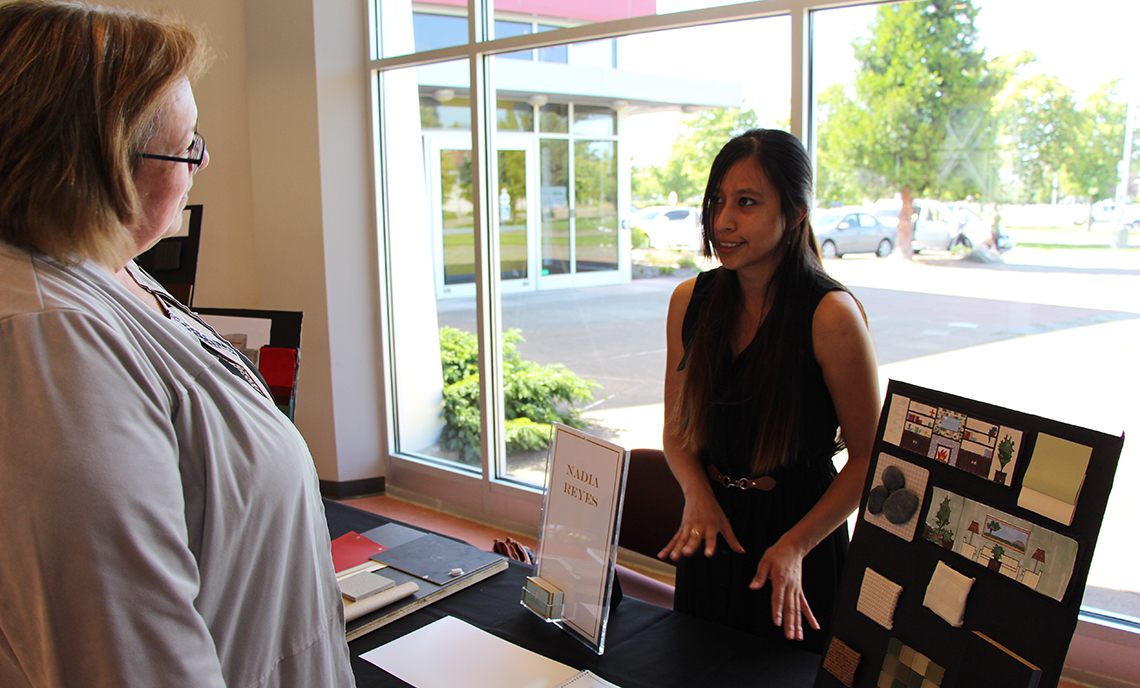 Interior Design Exhibition Showcases Student Work
September 1, 2016
The Clover Park Technical College Rotunda became a showcase for student portfolios on Aug. 26, as six students wrapping up their time in the Interior Design program exhibited their work for potential employers, alumni and members of the campus community.
The program hosts a student portfolio exhibition for sixth-quarter students as they conclude the program. Friday's event marked the first showcase for spring-start students in the program.
"This was our first spring-start group, so it was small with only six students," CPTC Interior Design program instructor Julie Watts said. "This was our first August event, and we invited vendors to have booths as well, so it's a bit different."
Each of the six finishing students had a table to show off their work. As visitors came to examine the diverse portfolios, they could speak with the students and learn more about the work.
"Design has always interested me. I love commercial design, so I plan on going that route for restaurants and hospitality," Amy Denney said. I learned a lot here. It was a really great experience to be in a program that was fast-paced and gets me out into the industry so quickly."
Alumni and vendors are also invited to attend the exhibitions, and the showcase has previously led to job opportunities for the students. Potential employers get a good view into all the students' best work to this point.
"It's an accumulation of all the work they've done throughout the program, including any extra work they may have done outside the program," Watts said.
The open house exhibition lasted four hours, beginning at 2 p.m. and concluding at 6 p.m. That gave visitors plenty of time to enjoy the art and the available snacks, all while interacting with the students.
With the students concluding the program, the exhibition also gave a chance to reflect on the experience.
"I was interested in design because it was hands-on. You get to choose the colors and layout and everything," Nadia Reyes said. "Everyone has their own thing, and I'm really happy I chose interior design."
Share This Story