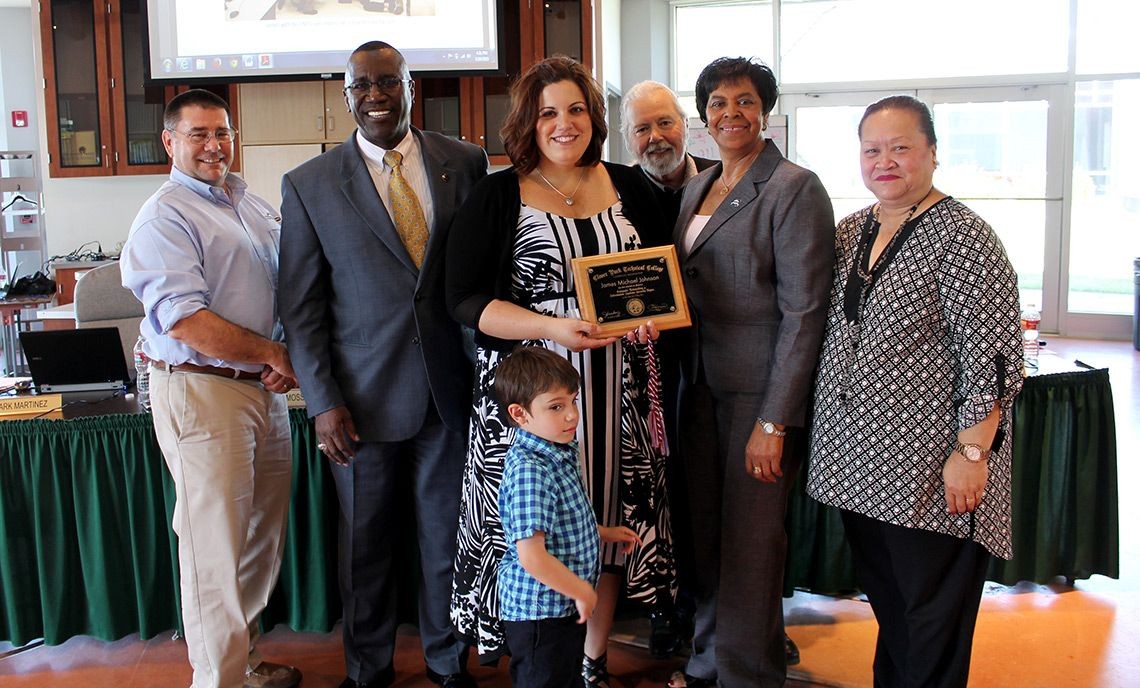 James Johnson Receives Posthumous Honorary Degree
May 21, 2015
When Fall Quarter 2013 started, the first quarter students of the Computer Networking & Information Security Systems Program at CPTC mostly kept to themselves.
It didn't take long for the cohort to become a tight-knight group, almost like family. The class took group lunch breaks at Denny's, and hung out after eight hours of class together.
When the CNISS graduates walk at the 2015 Graduation Ceremony on June 19, they'll be missing one of their own.
James "Jim" Johnson was diagnosed with ALS during Fall Quarter 2014. He planned to return Winter Quarter, but was forced to withdraw due to his health. Johnson passed away on Jan. 11, 2015 at the age of 37.
CPTC President Dr. Lonnie L. Howard presented Johnson's wife, Jacinda Johnson, with a posthumous honorary degree at the May Board of Trustees meeting, in front of Johnson's family, college staff and faculty, and Johnson's CNISS classmates.
"Jim absolutely loved coming to school every day, getting to hang out with the guys," Jacinda said. "It was really cool to see him establish friendships. This program did a lot for his self-confidence."
Jacinda shared that Jim was disappointed to have to withdraw from school when he was so close to finishing the program.
"This is really special," Jacinda said about the degree. "We'll hang it on our wall and show our kids that daddy did it."
When Johnson found out about his illness, he told his instructors but didn't want his classmates to know because he didn't want them to worry about him. Always selfless, Johnson helped his classmates, and shared his skills learned in the military that pertained to the program.
"He was always dependable," said classmate Jeff Chan.
Dr. Howard also presented Jacinda with a veterans honor cord, which are worn by student veterans at graduation. The red, white and blue cord symbolizes Johnson's service and commitment.
Johnson served as a military police officer with deployments to Kosovo, Iraq and Kuwait. His interest in cyber security stemmed from his experience in the military, and the security side of IT caught his attention. He enrolled in CNISS because he wanted to make a difference and "catch the bad guys."
"We knew he would be successful and it's hard to lose a student like that," said CNISS Instructor Kelly Hollowell.
The honorary degree was presented two days after what would have been Johnson's 38th birthday.
"He's definitely going to be missed," said CNISS Instructor Don Souza.