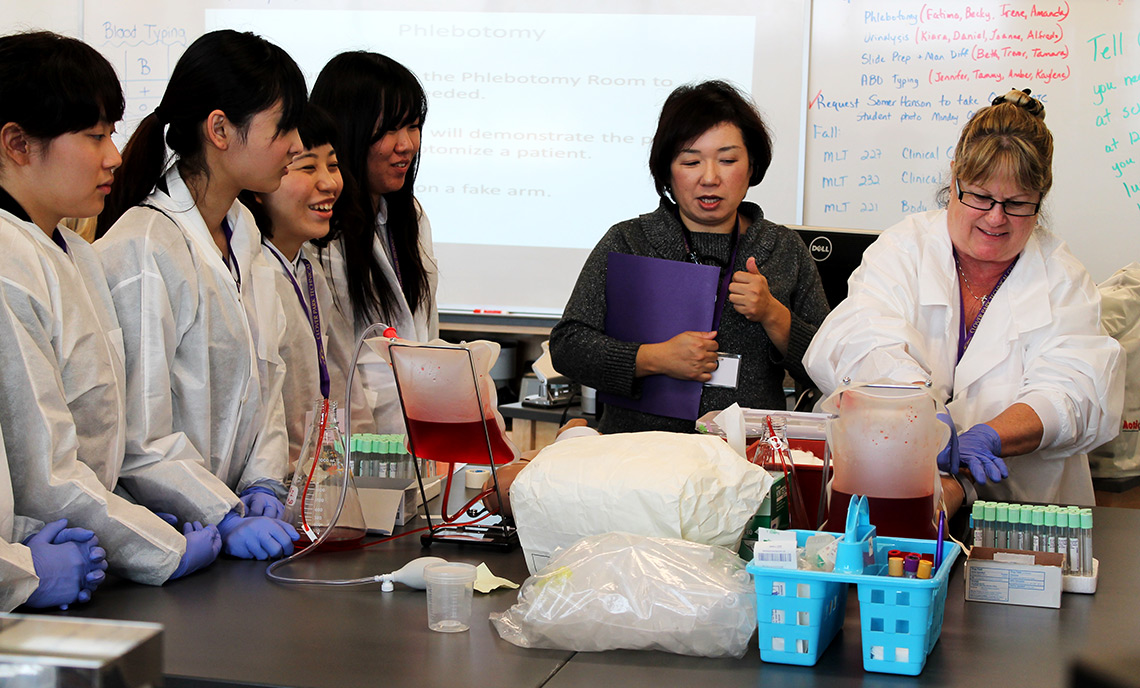 Japanese Students Visit CPTC for Study Tour
November 7, 2014
A group of Japanese medical laboratory students from Osaka Jikei College visited Clover Park Technical College for a three-day study tour Oct. 27-29.
The partnership between the two colleges spans a decade and introduces international students to CPTC's health sciences facilities and U.S. culture, and gives them the opportunity to visit offsite professional labs in Seattle. The trip is required for the Japanese students as part of a three-year program.
The OJC students were given campus tours and learned hands-on with Medical Laboratory Technician and Medical Histology Technician instructors and students.
"It was very helpful and educational," said OJC student Kosuke Iijima through a translator.
The study tour also included interaction and communication practice. For students like Iijima, the visit to CPTC was his first to the U.S. mainland.
The second day of the tour included visits to Public Health Laboratories and Harborview Medical Center in Seattle for hospital and lab tours.
The final day of the tour included two guest lectures and culminated with a luncheon and cultural exchange at the McGavick Conference Center. The event's theme was American football and featured Seattle Seahawks multimedia and decorations.
The OJC students taught CPTC students how to write their names in Japanese, shared foods brought from Japan, and gave lessons on how to use chopsticks and how to fold origami.
"I enjoyed the interaction with people," said OJC student Sakiko Inamoto through a translator. "I was shy at first and am now more open."
For CPTC's Medical Laboratory Technician students the tour was the second group of OJC students they have hosted, with the first group visiting last spring.
"The workforce is getting more global every year," said Yuko Chartraw, CPTC's International Education program specialist. "It's important for our students to know people from other countries. There are many differences but through the cultural exchange I think they find there are more similarities."
Dr. Joyce Loveday, CPTC's vice president for instruction, presented the international students with CPTC completion certificates.
Share This Story