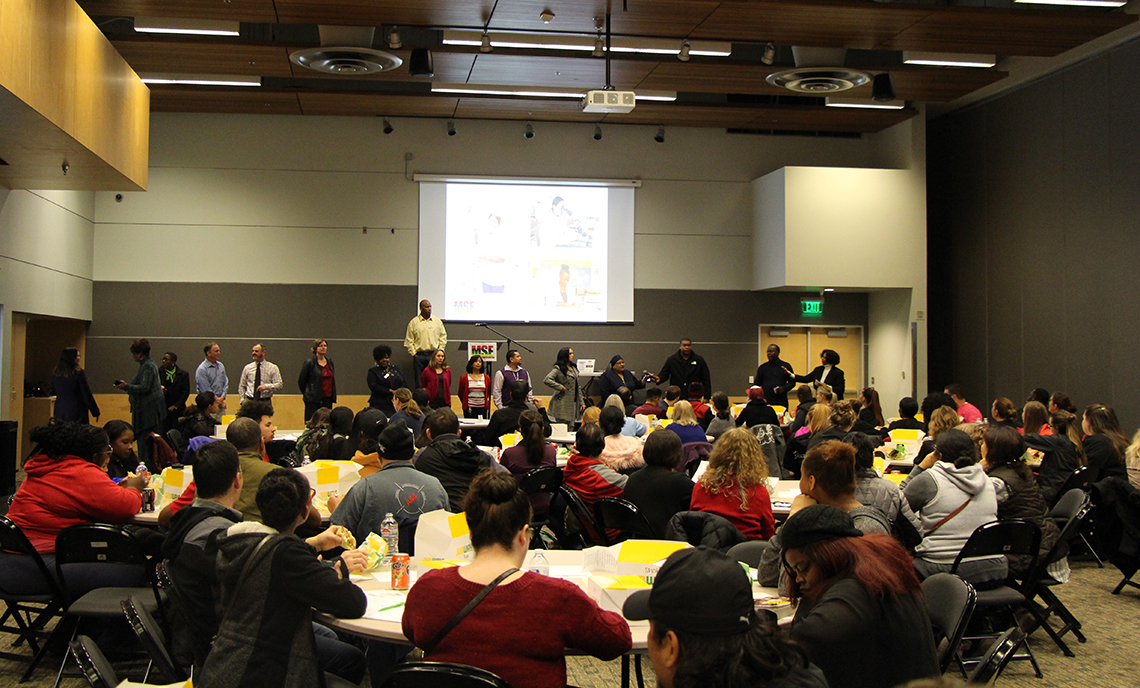 Leadership Luncheon Promotes "A Better Idea"
December 8, 2017
More than 150 Clover Park Technical College students, staff and faculty members came together to discuss "a better idea" and hear from keynote speaker Dr. Debra Jenkins at the Minority Student Engagement Leadership Luncheon on Nov. 29.
The concept of "a better idea" came from comments United States Air Force Lieutenant General Jay Silveria made earlier this year in response to an incident of racism. In his address, Silveria said that the appropriate response to racism and horrible ideas is a better idea. Jenkins' keynote speech at the Nov. 29 MSE event reflected that concept of providing a better idea.
Jenkins spoke about systemic and personal action and the need for each individual person to assess and identify their own prejudices and privileges. She also spoke about the need to come together in a focused effort to promote systemic change, including in the use of coded language and building relationships. A professor of Early Childhood Education and Psychology at Clark College, Jenkins owns more than 20 years of experience as a teacher, developmental life coach and presenter.
The Leadership Luncheon was the first formal event of the 2017-18 academic year for the Minority Student Engagement Committee at CPTC. The committee launched in September 2016 in response to inequities in graduation rates among Students of Color.
"The committee was developed to identify barriers and be a resource to Students of Color with the purpose of increasing their retention and completion rates," committee member and Core Allied Health instructor LaRita Montgomery-Mandley said. "The goal of the Leadership Luncheon was to broaden the discussion on campus of diversity and inclusion to Clover Park's student body."
Attendees enjoyed Subway sandwiches for lunch and had an opportunity to ask Dr. Jenkins questions at the conclusion of her presentation. Members of the MSE committee and campus administrators were introduced at the beginning of the event to help students put faces with names and recognize people who can serve as resources on campus.
"Not only are we glad that you're here today, but we're pleased that you are students at Clover Park Technical College," CPTC Interim Vice President for Instruction Mabel Edmonds said. "We're always here to support our students, and we're very pleased that we have a group of faculty and staff who are focused on trying to ensure that we address the needs of our students and say to our students that we welcome you."
Future event plans for the MSE committee will include brown bag lunches with students to discuss barriers and resources, as well as mentoring opportunities.