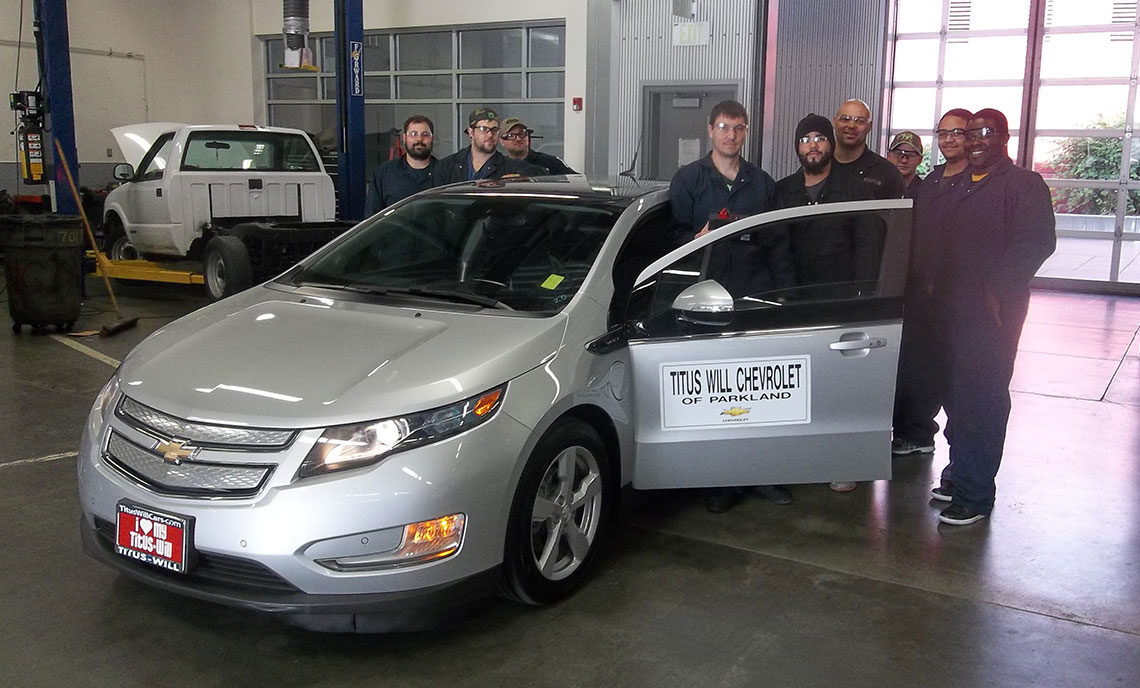 Local Dealer Shares Volt with Hybrid Students
July 21, 2016
Partnerships with local business create valuable hands-on opportunities for technical education students. Last week a group of nine Clover Park Technical College automotive program students experienced the benefits of one of those partnerships when they had a chance to spend two days working with a Chevrolet Volt courtesy of Parkland dealer Titus-Will Chevrolet.
CPTC automotive instructor Wayne Bridges has networked with Titus-Will for years. When he confirmed he would teach the hybrid class this summer he reached out to ask for a favor.
"I called the service manager and asked if they could loan us a Chevrolet Volt for instruction," Bridges said. "They had just acquired a 2012 Volt in the used car department and stepped right up to provide us this opportunity. This is the first time they've loaned us a vehicle to actually bring into a classroom and work on."
Bridges and his nine students spent two days with the car last week. That gave them a chance to run tests and identify various high-voltage components that make the vehicle unique. They even found and repaired a minor problem on the car.
"It was good to have actual state-of-the-art technology to work on," said Tim Osborn, one of the students who worked on the Volt. "We have good vehicles here that we can work on, but having something that was essentially new with no faults so we can work and see what 'right' looks like was such a unique experience. With it being a time-sensitive loan, it gave it realistic training value that we don't have a lot of time to work on a car and get it back to a customer."
Typically the class devotes most of the hybrid study to a couple Toyota Priuses owned by the department. However, those come with the limits of previous damage and only representing one type of vehicle.
"As an institution, we can't have every type of vehicle that's out there," Bridges said. "Having these partnerships that allow us to bring in something like a Chevy Volt that we otherwise wouldn't have access to exposes our students to more vehicles. Fostering those relationships and having those industry connections is really critical. Having that support from industry gives us more resources for our students."
The students recognized and appreciated the value of that relationship and the dealership's willingness to share.
"Having a local entity care and make sure we can build a strong program here is huge," student Schuyller Nagorski said.
While the students heaped praise on Titus-Will, they also expressed appreciation for the school offering the hybrid course at all.
"Clover Park held this class despite not meeting the minimum enrollment requirements," Nagorski said. "They chose to invest in our education. That's why we're here, and I can't say enough how big of a deal that is to me. They care about the students."
Meanwhile, Bridges hopes this experience will help lead to similar opportunities in the future.
"This is a great example of how important developing industry partnerships is to the success of our programs," Bridges said.