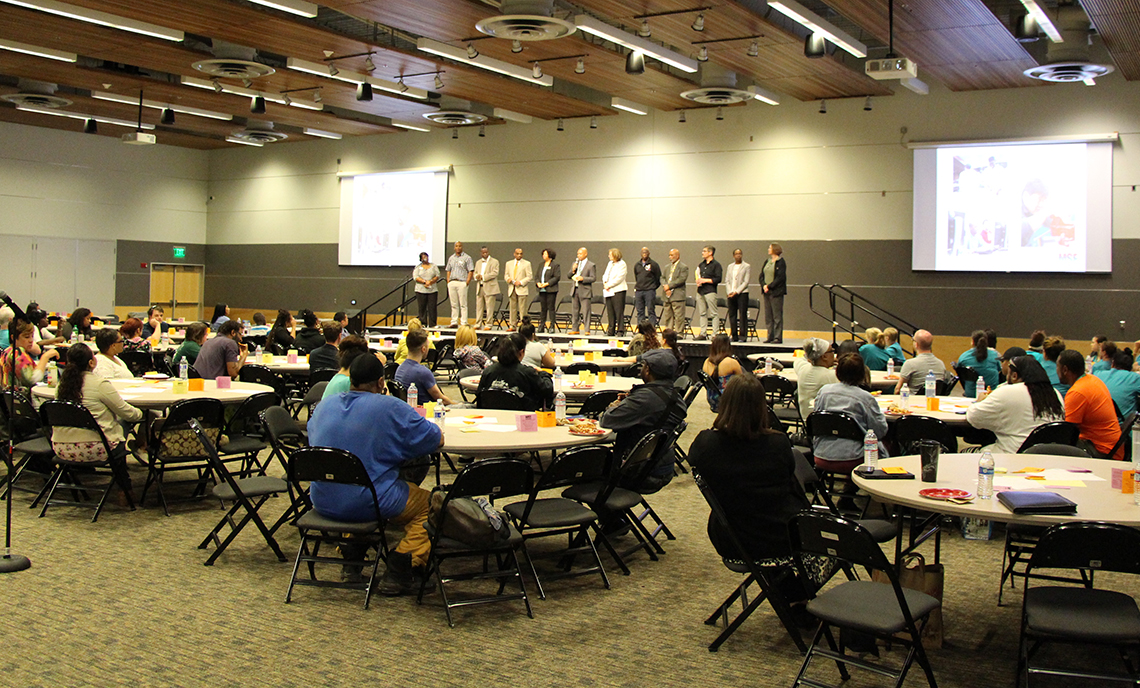 Minority Student Engagement Committee Hosts First Open Forum
May 11, 2017
The Clover Park Technical College Minority Student Engagement Committee hosted its first open forum Tuesday, May 9, with more than 100 CPTC students, staff and faculty members in attendance at the McGavick Conference Center.
"A group of faculty, staff and administrators of color joined together to form the Minority Student Engagement Committee to better serve our students of color population," CPTC Coordinator of Student Success Ron Wright said. "We want to hear directly from our students to identify barriers that students face and be a resource for student success. Our mission is 'ABC:' provide access, eliminate barriers and increase completion rates."
Tuesday's forum featured a free lunch for attendees as well as a keynote speech by CPTC alum Bryant Watts. Watts came to Clover Park in 2012 after concluding a 21-year career in the United States Army. He earned his degree in Human Services from CPTC while simultaneously earning a direct transfer degree from Pierce College in 2014 and graduated from University of Washington-Tacoma with a Bachelor of Arts in Social Welfare in 2016. He's currently finishing work on his Master's degree in Social Work from University of Southern California.
"A lot of people had told me this beautiful thing about transitioning out of the Army: that I was going to have this wonderful resume and all this experience and I'll be sought after by all these employees," Watts said. "That was truly not the case for me. What I had was a whole lot of skills to do a whole lot of things, and no direction."
Watts shared his experience of coming to CPTC and having to learn what it takes to attend college. He was the first male in his family to graduate with any type of post-high school formal education, saying "that's a big thing for me, because my nephew was watching me all the way through, and now he's in college."
The forum began with members of the Minority Student Engagement Committee and CPTC administrators introducing themselves as a resource to students when needs arise. Watt's message served as the keynote portion of the event and a reminder to students that they have what it takes to succeed at CPTC.
"I came to school for the instructors to tell me how to navigate, negotiate and engage the process of getting a college degree," Watt said. "It's a very humbling experience, because once I realize that I don't know anything, all of a sudden I start to learn a whole lot. And I learned all that here at Clover Park. And then I had to learn how to trust the process."
Watt singled out the Veterans Resource Center and the Tutoring Center as places that provided needed support on his educational journey. At the conclusion of his speech, attendees were invited to ask questions or share their struggles.
"I thought the forum went very well," Wright said. "The students were engaged and actively participated in sharing their concerns, thoughts and ideas. Now that we have heard their voices, we must act."
The Minority Student Engagement Committee is planning to hold its next event in the fall.