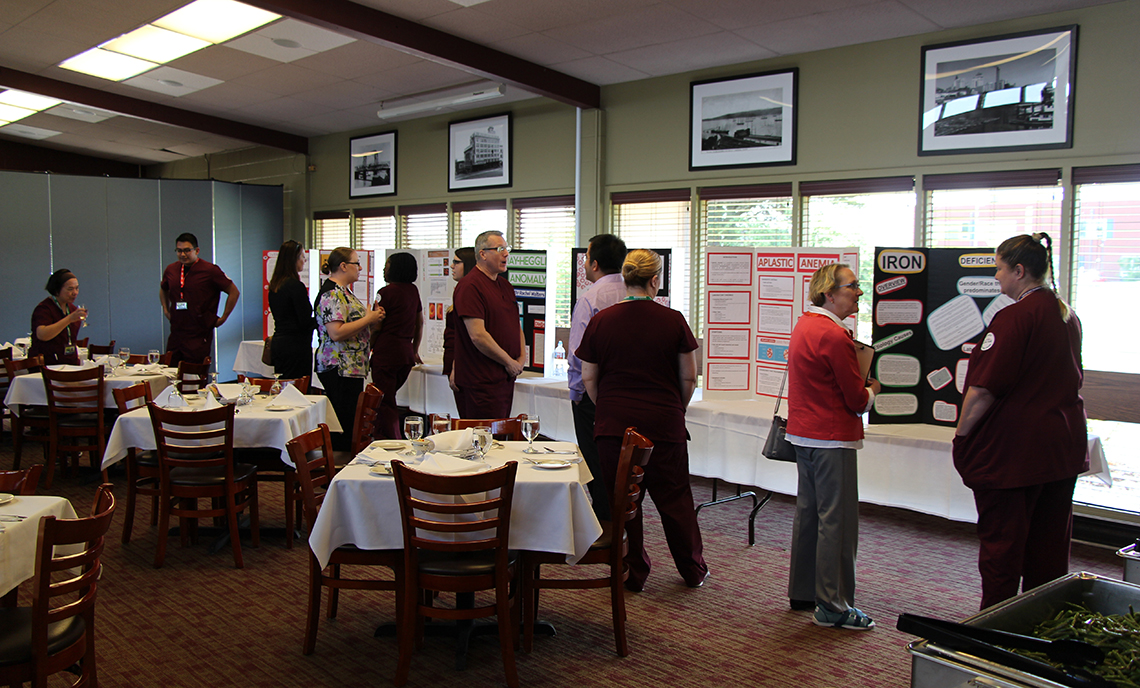 MLT Meet and Greet Provides Key Networking Opportunity
June 6, 2017
Clover Park Technical College Medical Laboratory Technician students had the unique opportunity to mingle with potential employers, present on a health topic and enjoy some delicious food at the program's annual Meet and Greet Event on Wednesday, May 24.
"Having the chance to meet and converse with professionals in the Medical Lab Technician field gave me an inspiring glimpse into the career I've chosen," MLT student John Dahlin said. "Each lively exchange answered more questions and provided me with further insight into the job's requirements. Adding in a delicious buffet lunch with some amazing desserts made it an unforgettable afternoon!"
That delicious buffet lunch and amazing desserts came courtesy of CPTC's Culinary Arts program, as the event took place at the Rainier Room on CPTC's Lakewood Campus and featured a savory selection of food. Ten hospital and clinic representatives from seven different organizations attended the event, offering the 14 MLT students a chance to interact with the people who may be their internship or eventual job supervisors.
"When the students get placed for their internship, the clinical sites won't see all 14 students; they'll only see the one or two students they host in their site," CPTC MLT instructor Dana Guinn said. "This event gives them an opportunity to be familiar with all the students to help with their job search after graduation."
Guinn started the event in 2013, and it has grown each year. The program starts in the spring, and the 14 current students will go to assigned clinical sites for their internships in the fall before the program concludes at the end of winter quarter. Those clinical sites locations stretch from Seattle to Bremerton, Chehalis, Enumclaw and more.
"This was a nice introduction into the field and those who already work in it," student Edgar Huinac said. "Being able to meet and get to know possible coworkers and supervisors was definitely a big plus, because it always helps when you know someone at work. Also getting insight to what they do on a day-to-day basis helped me visualize just what my work day might consist of. It was a definite confidence and motivation boost, as they know what we are going through, telling us that they were once in that same position."
Students put together display boards on a variety of medical subjects and presented them to the visitors during the two-hour open house event. While all of the clinic representatives offer a glimpse of the career students are striving to reach, it also provides that extra reminder of how close they are when some of the supervisors are CPTC alumni who went through the program themselves.
"It was an invaluable experience. The opportunity it provided us to meet and network with representatives from clinical sites was a great reminder that we have almost achieved our goal of becoming Medical Laboratory Technicians," student Rachel Walters said. "It also allowed us to speak with experienced professionals in the field and obtain great information on what it is like to actually work in a lab. Best of all, I felt a great amount of support from the clinical site representatives and feel like I will be successful in this field."
That connection and encouragement is a big part of the goal of the event, which Guinn hopes to continue growing in future years.
"I just think it's a good opportunity for the students, and it gives them a taste of a professional networking opportunity," Guinn said.
To learn more about the CPTC Medical Laboratory Technician program, click here.
Share This Story