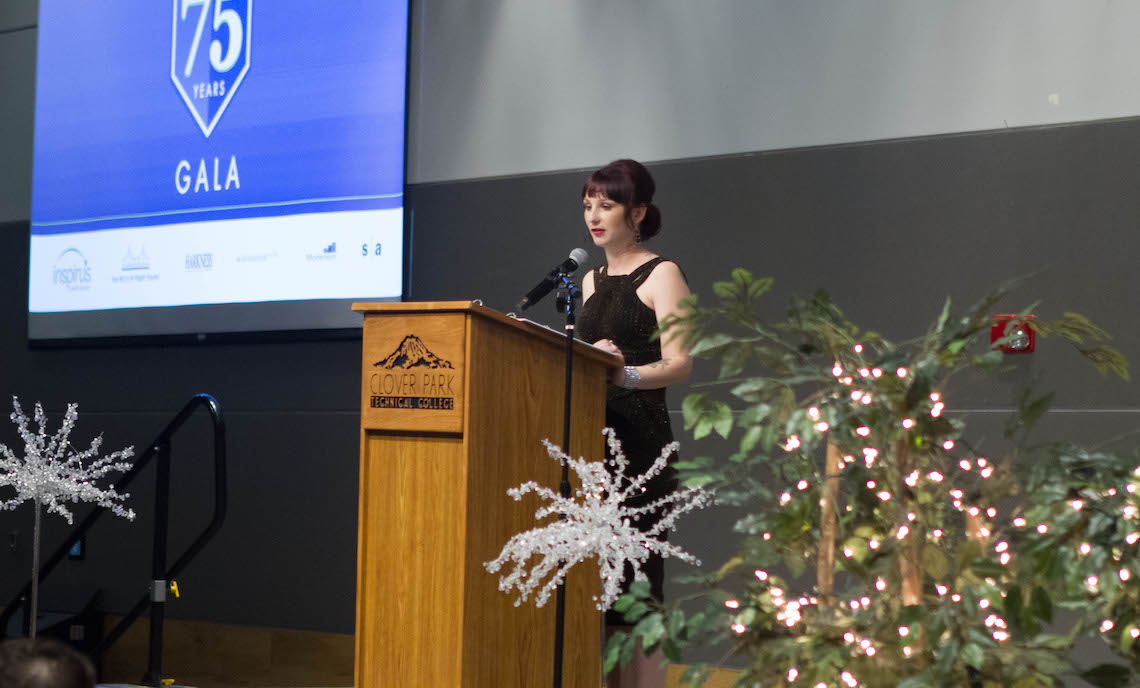 Morgan Recognized at Transforming Lives Dinner
January 25, 2019
Clover Park Technical College alum Heather Morgan was recognized as the college's Transforming Lives Award honoree at the Washington State Association of College Trustees' annual Transforming Lives Awards Dinner on Monday, Jan. 21.
Morgan graduated in December with a degree in Human Services and a 3.9 grade point average. It was the culmination of a long journey of perseverance. Morgan overcame depression, drug addiction, homelessness, and relationship challenges over the course of the past decade to earn her GED and enroll at CPTC. While attending CPTC, she assisted with numerous Foundation events and served as the student speaker at the 75th Anniversary Gala.
"Choosing Clover Park Technical College was one of the best choices I've ever made," Morgan said. "The staff and faculty are so passionate about what they do and supported me every step of the way. I was a work-study student and intern in the Foundation for over a year. I truly look up to the women there who continue to mentor me. They never hesitate to help or encourage me; it's because of them I feel confident I will be successful now that I've graduated."
Morgan has been clean since 2015 – her daughter's fourth birthday – and now works at the same treatment facility where she attended to break her own addictions. She spends her days helping other addicts realize their full potential and watching them become productive members of society. She has further educational goals of achieving her master's degree and opening a private practice in the future.
"Going back to school gave my life meaning again," Morgan said. "I finally have a purpose, something I'm passionate about doing. I truly love the person I am today and can enjoy everything that being a mother has to offer. I no longer live in the darkness or let my past define me. I'm not ashamed, because it has shaped the person I am today."
According to the Washington State Board for Community and Technical Colleges website, the Transforming Lives Awards program was created in 2012 "to recognize current or former students whose lives have been transformed by pursuing higher education at a community or technical college." The annual award program includes nominations from each of the state's community and technical colleges, with all nominees recognized during a dinner ceremony.
For more information about the ACT Transforming Lives Award, click here.