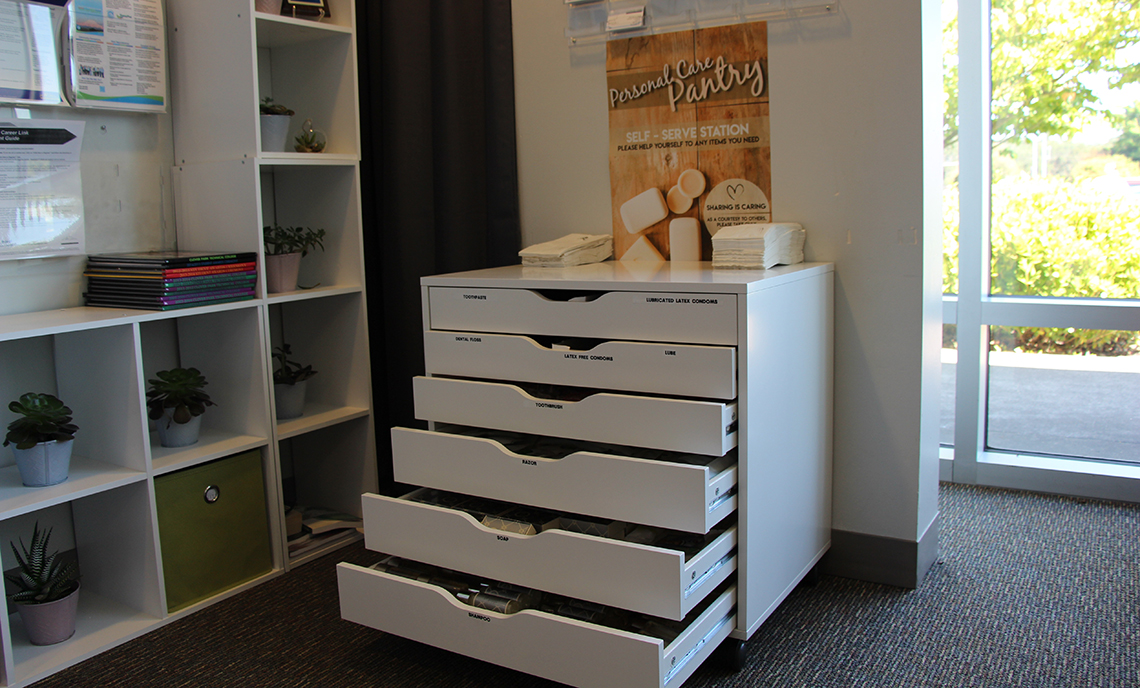 New Personal Care Pantry Provides Essentials to Students
July 26, 2018
The Clover Park Technical College Office of Student Life is always looking to ensure students have their basic needs fulfilled, and one of the new ways the office is providing for students is with a Personal Care Pantry.
Located in the Student Leadership and Service Center in Building 23, the Personal Care Pantry is a self-serve cabinet where students can find various toiletries to assist with their personal hygiene. While previously limited resources were available in the CPTC Food Pantry, the Personal Care Pantry takes that one step further to assist students in their self-care and safe sex practices.
"We provided some stuff at the food pantry, but we visited some other schools and saw they had more resources available, including condoms," CPTC Student Engagement Manager Alison Pau said. "We wanted to get some toiletry and personal care items. Our goal is to help alleviate some of the things students have to buy, and there are definitely areas we'd like to expand. This is currently the basics."
The plan for the Personal Care Pantry came together during Spring Quarter as the Student Life team worked with the CPTC Foundation and personal donations to compile a supply of resources. They also evaluated options for how to run the pantry and decided to make it self-serve and open to anyone in the Resources corner of the SLSC. This allows students to discreetly come in and gather the things they need.
"We made it self-serve so it would be more personal with better access so students can help themselves," Pau said. "The sign asks students to only take what they need, and our hope is that we'll be able to go with this system."
While the pantry officially opened for Summer Quarter, the lighter foot traffic to the SLSC during this quarter makes it more of a soft launch period in anticipation of a bigger rollout in the fall. That will coincide with more intentional promotion from the Office of Student Life, as information will be included in posters and the 2018-19 Student Handbook. Pau said that when the campus Food Pantry and peanut butter and jelly sandwich days first began, it took them a couple of quarters to really grow as students became more aware of their availability. She expects the same to happen with the Personal Care Pantry.
"I think this will continue to grow in its impact over the next few quarters," Pau said. "And we'll continue to assess and evaluate which items are most needed and how we can better support the students' needs."
One of those ways she hopes to better support needs would be with feminine hygiene products. So far, the items available to students include basic shampoos, soaps, razors, dental care products and condoms. While she would like to provide feminine hygiene products, the cost has been a barrier to this point.
"We would love to have feminine hygiene products available to students," Pau said. "They're very expensive, but they're a necessity."
Anyone is welcome to donate to the Personal Care Pantry. Individual donations can be made to the Food Pantry boxes in Building 23, while larger donations can go through the CPTC Foundation.