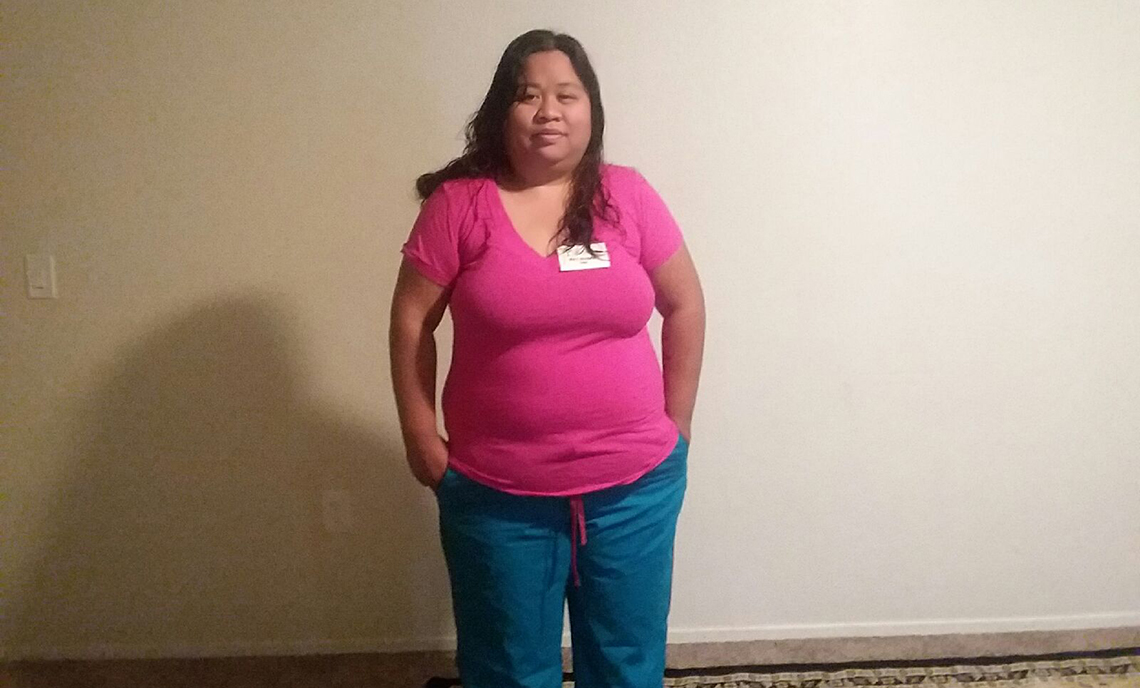 Nursing Assistant Alum Spreads Encouragement
September 4, 2018
Maylyn Rivera wants to help people.
Working as a Certified Nursing Assistant, Rivera helps people rehabilitate from injuries and surgery in an effort to recover well enough to return home. Within her own home, she looks to help her 14-year-old daughter pursue a successful path in education and life. And when she returns to Clover Park Technical College to share her experiences with the students going through the same classes she finished less than one year ago, she tells them about the job opportunities available to them if they continue to work hard.
"I want to motivate people," Rivera said. "I'm a CNA because they helped me get certified. It's a really awesome program."
Rivera completed the Nursing Assistant-Certified I-BEST program during Fall Quarter 2017 at CPTC, and that achievement marked a tremendous shift in her life. The woman who loved to help people had reached a point where before she could help others she had to help herself.
"I was going backwards, and I hated it," Rivera said. "I'd try to go back to school, but then something would come up and it was just always a bumpy road."
Growing up in Guam, Rivera got sick during her final year of high school and was unable to finish. The next decade-and-a-half included a lot of transition as she had her daughter and moved to the United States mainland and eventually followed family to the South Puget Sound area in 2015. She had spent several years working as a nursing assistant, but more health issues struck and led to several years of struggle with depression and anxiety.
She finally decided it was time to turn everything around. Her sister-in-law knew someone who worked at CPTC and passed on information about the I-BEST program, and Rivera knew this was her opportunity.
"I pushed myself to go back to school to show my daughter that it's never too late," Rivera said. "I wanted to show her that if I can do it, she can do it, and she can go for something better. And now I'm motivated to do more, both for myself and for her. My path wasn't so good, and I want to show her a better path."
While she completed the program in December and passed her state certification test in March, she also worked to finally earn the high school diploma she'd missed out on growing up. She earned that in June.
"Being in school became my happy place, and my anxiety just went away," Rivera said. "I hadn't been social for the past five years, but I was social again. I was all shy at first, but now I talk to everyone. I loved being in school; it was so good for me."
Since April, Rivera has worked at a local recovery and rehabilitation center. That's allowed her and her daughter to once again become more independent with their own apartment and car. Rivera raves about the work environment, and she's already received a raise.
"I'm there to help the residents, and I like to bring happiness to their day," Rivera said. "I work in the rehab area and want to be positive and help motivate them to recover so they can go home. I love what I do; it makes me happy to help people."
Now she's looking to continue that self-improvement through education. She hopes to extend her time in the Nursing program by pursuing a Practical Nursing Certificate at CPTC, and she plans to begin classes this fall.
"I like being a CNA, but I'm looking to move forward," Rivera said. "Trying to better my life, not just for me but for my daughter. That's why I'm doing what I'm doing."
No matter where she is, Rivera strives to provide encouragement and help people. She recently told current Nursing Assistant students about the job opportunities at her own work place. Regardless of whether she's talking to a student or one of her patients, the advice always starts the same way.
"I tell people not to give up. Just try your best," Rivera. "I tend to overthink things, so I try to remind myself and others that they can do it and there's no reason to give up."