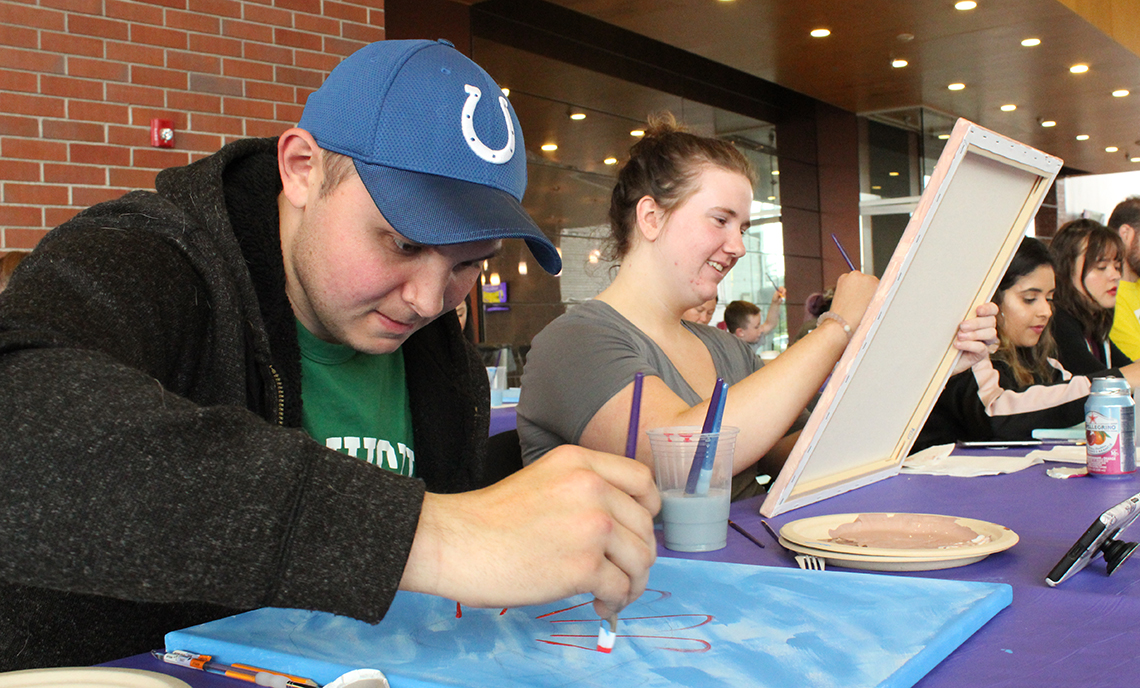 Paint and Sip Event Provides Creativity and Community
May 3, 2018
Jessica McElroy moved from Texas to Lakewood a couple of years ago to join her husband, who is active duty Army stationed at Joint Base Lewis-McChord.
After recently getting settled into a new home and midway through spring quarter in the Dental Assistant program, McElroy was ready for a night of fun. She—and more than 50 other Clover Park Technical College students and family members—participated in Associated Student Government's Paint and Sip night Monday, April 30.
Sheli Sledge, CPTC administrative assistant for Student Success as well as an artist, led the free campus event for students and their plus-ones. It was a welcome break for those with midterms coming up and also just from the busyness of life.
"I like events like this because it gets us out of our shell and we get to meet other students," McElroy said. "We also don't have to think about school for a night."
One of McElroy's hobbies is painting on canvas, so she had little trouble following along to paint the sunflower scene. Events like Paint and Sip have helped McElroy get settled into her new community. She also attended a recent movie outing organized by ASG.
"[ASG events] get you involved with other people and just more comfortable in your environment," McElroy said.
She saw Paint and Sip as a fun opportunity to include her husband, Robbie, who enjoys painting model cars and was a little outside his comfort zone of airbrush painting to paint canvas.
Jamie Quichocho is familiar with painting events and jumped at the opportunity to participate. Quichocho completed the Licensed Practical Nurse program at CPTC about two years ago, but while she was a student she wasn't able to take advantage of the extracurricular events available to her.
"I was going straight to clinicals or to work and couldn't stick around campus if it wasn't necessary," she said.
She was excited to join her friend Dora Velasquez, a student working toward the Medical Assistant program, when she was invited. Velasquez thought painting looked fun and hadn't yet done such an event. They both agreed it was easy to follow along as they colored their canvases.
Kaitlin Hemmings is in her first quarter in the Cosmetology program. While in high school she worked in various art mediums, predominately sketching, and invited a friend to join her for the fun artistic event. Hemmings was able to revisit her artistic roots while also finding some relaxation.
"It's not just fun, it's de-stressing, too," she said.
As Sledge walked the group through step-by-step instructions, blank canvases were transformed into a variety of interpretive sunflower scenes. Hemmings' friend Nicholas Chalik was looking forward to having a new piece of artwork for his wall.
"I'm excited to see what it turns out to be and a little scared at the same time," he said.