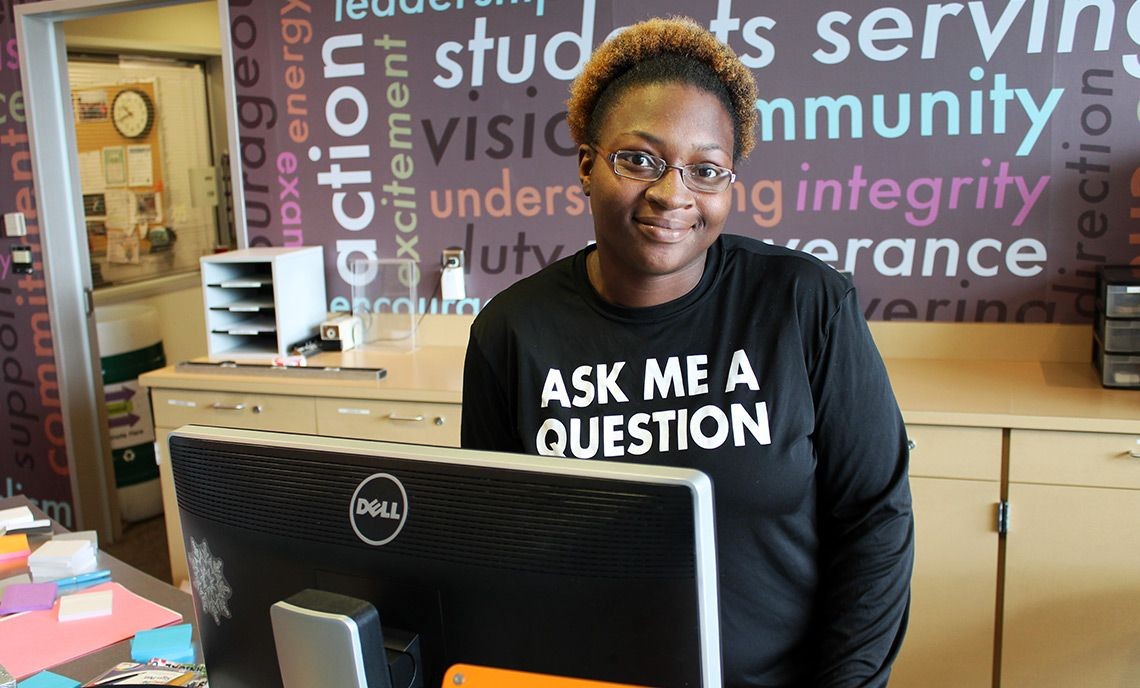 Peer Ambassador Receives Statewide Leadership Award
September 17, 2015
Ask Ashley Duncan a question about student life at Clover Park Technical College, and chances are she'll have an answer.
When the Human Services student isn't in the classroom, Duncan can be spotted around campus, often times wearing her Peer Ambassador "Ask me a question" T-shirt.
The Peer Ambassador program at CPTC provides space, resources and incentives to engage and inspire students to be successful in college. As the lead Peer Ambassador, Duncan researches and designs campaigns to educate students about financial, academic and social success.
"The college administration can't go to every classroom and deliver messages, and that's what we're here for," Duncan said. "We're students ourselves and understand more of what students need."
Duncan's involvement with CPTC's Associated Student Government and the Peer Ambassador program has not gone unnoticed. The Council of Unions and Student Programs honored Duncan with the Outstanding 2nd Year Student Leader Award at the Leadership & Activities Institute in Wenatchee earlier this month. The award recognizes students who demonstrate excellence and exhibit organizational skills and leadership abilities as a second-year student leader.
Duncan has been involved in ASG since her second quarter at CPTC. She credits her "nosy" personality for helping to find resources for students. Duncan said it's also because of ASG that she became more outgoing.
"I like challenges because that's what gives me the opportunity to grow," she said. "I was in my shell, in my comfort zone and now I'm out of it."
Duncan is used to a busy schedule and thrives when she's multi-tasking. She's a mom, a student and maintains two jobs. She looks forward to Fall Quarter and advancing toward earning her associate's degree.
The Peer Ambassadors have a stacked lineup of campaigns for Fall Quarter, starting with Welcome Week on Sept. 21. For more information, visit http://www.cptc.edu/asg.