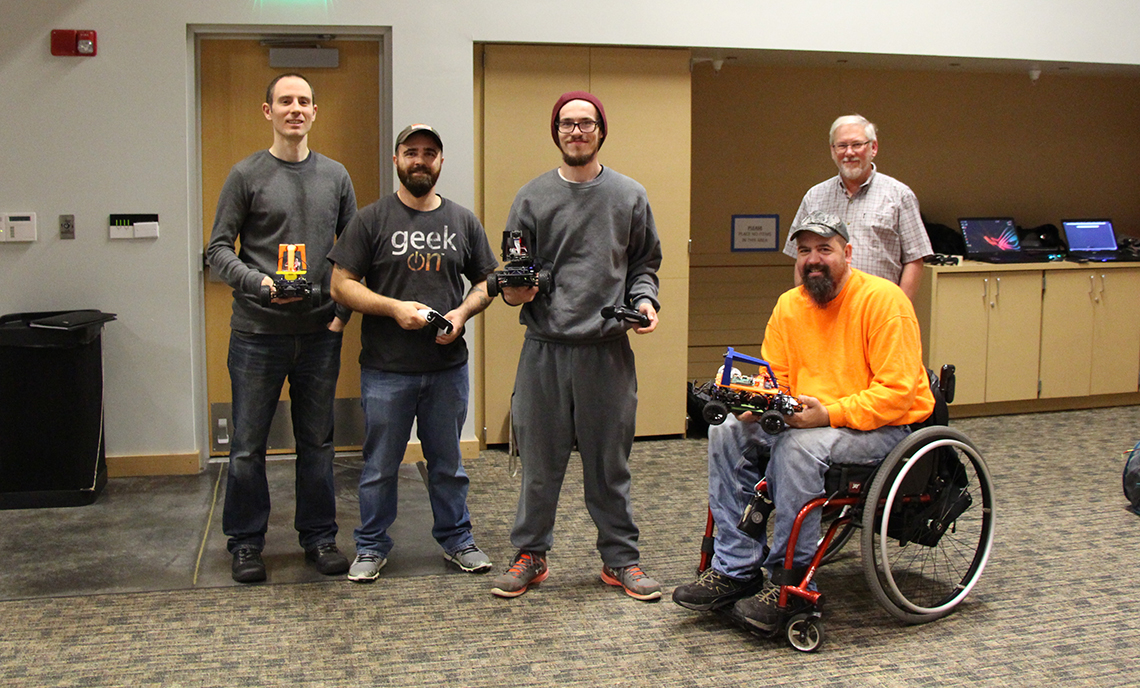 Remote Control Cars Provide AI Training Opportunity
October 24, 2018
Who says only kids can play with remote-controlled cars?
For a group of Clover Park Technical College Computer Programming students, that timeless childhood activity has provided a new opportunity to experiment with artificial intelligence.
The program showcased its Donkey Car project at CPTC's Manufacturing Day event on Oct. 5, but the learning continues for both the students and the vehicles themselves. The group of Chad Drennan, Anthony McCann, Dakota Tominus, and Robert Wood joined instructor Ken Meerdink in CPTC's Building 23 earlier this week to lay out a "track" and run the cars through some more training. Meerdink's co-instructor Joseph Ortiz first learned about the Donkey Car possibilities, and the program used Manufacturing Day funding to bring the training opportunity to CPTC. 
"The overarching purpose is to learn how to train artificial intelligence," Meerdink said.
The project begins with a Raspberry Pi, some necessary plans, and 3D-printed parts, and each car costs between $250-300 in total. Once assembled the car takes thousands of pictures as it moves, so students create a track out of light-colored tape and use the controller to drive it around the track. Then, they access the photos and delete any images where the car is off course. As the vehicle builds up a large enough archive of on-course images, it learns how to read the track and steer itself.
"After you complete the training, you can set it up so that AI controls the steering and you control the throttle, or you can set it up so AI controls everything," Wood said.
CPTC's Mechatronics program assisted with the creation of some of the 3D-printed parts needed for the cars. So far, the Computer Programming team has built six cars and has two more to assemble. Each one will give a group of students a chance to work with the artificial intelligence and focus on training.
But the learning doesn't stop once the car has enough data to follow a track. Similar to an actual human driver, greater experience leads to greater skill and efficiency. Over time, students will be able to train the vehicles to speed up at straightaways and slow down at curves in the track, pass other vehicles, and possibly even recognize a stoplight.
"Basically the better you train it, the better it will be on any track made of the same materials," Meerdink said. "We hope to continue training the cars with continual tweaks and improvements to make them drive more efficiently."
Meerdink hopes to use the vehicles for a possible artificial intelligence-focused class in the future. The training involves numerous aspects of programming, and is a key component of future technology growth.
So while for now these students might look just like kids "playing" with their remote control cars, the goal is that sometime soon they'll be able to set these cars on the track and watch them race completely independently.
"That's part of the fun of it," Meerdink said. "We get to train them ourselves."
Share This Story