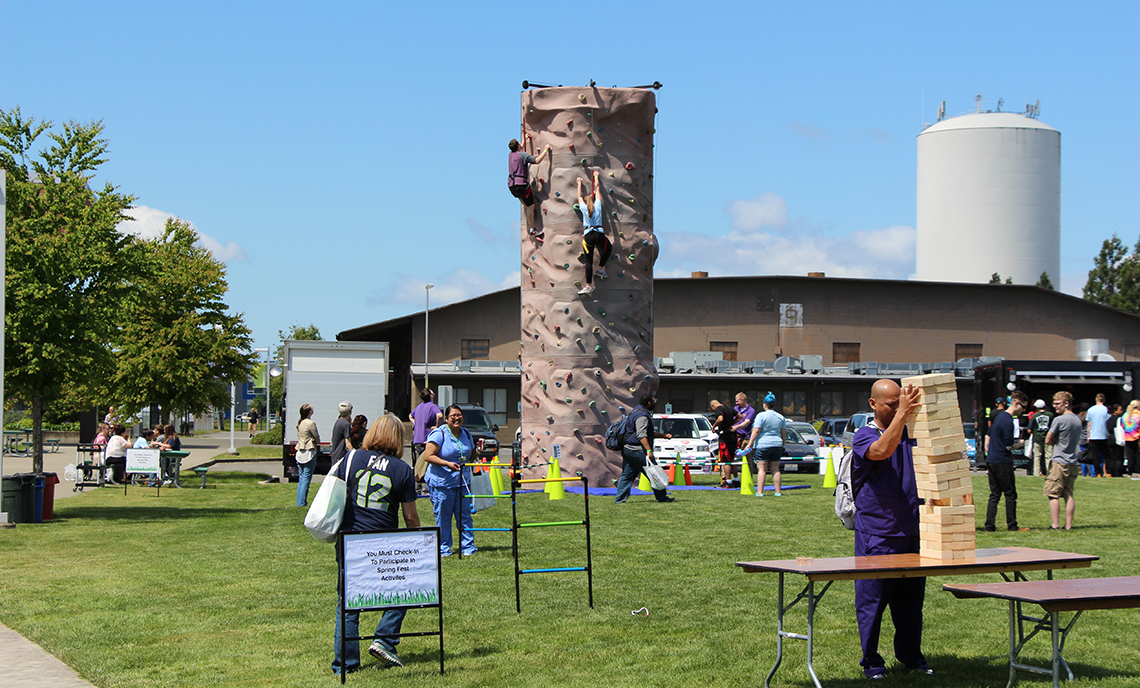 Spring Fest Provides Fun Break for Students, Staff and Families
June 1, 2017
A beautiful sunny day set the stage for Clover Park Technical College's fifth annual Spring Fest, and students, staff and their families took advantage of the chance to have some fun in the sun on Thursday, May 25.
Hosted by CPTC's Associated Student Government, the event ran from 11 a.m. – 2 p.m. and featured multiple food trucks, face painting, balloon artist, rock wall, live music, petting zoo, giveaways and more. Admission was free for anyone, and all student attendees received a free meal voucher to use at one of the food trucks. Staff, faculty and guests had the opportunity to purchase meal vouchers as well.
"I think it's an amazing thing to get everyone together and just let them have fun, let them relax," CPTC Peer Ambassador Tina Esterly said. "The quarters are hard; it gets tough. It's just a way to unwind and have fun and enjoy this beautiful weather we're having."
The obstacle course and rock wall gave attendees the opportunity to test their strength and speed, while there was even an opportunity to throw on foam suits and compete against friends as sumo wrestlers. The petting zoo was definitely one of the favorite spots, with people particularly interested in interacting with a wallaby.
"Our goal was to make it fun for the variety of students we have on campus," CPTC Peer Ambassador Justin Cross said. Cross was part of the planning committee for the event. "Spring Fest is the biggest event of the year, we do it outside and we have the most room. This is the last quarter of the academic year, and having it available to everyone gives people a good way to bring their families and cap the academic year."
ASG hosts three "Fest" events during the academic year – one each in the fall, winter and spring. But Spring Fest serves as the culmination event for the year and invites families to join students and staff for the event. Looking around on Thursday, attendees could see people taking advantage of that opportunity to enjoy some family fun.
"I think that adds community and family and just lets people know that we're here for you," Esterly said. "We're here to make sure you succeed, and that includes your little ones. When you're in school, they're away at daycare or wherever, and if you can bring them and enjoy that extra time with them, then I think that's very important."
That community and family atmosphere fits right in with the event tagline: "The Great CPTC Get Together." With only a few weeks left in the academic year, Spring Fest 2017 achieved its mission of providing some fun in the midst of what can be a stressful time of year. And perhaps that fun and community will encourage more students to get involved and help foster the next generation of campus leaders.
"It's spring time; let's get outdoors and have some fun," Cross said. "It's just to get more people involved in on-campus activities, because when you're more involved on campus you're going to be more successful in your studies."