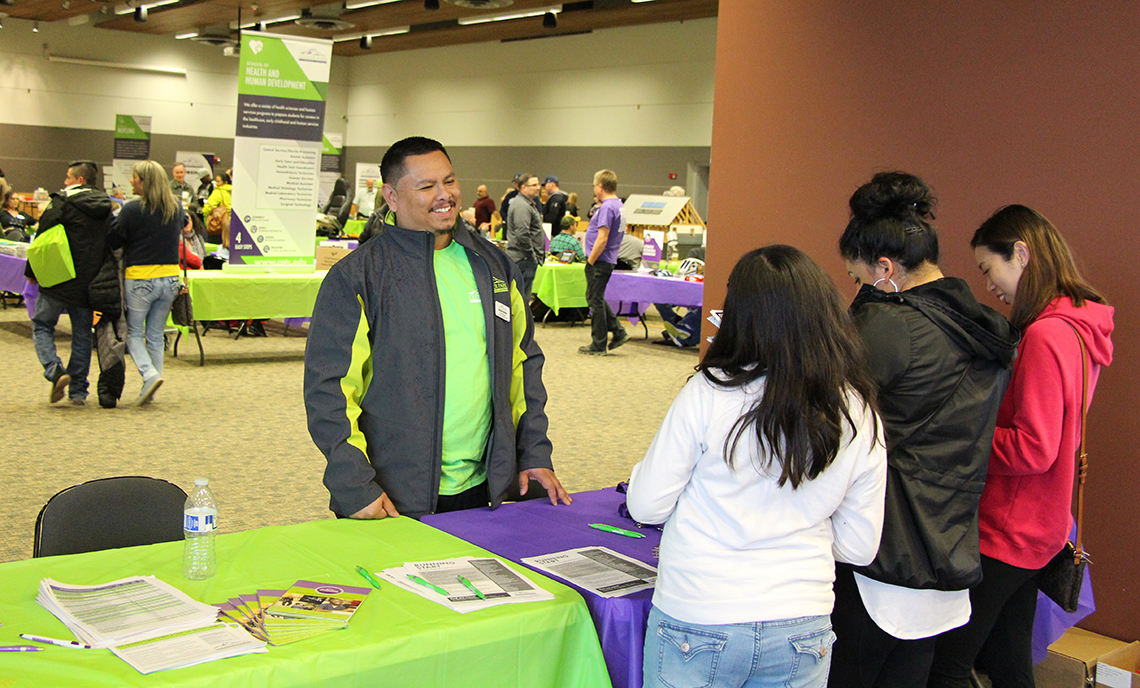 Spring Program Expo Welcomes Prospective Students to Campus
April 13, 2018
Clover Park Technical College's McGavick Conference Center welcomed more than 200 visitors Wednesday afternoon and evening as the college hosted its Spring Program Expo.
The four-hour event opened at 3 p.m. and ran until 7 p.m. with fair-style displays for visitors to learn about each of CPTC's more than 40 programs. Instructors showed off aspects of their program and told visitors about what they might experience and what careers could come from the program training.
"It was great to see a large turnout of prospective students and a great representation of our programs with engaging displays and quality conversations with our instructors," CPTC development manager Janet Holm said.
Wednesday marked a step forward for CPTC's semiannual program showcases. Previously called "Open Houses," the event originated several years ago with each program opening its classrooms and labs to show potential students. This style spread attendees across CPTC's two campuses and limited their opportunity to visit and learn about multiple programs.
Beginning last fall, the event moved to the college's conference center to provide one central location for visitors to learn everything they might want to know about the college and its many program offerings. Wednesday's event took that process one step further by grouping programs into one of seven "schools" as part of the new Guided Pathways approach to education. Guided Pathways focuses on removing barriers and helping simplify the process for students to go from enrollment to graduation and a career. In that style, the Program Expo featured a four-step path for the evening that began at the Welcome Desk, continued through the Program Expo Hall and to the college resource center before concluding with a meeting with the Entry Services team.
A total of 230 visitors signed in at the event, with many of those attendees taking steps toward enrolling for summer of fall quarter. For anyone who missed the Program Expo and may be interested in learning about any of CPTC's programs, the college hosts Program Information Sessions at 3 p.m. on the second and fourth Wednesdays of the month where attendees can visit any individual program and get to know the instructors. They can also meet with an Entry Services Specialist at CPTC's Welcome Center to learn about the programs and enroll at the college.