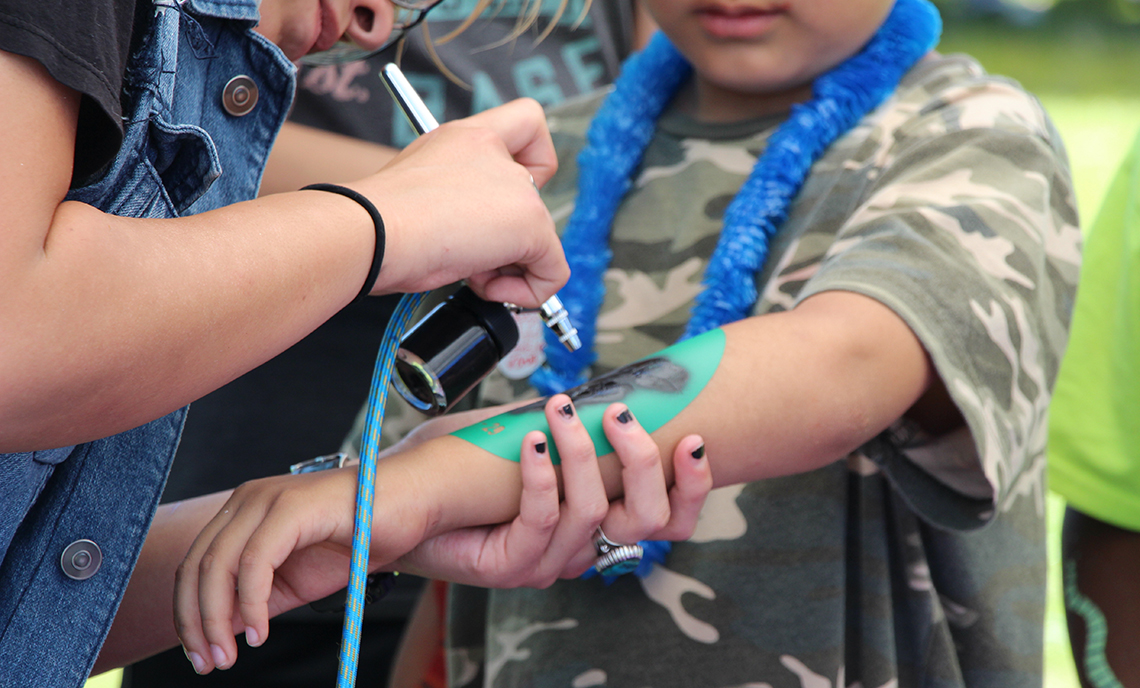 CPTC Joins Springbrook Summer Block Party
August 2, 2016
One of the best places to spend a sunny Friday afternoon is in a park enjoying the warm weather and building relationships. That's how a group of Clover Park Technical College students, faculty and staff spent several hours on Friday, July 29, offering free haircuts, face painting and numerous other activities to local residents at Lakewood's Springbrook Park.
The event was part of the Springbrook Summer Block Party & Community Resource Fair hosted by Lakewood's CHOICE. According to its website, "Lakewood's CHOICE is a community coalition focused on reducing youth substance use by increasing awareness, reducing access, and building pathways to healthy options for youth and families." The block party coincides with a day camp put on throughout the summer by a partnership of organizations led by the Boys & Girls Club Lakewood Branch. 
"This is part of the day camp, and we have a block party for all the local residents," Lakewood's CHOICE coalition coordinator James Leet said. "Last year we decided to make it even bigger than it had been before by bringing in community resources."
Leet reached out to CPTC Interim President Dr. Joyce Loveday, inviting the college to participate. He said he often recommends people to the I-BEST program and wanted to raise awareness of all the opportunities the school could provide to local residents to further their education and career goals.
"Clover Park Technical College adds so much," Leet said. "Our goal is really to create a stronger connection to the community and this neighborhood. Two things really highlight Clover Park's involvement to me: the information about the programs and the free haircuts that people so badly need – a lot of people can't afford haircuts – and the fun things for kids."
Loveday saw a perfect opportunity to serve after learning about Lakewood's CHOICE and the block party event.
"It's important for us to serve our community in ways like this – giving haircuts and doing face painting and activities for kids – while raising awareness about all of our programs," Loveday said. "It lets people know that we care about the community and truly are a community resource. James reached out to tell me about the event, and he invited us to join. We asked different campus members if they wanted to come represent their programs, and we got a great turnout."
Throughout the afternoon, CPTC students shared their skills offering haircuts, airbrush tattoos, face painting, makeup samples and tutorials, blood pressure tests, early childhood activities and more. Students and faculty members represented programs ranging from digital entertainment design to nursing, cosmetology, esthetics, accounting and early care and education. Meanwhile outreach coordinators and representatives of the Adult Basic Education and Workforce Development programs offered information about CPTC.
Leet estimated more than 200 people attended the event, which included a talent show, raffle prizes and other community resources. It is all part of the coalition's desire to help create a stable community in Springbrook. Leet sees CPTC as a key component of achieving that goal.
"Our goal is to create a stronger community connection in this neighborhood," Leet said. "It's a very transitory neighborhood. Education can help people earn better jobs and gain stability to stay in one place long term. We'd like to help people further their education, and Clover Park offers those resources."
Share This Story