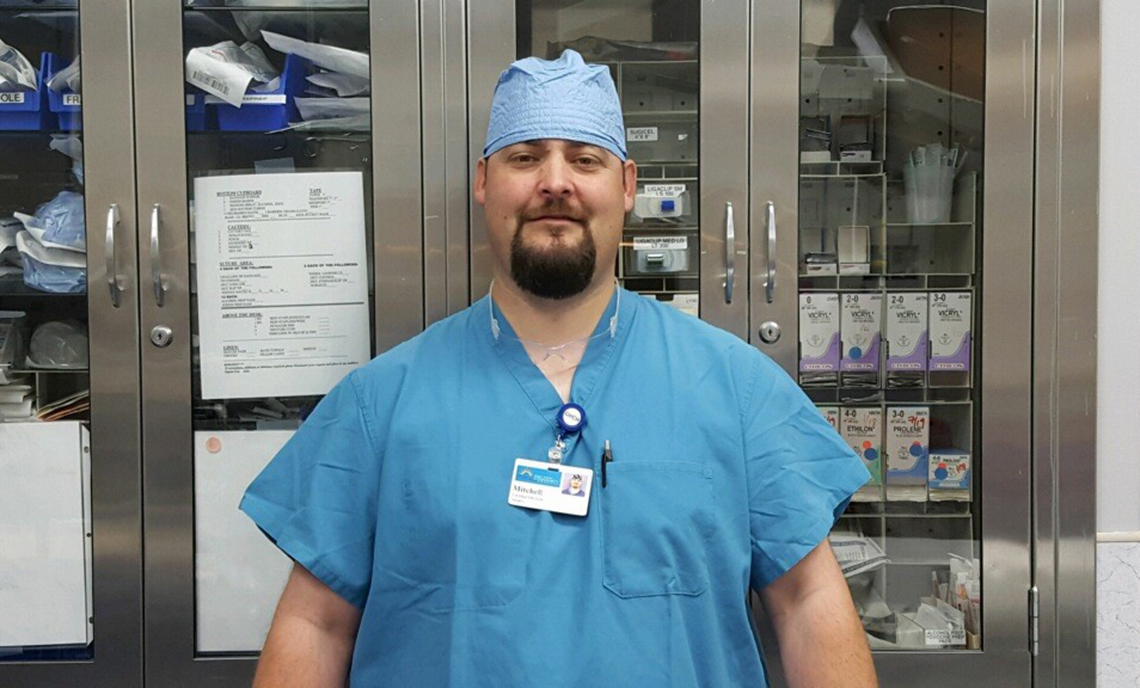 Surgical Tech Alum Found the Training & Career He Wanted
September 22, 2017
Many students pursue a degree in a field that interests them, only to discover after entering the workforce that it's not the career they want.
Mitchell Sweet was one of those students when he arrived at Clover Park Technical College in 1999. He had earned his associate degree in Social Health Services at Pierce College thinking he wanted to work in social services and mental health. Once he graduated and began working as a treatment attendant, that changed.
"After doing that for a while, I realized it just wasn't my thing," Sweet said. "I was at a crossroads and wasn't exactly sure what I wanted to do. I didn't have a lot of financial help and I didn't know if I wanted to pursue a bachelor's degree, and I wasn't even sure what I wanted to study."
Sweet, who moved around as a kid but spent his middle school and high school years in Hawks Prairie, discovered Clover Park after talking to his uncle about working as a surgical technician.
"My Uncle Pat has been a surgical technician for more than 20 years, so I knew enough to be interested," Sweet said. "I saw Clover Park had a program there, so I read more about it and talked to my uncle about it. I've always been interested in the medical field, but I never knew where I might fit in with it."
He checked out the program and joined the waitlist, persistently reaching out to see if a spot had opened up. At the last minute, a cancelation made space for him to attend. As he continued to work graveyard shifts at a chemical dependency center three days a week, he worked his way through the CPTC Surgical Technology program.
"I'd get off work at 7 a.m., go straight to Clover Park for classes from 8 a.m. until 3 p.m. Monday through Friday and then go home and sleep for as long as I could before doing it all again," Sweet said.
Since he had already earned his associate degree, he had already satisfied the prerequisites for the program. After eight months of classes and four months of clinicals, he earned his Surgical Technology Certificate. The technical college experience was exactly what he was looking for.
"I've never really been big on traditional school; I'd rather be working and doing things," Sweet said. "The more I read into it and the more I learned about Clover Park, the more interested and excited I got because I knew a lot of it was hands-on, and I knew part of my grade would be clinicals where I could actually work and do it. I wasn't just taking test and then going out into the workforce with no experience. I liked being hands-on; it made me feel more confident going out into the workforce knowing that I was doing the same thing in class that I would be doing at work. I got better grades in college than I did in high school."
Once he finished the program, he stepped right into a job at Mason General in Shelton where he interned. However, the distance prompted him to seek a position closer to home. He went to work at St. Clair Hospital in Lakewood for two years before a family situation necessitated a move to Moses Lake. After spending some time there, Sweet and his wife moved to Montesano as he accepted a position at Grays Harbor Community Hospital. He's been there almost 15 years.
"I love it here. There's not very high turnover, and we are very close-knit," Sweet said. "I feel like I fit in and we're a family. It's a smaller community hospital so we cover a large area and do a lot of different types of surgery. We can be put in any room at any given time, so it's never the same thing over and over again."
Nearly 20 years after he came to CPTC for his certificate, he still has fond memories.
"I always speak very highly of Clover Park. I personally had a great experience," Sweet said. "It's not necessarily for everybody, but I highly recommend it for people who want to start working and get out in the workforce making money. I have friends who went to universities and accumulated a huge amount of debt and still struggled to find a decent job."
Now settled with a family, Sweet has found the career he wanted and is thankful for the experience and preparation he received.
"It was nice for me to know that I have a degree and a certificate, and I'm specialized in something," Sweet said. "I can pretty much go anywhere and know that there will be a job somewhere available for me."