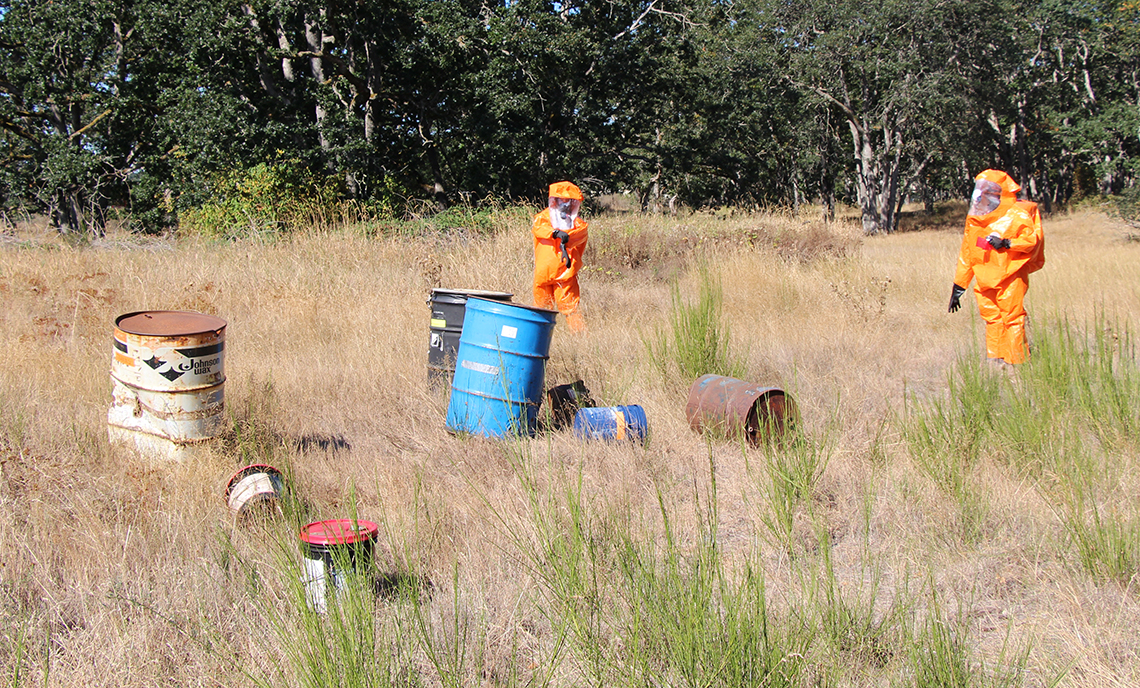 Waste Site Simulation Shows Hazards of the Job
August 26, 2016
Donning HazMat suits and oxygen tanks and battling the August heat, 14 Clover Park Technical College students simulated a hazardous waste site evaluation Wednesday morning.
The simulation was part of Kathy Smith's Hazardous Environmental Sciences & Technology 131 course. The group of students worked as a team, with each student filling a specific role in a learning exercise to see how effectively they can put to work everything they've learned in the class.
"This is the culmination of the four weeks of this training," Smith said. "It's a federally-mandated 40 hours of training, with 40 hours of state-mandated training as well. It's called Hazardous Waste Site Operations and Emergency Response."
Smith conducts the simulation twice each year, both times during summer quarter. She takes advantage of the 110 acres of natural laboratory at Flett Creek, across the street from CPTC's Lakewood Campus. After setting up a "hazardous" site with damaged containers of various sizes, she observed as her students attempted to properly evaluate the site and test the solid and liquid waste materials.
"This is a great opportunity. It gives us an idea of what we might face in the field if we go into this line of work," CPTC student Nicole Glauberg said. "A lot of us are more hands-on learning types, so getting out here and physically doing it is more helpful than reading about what to do in a book."
Glauberg was the leader of the initial evaluation team. She took notes from a safe distance as two classmates examined the site and radioed in their observations. As their oxygen ran low, they had to go through decontamination processes before removing their HazMat suits.
Unfortunately for the team, they bumped a glass bottle with crystalized waste during the sampling operation. That effectively created an "explosion" that ended the simulation. Still, it gave the students much to reflect on and learn from.
"A lot of this whole exercise is critical thinking and application," Smith said. "It's a very in-depth class and very stressful. This is not a graded exercise. It's a learning opportunity for them to use the information and skills they've learned during the past three-and-a-half weeks. Then we critique their performance, but it's a learning activity. There's enough stress involved without it being graded."
For David Emory, who was in charge of leading the sampling team, the most important part of the day was ensuring the safety of everyone involved. With oxygen tanks and hefty suits during a hot summer day, even a simulation has the potential to become, well, hazardous.
"My number one priority is safety," Emory said. "We've got to be safe wearing those tanks. We want to make sure the people in the suits can sustain themselves, so we have to work quickly."
 While the team identified the glass bottle, they did not report it to their site lead. That meant it remained "in play" in the simulation. Then during the sampling process they bumped the drum on top of the bottle to cause the "explosion." The experience revealed how dangerous the job of hazardous waste operations can be. It also revealed the value of taking the learning process beyond textbooks and the classroom walls.
"This area that we have to use is great, because it gives us the chance to do simulations like this," Smith said. "Once you get back into the trees a bit, you wouldn't even know you're in the middle of a city. And wearing the suits, it's all about limitations and going on what you can see."
Share This Story