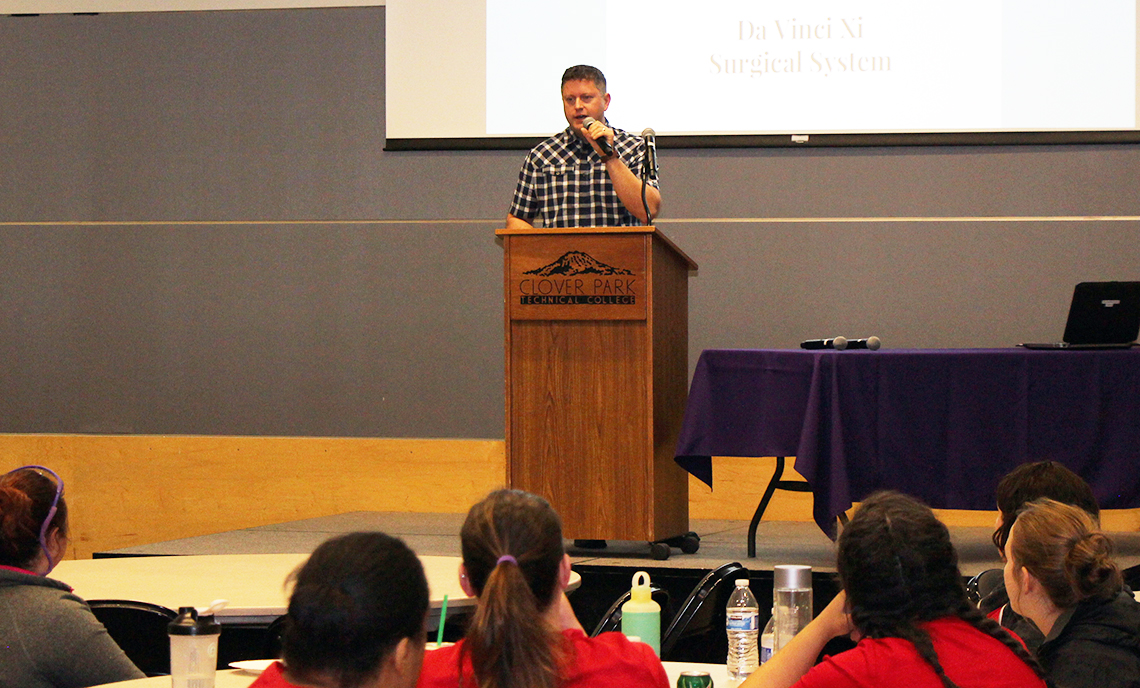 Weise Shares Surgical Technician Experiences at Leadership Luncheon
November 3, 2016
Clover Park Technical College students, instructors and staff members gathered in the McGavick Conference Center Wednesday morning for an informative Leadership Luncheon with Madigan Army Medical Center surgical technician Michael Weise.
As the attendees ate the Subway sandwiches provided for students, Weise shared stories about his experience working as a surgical technician. A United States Army veteran and CPTC alum, Weise has worked at Madigan Army Medical Center for more than 15 years. He has seen a lot of technological advancements during that time.
"It's a little bit of everything," Weise said. "We're constantly training and learning new things. It's pretty challenging."
Weise answered questions from attendees relating to work schedule, pay and job accessibility. He also showed videos detailing some of the latest machines used in the field. At the end of the event, he offered his advice to anyone looking to work as a surgical technician.
"Give it your all, and when you're with the doctor working with the doctor the whole goal is to be like 'Johnny-on-the-spot' right there with the right tool, anticipating what you think they're going to need," Weise said. "You make them happy, and the case goes great. It's a fulfilling job. You're helping people. It's a great feeling."
The event was part of an ongoing series of Leadership Luncheons offered by the Campus Activities Board. The board schedules three such luncheons per quarter, providing lunch to go with a brief guest presentation followed by a question and answer session.
"Our goal with the luncheons is to connect successful industry professionals with students in a related academic program at CPTC," Student Leadership and Involvement coordinator Dominic Viola said. "We invite speakers to campus to give a short talk to the students and discuss challenges and successes of a particular career, and we also encourage the speakers to provide any advice they believe helpful to someone just entering the field."
As for the guest speakers, the board is always looking to connect with guests who can provide valuable information to students. Sometimes those connections come from faculty members - to suggest a guest speaker, contact dominic.viola@cptc.edu - while Viola met Weise through a more unexpected setting.
"I actually met Michael because he was the seller of the house that my wife and I recently bought in Gig Harbor," Viola said. "When I found out he was a surgical technician, I reached out to him immediately to see if he'd be interested in speaking to some of our CPTC students and, thankfully, he was willing to do so."
Share This Story