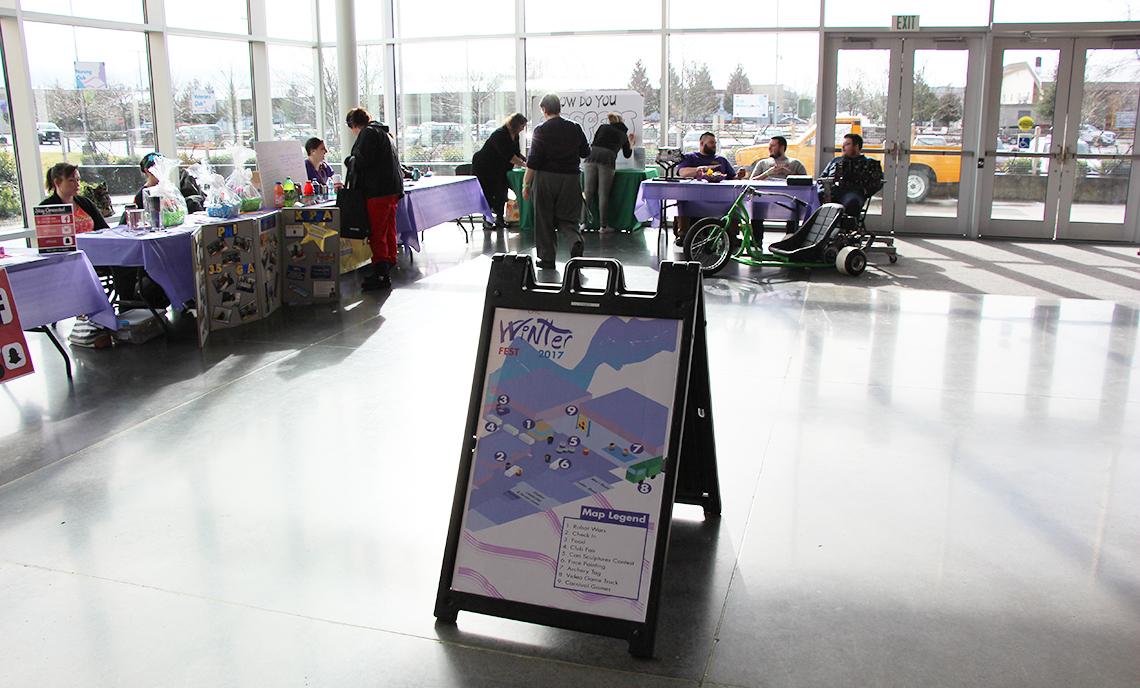 Winter Fest Offers Students Free Food and Fun
February 10, 2017
Robots, canned food sculptures, games and more filled the Building 23 Atrium and Ballroom Thursday, Feb. 9, as part of the 2017 Clover Park Technical College Winter Fest.
"It's an opportunity for clubs and organizations to showcase their stuff, and we also have various offices, committees and departments host tables to provide information about the services they provide," CPTC Student Leadership and Involvement Coordinator Dominic Viola Said. "We also try to do things we think students will like."
More than 200 students attended the festival between 11 a.m. and 2 p.m. Each student had a chance to enjoy free pizza and student-made pastries from Bon Sucre, face painting, archery tag and a video game truck. Meanwhile, a total of 13 clubs, organizations and campus offices hosted tables to provide information about the resources they have to offer.
"It's an opportunity for students to come take a break between classes, get some food and learn about some things they can get involved with," Viola said.
One of the highlights at the center of the event was a robot wars cage, provided by Robot Roundabout in Kirkland. That came about for a couple different reasons, including the excitement factor for students having the chance to carry out robot battles.
"We like to keep things really interactive and hands-on," Associated Student Government Special Events Coordinator Rob Gualtieri said. "Being a technical college, people are really interested in some of the finer details of activities so things like the Robot Roundabout can be a good connection for mechatronics students. Plus, playing with robots is cool."
The festival also featured a CPTC Food Bank Donation Drive and Can Sculpture Contest, with submissions from four different campus groups providing entertaining sculptures and a necessary boost to the campus food bank supply.
"We have the food pantry in the SLSC, and we're just seeking alternative opportunities to supplement our supplies," Viola said. "We're finding the usage of the food pantry is way up this year and we're going through a lot of canned goods. This is an opportunity to have some fun and bring in some additional food to support the pantry."
In the end, more than 200 students had a chance to take a break in the middle of their day, enjoy some free food and maybe get to know some people they otherwise would not have met.
"Our goal for the event is really interaction, getting people out and about to meet people, learn about stuff on campus and make some new friends," Gualtieri said.