Go go go go-karts!
April 29, 2022
From blueprint to go-kart: CPTC welding students take skills for a spin
By Jean Borst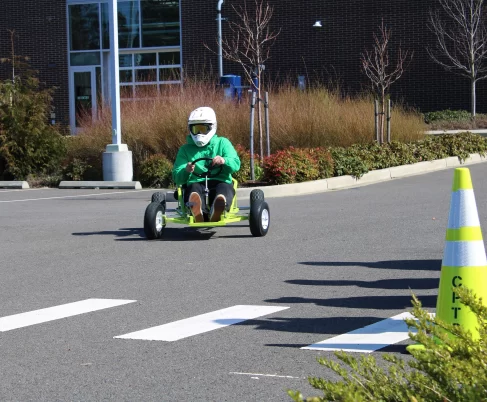 Clover Park Technology College welding students learn to fabricate just about anything that sparks the imagination. So, when instructors challenged them to design, build and race go-karts, they gladly took the wheel.
Amelia Rojas and Cary Flanigan, daytime and evening Welding Technology program instructors (respectively), came up with the go-kart project as an offshoot of their Blueprint Reading for Welders classes. Nine students from their winter quarter sessions participated.
The extracurricular project culminated on a sunny Saturday in mid-April when the CPTC campus was transformed into a track and the race-ready go-karts rolled up to the starting line. Faculty, staff and students' family members cheered on the two teams from the sidelines.
Crossing finish line together
While technically a competition between the day and evening classes, the event was definitely more about cooperation than rivalry.
"We live in a culture of competition," said CPTC Dean of Instruction Brandon Rogers. "That's not at all what this event was about. The instructors did a wonderful job setting the tone for students and everyone who came out to support the event."
That theme of solidarity was on full display, especially when one team had difficulties with their motor chain during the race. Without hesitation, the other team pitched in to get the go-kart across the finish line.
"The two classes came together as one group to help correct the problem," Riojas said. "That's teamwork at its finest."
Real-world experience
With her background as a professional welder, Riojas felt it was important to incorporate more into the blueprint class than what's covered in the textbook.
"This project taught students how to make a set of blueprints and build something as a team," she said. "It was a real-world experience that required them to use not only their welding tools and skills, but also communication skills, business principles and problem-solving techniques to deal with bumps along the way."
A welcome return to in-person events
After two years of COVID restrictions, the go-kart event marked the return of in-person events at CPTC and provided a much-needed boost for everyone involved.
"It was wonderful to welcome students, parents, siblings, faculty and staff back to campus with such a fun event," said CPTC President Dr. Joyce Loveday, who was among race fans the day of the event. "It not only demonstrated the outstanding skills of our welding students, but it was also a true display of teamwork, camaraderie and good fun that we've all been missing."
"The event really put a spotlight on what we do at CPTC and the diversity of what we offer," Rogers said. "Putting together and racing go-karts was really fun, and it exposed a different side of welding."
Spotlight on high-demand field
Welding is an in-demand occupation and one of the highest paid skilled trades in the U.S. And according to the U.S. Bureau of Labor Statistics, the need for skilled workers is getting greater all the time. There are more than 400,000 welders, cutters, solderers and brazers employed across the country and across a span of industries, including manufacturing, transportation, construction and more. Employment in the field is projected to grow 8 percent by 2030, about as fast as the average for all occupations.
CPTC is meeting the call. The Welding Technology program prepares students with the technical skills, knowledge and practical experience they need to be career-ready and ahead of the curve.
Learn more about the CPTC Welding Technology program at cptc.edu/programs/welding.
More CPTC News