Thinking Outside-the-Box, CPTC Faculty Make Online Learning Work for Hands-On Programs
July 10, 2020
By Jenn Adrien
In March, Governor Inslee's Stay Home, Stay Healthy order resulted in Clover Park Technical College (CPTC) faculty having less than three weeks to wrap up Winter Quarter and move their courses entirely online. It was a necessary step toward curbing the spread of the virus, but posed significant challenges for the hands-on programs Clover Park is known for.
How exactly does one teach students how to draw blood, cut hair, test water quality, or bake pastries over the internet?
As educators and students across the nation rapidly adjusted to distance learning, CPTC faculty did more than hold Zoom calls–they developed ingenious ways for students to do hands-on learning from the safety of their home while still under the supervision of a qualified instructor.
Hands-on learning at home
Medical Histology Technician program instructor Bekki Haggerty had been trying to find a workable at-home solution for students using chemicals that require good ventilation. "One night I was cooking dinner and burned the garlic bread. I turned on the overhead fan, and there it was, the 'ah-ha!' moment," she said. "In the end, we converted range hoods with the use of dryer vent tubing to provide safe ventilation."
In addition to walking students through the conversion of range hoods into chemical ventilation, Haggerty provided students with equipment they would typically use in a campus lab. Her students were able to continue with their lab class and stay on track for graduation.
"We knew it would be difficult, but [Haggerty] fought to make sure we could get the training we needed to graduate on time. It says a lot about how much she cares for her students," said student Zoey Shisler.
Shelley Newman, Pastry Arts instructor and chef, developed "Go Boxes," which contained baking staples and themed ingredients meant to spur creativity in home kitchens. Students picked up a fresh box each week but ingredients were only one part of the recipe for cooking up a successful hands-on program from a distance.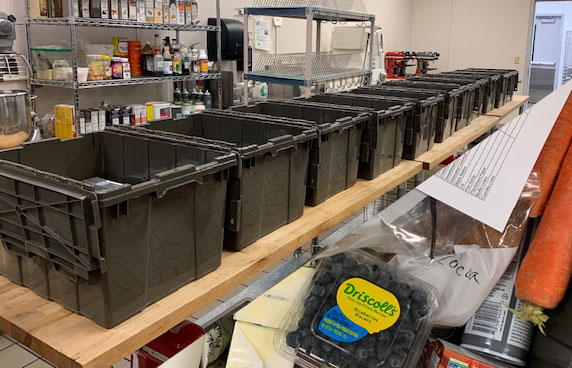 "Because this all happened so quickly, I was caught at a disadvantage. Through a happy accident and LinkedIn connections, I was able to secure free access to a massive video library created by a collaboration of about 30 talented industry professionals for all of the students," said Chef Newman.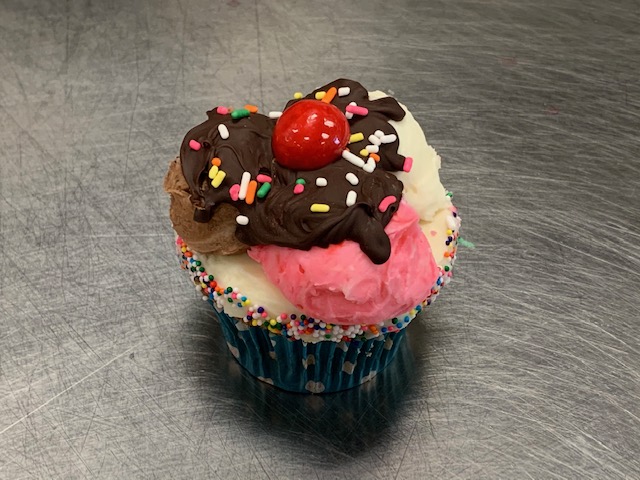 Hands-on learning in their own neighborhood
Derek Faust, tenure track instructor for the Environmental Sciences and Technologies program, created field kits for his students. "Students picked up equipment to measure diameter, height, and area of nearby trees for a forestry lab. Using water quality test kits to test their tap water or a water body in their neighborhood, they had to determine if the water was safe to drink or healthy for organisms based on water quality standards," said Faust.
His students enjoyed the opportunity to get out in the field.
"I had a blast doing the outdoors assignments and using the lab kits," said first year Environmental Science student Dustin Kruse. "A fellow student and I, while following social distancing, were able to link up and do the labs together."
"[Haggerty] fought to make sure we could get the training we needed to graduate on time. It says a lot about how much she cares for her students."

Student Zoey Shisler
Much like in the Culinary Arts program, Pharmacy Technician students were prescribed "Go Bags" prepared by their instructors as a creative solution for their hands-on learning.
The bags included compounding supplies, mortal and pestles, ingredients to compound different recipes, counting trays, medication bottles filled with beans and empty capsules, and prescriptions to practice filling.
Pharmacy Technician instructor Jillian Lalli even prepared an online form for students to practice typing in patient information and prescription labels.
Despite the obstacles COVID-19 placed in students' way Spring Quarter, instructors ensured their students continued to gain the experience they need to succeed in their fields of study.
Thanks to their ingenuity and creativity, CPTC students will stay on track with their programs and graduation.
More CPTC News