Jesus Villegas Rivera newest CPTC trustee
March 2, 2023
by Jenn Adrien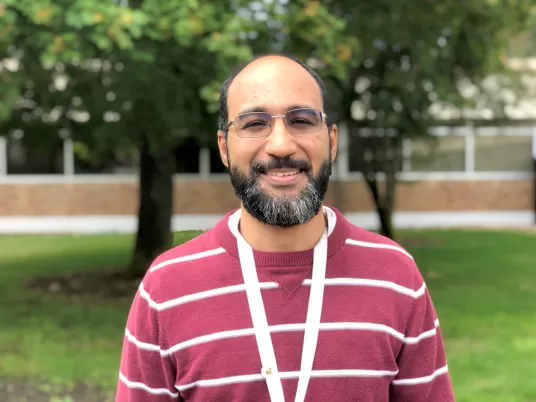 Governor Jay Inslee has confirmed Jesus Villegas Rivera (Jesus Villegas) as the newest member of the Clover Park Technical College Board of Trustees. Villegas' term began on February 24, 2023, and he will participate in his first meeting on March 8, 2023. He fills the seat formerly held by Mark Martinez.
Villegas was born and raised in Puerto Rico, and moved to New York with his family in his early teens. In 2002, the Army stationed him at Fort Lewis – now part of Joint Base Lewis-McChord – where he served as a 42-A Human Resources Specialist. In 2004, he deployed to Iraq for a year. When his active-duty contract was complete, Villegas decided to make Washington state his home.
For the past 15+ years, Villegas has worked for Lakewood's Clover Park School District in various roles, including as a para-educator and as a family involvement coordinator at several elementary and high schools. Now he is the Student Services Support Specialist at the district level, where he works to support the McKinney-Vento (homeless) program, foster care students, truancy prevention, and the Title VI Native American Education Program. He recently became a board member of the KBTC Association, which supports the work of KBTC, the local PBS affiliate station.
As a teenager, Villegas was part of the Figures-In-Flight Dance School directed by Susan Slotnick, and as an adult has taught dance and performed with the Metropolitan Ballet of Tacoma. Villegas fuels his own passion for the arts through acting, dancing, and drumming. In spring 2022, he appeared in a two-and-a-half-week run of "The Happiest Song Plays Last" put on by the Tacoma Little Theatre in partnership with the University of Washington Tacoma-Theatre and Toy Boat Theatre. He has been a drummer for several churches and small bands, and even spent some time as a top DJ with the Direct Sounds DJ company before it moved to Arizona. Villegas draws upon this background in performing arts to deepen connections within the school district and to the local community, leading after-school clubs, including Hip-Hop music and dance, Latino Unidos, Technical Theatre, and a drug- and alcohol-prevention club.
"I have always been passionate about ensuring that students receive the support they need," he said. "Becoming a Clover Park Technical College trustee feels like a natural progression. I'm looking forward to gaining new, invaluable insights into post-secondary education with this chance to support and guide the College as it prepares students to succeed in the workforce and in life."
"Please join me in extending a warm welcome to our newest trustee, Jesus Villegas," said Dr. Joyce Loveday, Clover Park President. "His multi-faceted talents, experience, and unwavering commitment to education bring valuable contributions in shaping the future of our institution."
Villegas is married to Rachael. They reside in Lakewood and have two children.
More CPTC News