Longtime 4-H leader prepares for new chapter at Clover Park Technical College
October 18, 2023
By Jean Borst
Mikki Woodard was so shy as a child that she couldn't look anyone in the eye. At school, her demeanor made her a target for bullies.
That changed when leaders of a local 4-H dog club took her under their wing. In her first year of competition with the club, Woodard was among the top 10 in the state for obedience and showmanship. But it was more than blue ribbons she came away with.
"4-H taught me to be proactive and decisive, that my opinion matters, and how to be diplomatic in difficult situations and when not to give an inch," she said. "That experience inspired me to be a 4-H leader and to treat each club member as though they were my own child."
More than three decades later, Woodard continues to lead and inspire young members of one of Pierce County's 4-H dog project clubs.
Beyond the leash
While members of 4-H learn all things pooch-related – from care, training and showmanship to obedience and agility – the program breeds more than well-behaved dogs. Members also glean a plethora of life skills, including public speaking, leadership, recordkeeping, responsibility and how to make tough decisions.
A big part of the 4-H experience is participation in fairs, shows and exhibitions, including the Washington State 4-H Fair held in conjunction with the Washington State Fair in Puyallup. The events offer club members the opportunity to showcase their hard work, learn sportsmanship and responsibility, and build confidence and communications skills.
"I've seen a lot of happy and sad tears over the years, as well as a tremendous sense of accomplishment," Woodard said. "It's not about winning. We just want them to have fun."
One of her favorite club success stories is about a young girl who owned a St. Bernard. She came to the club after having a negative experience with another organization because of her neurodevelopment and developmental disorders.
"We welcomed her with open arms, and she went on to become the top junior St. Bernard handler in the nation," Woodard said.
Part of a rich history
Pierce County's 4-H program, run by volunteer members and overseen by the Washington State University Extension office, is part of a global network of youth organizations that offer K-12 students a range of hands-on learning activities and projects, from large and small animals to shooting sports, technology, government, home economics and more.
Among the organization's notable alumni are numerous current and past political leaders, including President Jimmy Carter and Vice President Al Gore; first ladies Jacqueline Kennedy Onassis and Rosalynn Carter; astronaut Alan Shepard; actresses Julia Roberts and Aubrey Plaza; and country music stars Dolly Parton and Johnny Cash.
Among former members of Pierce County's 4-H clubs, many have gone on to college or started their own businesses, one was named teacher of the year, and another ran for public office.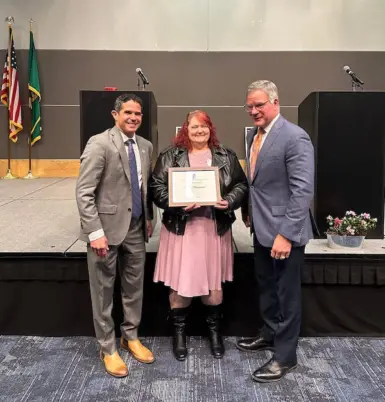 Well-deserved recognition
Woodard's decades of service with the organization haven't gone unnoticed. Her dedication to 4-H recently earned her the Silver Service Award presented by the Pierce County Council in recognition of volunteer efforts.
"I was blown away," Woodard said. "It was such an affirmation that my work has made a positive difference in the lives of others. I feel blessed and overjoyed and will continue to strive to earn the honor."
Shifting gears
Along with her voluminous volunteer work with 4-H, Woodard has also been a daycare worker for nearly 30 years. But her career path is about to change. Spring quarter 2024, she'll begin working toward her Health Unit Coordinator certificate at Clover Park Technical College. The program prepares students to manage a variety of hospital nursing desk tasks, from transcribing physician orders to scheduling appointments to maintaining clerical and patient records.
"I wanted to do something different with my life, and the Clover Park program is right up my alley," she said. "I like working with people, keeping records and being in the thick of things."
There's little doubt her extensive involvement with 4-H, as both a member and leader, have prepared her well for the next chapter.
More CPTC News