MOSAIC Center celebrates milestones
June 22, 2023
By Jean Borst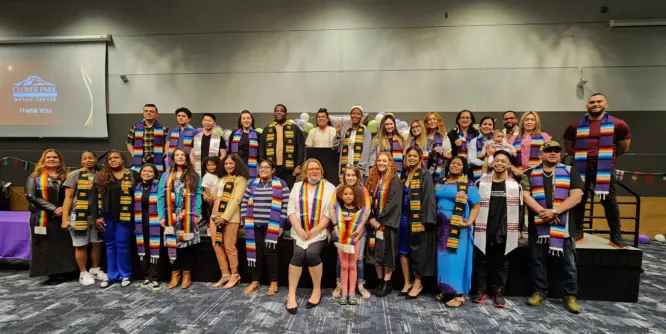 College is a journey, and graduation is a milestone. For traditionally underserved communities, the momentous occasion can carry even greater meaning.
The MOSAIC Milestones Celebration held on June 5 honored the contributions and achievements of Clover Park Technical College students, staff and faculty of color, and LGBTQIA+ communities. Around 100 people attended the event at the McGavick Student Center on the Lakewood campus.
"If you look at graduation rates, there is a big gap between other students hitting that milestone and students of color due to systemic as well as personal barriers," said CPTC Manager of Student Diversity Programs Luke Ruiz. "We wanted to uplift students and celebrate that. This was their moment to be honored and seen."
The highpoint of the inaugural celebration was the presentation of vibrant and colorful cultural and identity stoles to nearly 80 graduating students to wear at CPTC's 2023 commencement on June 7. The regalia included Asian & Pacific Islander stoles, Hispanic and Latinx stoles, Kente stoles for Black students, Native American stoles, and rainbow stoles for LGBTQIA+ students.
Capstone on a busy year
The MOSAIC (Multicultural Office of Student Access, Inclusion and Community) Center is an intentional, inclusive space for CPTC community where students can hang out, catch up with friends, meet other students or use the space for meetings, events or programs. While the MOSAIC Center is for all students, it specializes in supporting students from diverse racial, ethnic, and gender backgrounds.
The MOSAIC Milestones Celebration not only commemorated CPTC student, faculty and staff achievement. It also culminated an eventful year since the Center's "soft" opening a year ago and official grand opening in September 2022.
Here are just a few examples:
The MOSAIC Center and the Students of Color Association (SOCA) collaborated on several events, including celebrations honoring Juneteenth, Black History Month, Cinco de Mayo and others. While SOCA was already an active campus organization before the MOSAIC Center opened its doors, the two entities have formed a solid connection. With so many common objectives, Ruiz expects that relationship to grow even stronger going forward.
Through a partnership with College Success Foundation, representatives of the organization visit the MOSAIC Center every other Monday and bring coffee and donuts to share with students, along with access to the organization's resources, including scholarship and emergency funding opportunities.
The center teams with Nourishing Neighbors to distribute $50 gift cards that students can use for gas, food and other needs. The popular program is especially helpful for those who need assistance with basic transportation to get to school.
With antiracism at the forefront of the MOSAIC Center's mission, efforts continue to make that work even more relevant, including applying strategies to specific students, their programs of study and their careers going forward.
Friendships formed through the MOSAIC Center have spurred new campus clubs and organizations, including an architecture and engineering group.
Next up: This summer, the MOSAIC Center will host its first Pride on the Patio event to uplift diverse identities on campus.
"Whether you are a gamer, a nerd or a casual college student, the MOSAIC Center has a place for you," said Shelly Kirk Selvester, a 2023 graduate of CPTC's Human Services program. "Luke has done an excellent job of keeping students informed about cultural and awareness programs hosted by the center."
Other initiatives are less visible. For example, the MOSAIC Center is working with the CPTC Nursing program to help students navigate their undocumented status as they complete their studies. As Ruiz looks ahead, he hopes to become even more attuned to the undocumented student population and create additional, and stronger, pathways for those students.
Serving the whole community
It's also been a year of discovery for the MOSAIC Center staff. For one thing, Ruiz said, it's not only degree-seeking students who use the space. Transitional Studies students visit the center, as well as younger students from CPTC's on-campus Northwest Career & Technical High School. Ruiz and his team have had to shift to learn about all the different educational paths students are on.
"The MOSAIC Center is about community building and outreach, Ruiz said. "We've realized that we need to keep the whole campus community in mind going into next year, so there's still a lot we need to do. But it's easy when the work is engaging and fun."
More CPTC News