People's Choice Car and Bike Show returns to CPTC campus May 12
April 22, 2022
By Jean Borst
It's been quiet on the Clover Park Technical College (CPTC) campus the last two years. But you can almost hear the engines revving in anticipation of one of CPTC's most beloved and popular events. After a two-year absence, the Annual People's Choice Car and Bike Show returns to the Lakewood campus Thursday, May 12.
The 28th annual event is sponsored by the Clover Park Technical College Foundation and Automotive program faculty. At the heart of the long-running community event are Automotive Technician and Automotive Collision Technician program students. They've been busy with event promotion, prepping the campus' state-of-the-art automotive building and shop areas, and getting their own project vehicles ready to display and dazzle.
On the day of the car show, they'll be on hand to help visitors, answer questions and spotlight the school's Automotive programs and projects. They will also have the opportunity to network with local car enthusiasts and check under the hoods of some awesome vehicles.
All proceeds from the "registration by donation" event will help keep the car show running and provide scholarships for students in Automotive programs. The car show is open to the public and free to attend.
Cruise on in
The Car and Bike Show typically draws all types of cars, including vintage models, classics, hot rods, imports and more. Some years, as many as 200+ cars have participated. For you folks who spent some pandemic downtime buffing chrome and tricking out your ride, now's your chance to let your hard work shine. Faculty and students look forward to a good turnout this year.
"Since the event was idle the last two years, this year is a bit of an unknown," said Kurt Freeman, Automotive Collision and Automotive Restoration instructor. "We hope potential participants are as excited as we are about this year's show and come out in big numbers."
Here's a rundown of what participants and attendees can expect the day of the show:
Registration begins at 7:30 am (registration by donation).
Dash plaques will be given to the first 130 registered cars.
Cars will be on display in the courtyard between wings of the Automotive Trades Building (Building 3) and nearby lawns and courts as needed.
The show runs from 9 am to 2 pm.
Voting takes place between 9 am and 1 pm.
Trophies will be awarded in 13 categories.
The car club with the largest attendance will receive a special plaque.
Food vendors will be onsite.
There may also be a few surprises you won't want to miss.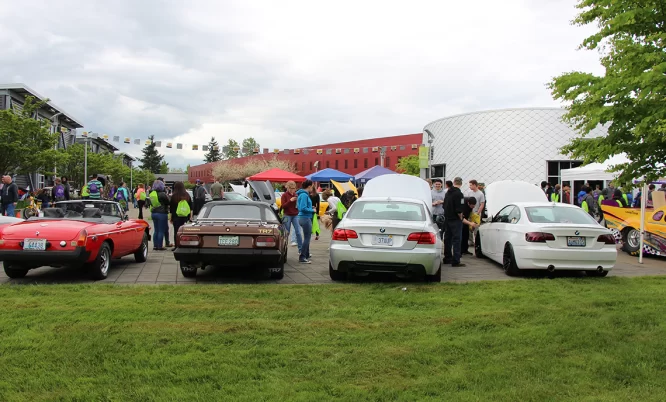 "You never know when a celebrity with a nice car might show up," Freeman said. "We've had several well-known and popular vehicles and owners participate in the past."
Happy to be back
Since its inception, the Car and Bike Show has been held in conjunction with the college's annual Career Conference. (Due to the pandemic, the 2022 conference is part of CPTC's virtual Program Expo, which will be held May 11.) The conference drew thousands of local middle school, high school and prospective students to the campus.
While there will be less hullaballoo this year, Freeman is thrilled to welcome back participants and community members and pleased students will have the opportunity to make connections and tout their hard work.
"It feels great," Freeman said. "It will be like greeting old friends after a long absence."
For more information about the 28th Annual People's Choice Car and Bike Show and how to support the school's Automotive program and students, visit the Clover Park Technical College website.
Take us for a spin. You can learn more about the Automotive Technician and Automotive Collision Technician programs on the Clover Park Technical College website.
More CPTC News