CPTC student awarded Walgreens Pharmacy Technician Certification Scholarship
July 6, 2021
by Jean Borst
Clover Park Technical College student Yvette Colin-Luviano is one of only 30 students in the country selected to receive the spring Phi Theta Kappa Walgreens Pharmacy Technician Certificate Scholarship. The $130 award covers the cost of the Pharmacy Technician Certification fee.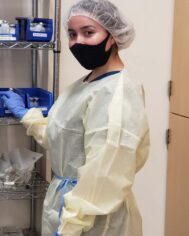 The scholarship, presented twice a year in fall and spring, recognizes Honor Society members enrolled in allied health or pharmacy technician programs. To be eligible, students must plan to take the exam the semester following receipt of the award, show financial need, and demonstrate academic rigor and defined career goals.
"Yvette is a diligent student and a pleasure to have in class," said CPTC Pharmacy Technician program instructor Trisha Autry. "She has great attendance, participates in discussions and is always on top of her work. She's very deserving of the award."
"I'm so grateful to receive the scholarship," said Colin-Luviano, who is completing her final quarter of the program. "It shows I worked hard, and it makes me even more determined to do well in my education and career."
"I thought the online classes would be difficult, but the instructors were so understanding and responsive. They answered any questions we had and were very involved."
Yvette Colin-Luviano
Washington requires pharmacy tech grads to obtain national certification and a state license to work in the field. Passing the Pharmacy Technician Certification Board exam provides both. And when national certification is awarded in Washington, it's also recognized in several other states. That makes it especially seamless for individuals who may need to relocate, such as military spouses. In most cases, the national certification will move with them.
A prescription for career success
The CPTC Pharmacy Technician program well prepares its grads for certification and job readiness. The program offers hands-on classroom and lab training, along with three months of on-the-job training. The program follows guidelines of the American Society of Health-System Pharmacists (ASHP) and the Accreditation Council for Pharmacy Education (ACPE). Clover Park offers a Pharmacy Technician Associate of Applied Technology degree as well as an ASHP/ACPE accredited certificate.
The rigorous curriculum and real-world experience prepare students to immediately launch their careers in a retail or hospital environment, medical clinic, compounding pharmacy, nursing home or long-term care facility. "There are many options for our students across all health care settings," Autry said.
"The course materials, classes, labs and externship have all prepared me for my career," Colin-Luviano said. And while COVID-19 restrictions threw a curve by eliminating in-person learning, Colin-Luviano has been impressed by how CPTC responded. "I thought the online classes would be difficult," she said. "But the instructors were so understanding and responsive. They answered any questions we had and were very involved."
While her goal is to eventually work in a hospital or clinic pharmacy, Colin-Luviano plans to kickstart her career in a retail pharmacy setting. "I want to get some work experience and have the opportunity to improve my customer service, organizational and communication skills."
New fast-track program coming this summer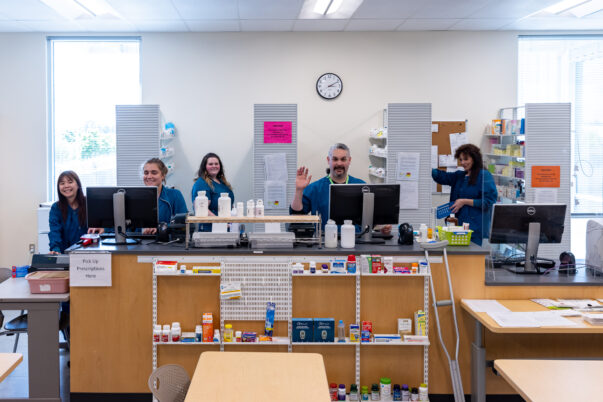 Pharmacy technicians play a vital role in the safe delivery of prescription medication to the public. And with growing demand for qualified and licensed professionals, CPTC is providing more paths that get trained professionals in the field. Beginning summer quarter 2021, the college will offer an entry-level pharmacy technician program in addition to its advanced program.
"It will be a great option for students who are looking for a shorter program that will enable them to begin working in the industry faster," Autry said. "And students who complete the fast-track program will have the option to return to CPTC for advanced training when it works best for them."
Learn more about the CPTC Pharmacy Technician Program.
More CPTC News