CPTC Interior Design grad opens chic showroom in Gig Harbor
May 27, 2022
By Jean Borst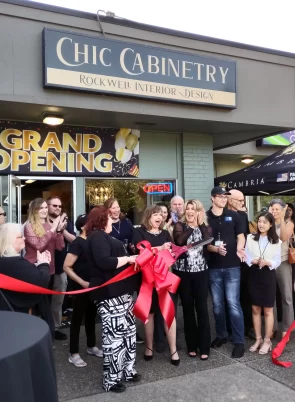 From sleek cabinets to gleaming countertops and fixtures that aim to make a kitchen or bath pop, newly opened Rockwell Interior Design/Chic Cabinetry in Gig Harbor has some big ideas when it comes to home design.
The showroom offers a full range of services, products and prices for clients looking to build or remodel. And CPTC Interior Design program graduate Liane Rockwell and two fellow designers are there to help make their design dreams come true.
An eye for design
Rockwell was remodeling her Gig Harbor home in 2001 when her contractor noted her keen vision for home design. It was about the same time her career as a flight attendant had changed course. Rather than take a position on the East Coast, she began looking at other options. She landed on Clover Park Technical College's Interior Design program.
Rockwell graduated in 2005 with an Interior Design Associate of Applied Technology degree and has spent the last 15 years building a thriving business as an independent home design contractor and subcontractor. After years of sharing space in a flooring store, she felt the time was right to open her own showroom.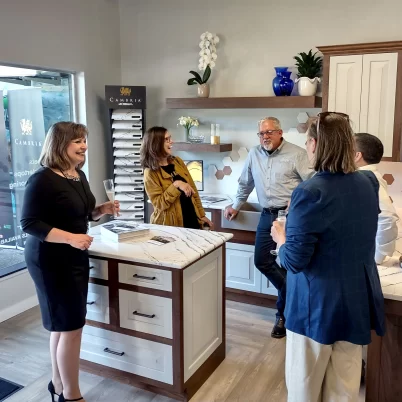 Chic Cabinetry showcases a bevy of products, including cabinets, countertops, hardware, tile and flooring. The store also shines a spotlight on how materials are installed. Education is a big part of Rockwell's vision for the showroom. In addition to offering how-to classes to the public, she hopes to provide a learning experience each time someone walks through the door.
Cabinet whisperer
From space planning and color consultation to plumbing, lighting and more, Rockwell offers the full-meal deal when it comes to kitchen and bath design. But, she admits, cabinets are nearest and dearest to her heart. Her knack for cabinetry design came to light during her studies and training at CPTC.
"I wasn't your typical design student," Rockwell said. "I'm a math girl, and not at all artsy. But I did have was a vision for space and found out I was really good at cabinets."
Far more than wood boxes on a wall, cabinets are a major focal point for any kitchen or bath design. And they need to be done right.
"Cabinets can be tricky and are the source of most mistakes in kitchen and bath design," Rockwell said. "You need to know the manufacturers and how accurate they are in how they build their cabinets. It's important to check, double-check and check again. One mistake, and it's a hefty price tag."
Helping turn dreams into reality
For Rockwell, one of the big appeals of a career in design is the opportunity to work closely with clients to help them realize their design dreams. "It's really fun for me to see spaces transformed," she said. "But I always keep functionality and budget in mind."
In other words, don't be fooled by what HGTV tells you. Good design goes beyond just giving people what they want.
"I listen to my clients and will do everything I can to give them what they ask for," she said. "But if I don't think something will work – now, or as they age in the house – or it requires a lot of maintenance, I'll tell them up front."
For example, if you have your heart set on a copper sink, Rockwell will fill you in on the pros and cons. She may then steer you toward a composite or stainless steel unit if it makes more sense. Ultimately, however, her clients always have the final word on materials, colors and configuration.
Friends and associates help celebrate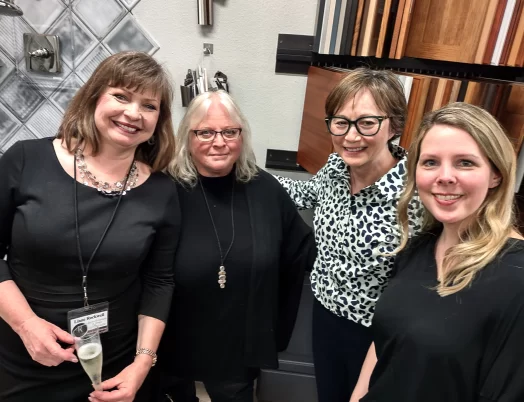 A ribbon-cutting ceremony/open house was held May 25 to officially open the doors of Chic Cabinetry. Tradespeople, contractors, clients and special guests were on hand to celebrate, including Rockwell's fellow CPTC Interior Design grads Nancy Finneson of DeMane Design and Sylvia Stanchina of Total Spaces Design, and CPTC Interior Design instructor Julie Watts.
"It's always inspiring to see our graduates in successful careers," Watts said. "Liane has really made a name for herself over the years and her hard work has paid off. It's a beautiful showroom."
You can visit Chic Cabinetry at 3123 56th St., Suite #4, Gig Harbor, or online at rockwellcabinetsdesign.com.
Learn more about CPTC's Interior Design program.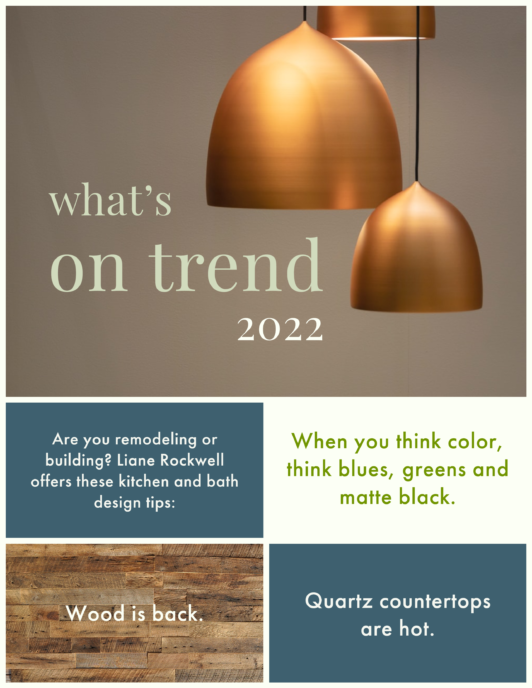 More CPTC News