Making space for parents
April 21, 2020
by Jean Borst
For nursing parents on the go, finding a place to breastfeed or pump isn't easy or convenient, and a bathroom stall is a less-than-ideal option. Parents deserve a space that's quiet, clean and designed specifically for their breastfeeding and child-feeding needs. That's exactly what they'll find on the campus of Clover Park Technical College.
CPTC was one of the first two-year colleges in Washington State to install a private suite for nursing parents. And it happened thanks to student involvement, collaboration between campus departments, and an innovative company dedicated to making it easier for people to achieve their breastfeeding goals.  
A home of their own
There's a whole lot tossed on your plate when you start a new job. For Cal Erwin-Svoboda, CPTC's lack of private nursing space was one of the first things brought to his attention. In 2013 on his first day as CPTC Student Life and Conference Center Director, his team let him know his office was the designated spot on campus for students, faculty, staff and visitors who needed to nurse or pump.
"We followed a posted schedule and made it work," he said, but when four nursing moms attending the same event in the conference center, he knew the arrangement wasn't sustainable. "These mamas needed a home of their own, not just a closet, bathroom or someone's office. Everyone was on board."
Erwin-Svoboda reached out to Mamava, a Vermont-based manufacturer of self-contained, mobile nursing pods for offices and public spaces. The company's sleek, modern units seemed like the perfect solution. With funding from student government and event services, a free-standing Mamava pod was installed in the CPTC Student Center in 2018.
Nursing parents access the private unit with a code available at multiple locations throughout the center. The 26-square-foot space features comfortable benches, a fold-down table, outlets for a breast pump and phone charger, a white-noise producing overhead fan, and plenty of space for a caretaker, baby and even other children. And while the suite is located in a busy, central part of the campus, people using the unit say they feel like they're at a spa when they're inside.
To make the Mamava part of the CPTC landscape, members of the Student Life student marketing team designed the suite's colorful exterior and interior graphics, including a suggested playlist of pumping/milk-themed songs on the inside wall like Madonna's Express Yourself and Danzel's Pump It Up.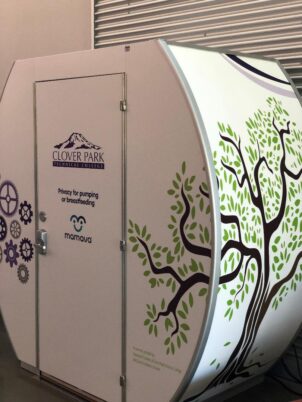 CPTC Foundation Development Associate Rae Baghirov was a nursing mom when the suite opened. "Having a Mamava on our campus gave me a clean, private and comfortable place," she said. "I didn't have to worry I'd be stuck in a restroom or miss events and meetings to accommodate my pumping schedule."
"Visitors to our student center are so impressed, from community members to staff to students," Erwin-Svoboda said. When the vice president of College Services from Everett Community College saw the Mamava during a visit to CPTC, he got the ball rolling to install a suite on the EvCC campus.
"We're thrilled to support parents at Clover Park Technical College," said Sascha Mayer, Mamava co-founder and CEO. "We believe that all caretakers deserve a clean, comfortable and dignified place to use a breast pump or breastfeed distraction-free—anywhere, anytime."
More CPTC News