CPTC Welcomes Alice Phillips to Board of Trustees
March 15, 2021
by Jenn Adrien
CPTC is pleased to announce that Governor Jay Inslee has confirmed Alice Phillips as the newest member of the Clover Park Technical College Board of Trustees. Phillips is the Business Manager and Financial Secretary for the International Brotherhood of Electrical Workers (IBEW) Local 483. Phillips will serve as CPTC's Labor Trustee and participate in her first meeting in April 2021.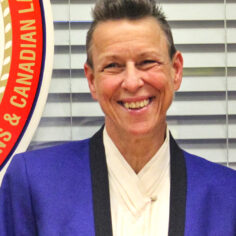 Phillips has been a part of the South Sound community for most of her life. She graduated from both Clover Park High School and Clover Park Technical College in 1979. Upon completing her education, she enlisted in the United States Navy, achieved rank of Hull Tech First Class, and was awarded the Navy Medal of Achievement. Prior to her tenure with IBEW Local 483, Alice spent ten years in the electrical industry at the City of Tacoma.
A trailblazer for women, Phillips is the first female business manager of an outdoor line construction local, whose members usually work construction and are hired by utilities. She has forged the path for other women by being the first one in other capacities, serving as a founding member on the International Woman Committee and the 9th District IBEW Woman Committee, and becoming the first female chair of the Resolution Committee at the IBEW International Convention.
Over the years, Phillips has volunteered countless hours within the community for nonprofits including Paint Tacoma-Pierce Beautiful, United Way of Pierce County, Relay for Life of Tacoma, Emergency Food Network, YMCA, Pierce County Labor Community Services Agency, and the Pierce County AIDS Foundation. She has devoted her considerable knowledge and expertise to benefit professional organizations such as Northwest Line Joint Apprenticeship and Training Committee (JATC), Electrical Workers' VEBA Trust, Tacoma Joint Labor Committee, Pierce County Central Labor Council, Washington State Electrical Board, Washington State Labor Council Education Training and Apprenticeship Standing Committee, Go Local Tacoma, and Tacoma Wellness Committee.
"Technical colleges and joint apprenticeship training programs are the most underutilized asset we have for individuals who do not wish to attend or are unable to afford traditional colleges," Phillips said. "They provide a pathway to better paying jobs and a more fulfilling life experience. They strengthen our communities and are a valuable resource to our economy."
CPTC President Dr. Joyce Loveday noted the importance of having a labor representation on the board, "Having Trustee Phillips on our Board provides a valuable connection our labor partners across the county. Her first-hand experience in a technical field and her close connection with industry provide a perspective that will contribute to CPTC's responsiveness to our community."
In her spare time, Phillips enjoys spending time with her dogs and riding her motorcycle. Her passion for health and wellness drives her to be a frequent competitor in ultra-marathons, marathons, and obstacle races.
More CPTC News