CPTC will offer first-of-its-kind Environmental Sciences BAS degree
June 15, 2023
By Jean Borst
Students and employers spoke, and Clover Park Technical College listened. Beginning fall quarter 2023, CPTC will offer a new Environmental Sciences Bachelor of Applied Science (BAS) degree. The BAS-ENV will be the first program of its kind offered at a Washington state technical or community college.
Built on a strong foundation 
The college has a rigorous Environmental Sciences and Technology associate degree program that prepares students for a wide range of careers. But the reality is that most jobs in the field require a Bachelor of Sciences degree.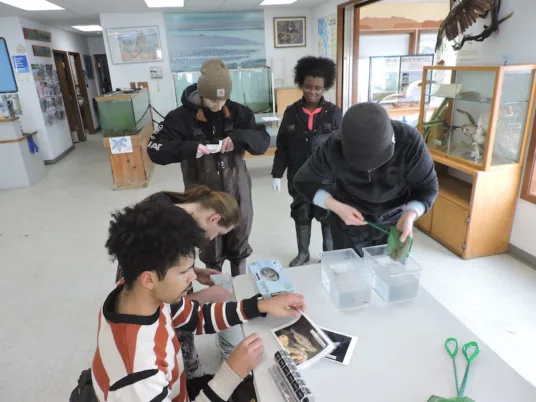 "Graduates of our AAS program are skilled and work-ready, but employers are looking for that four-year degree," said Derek Faust, CPTC Environmental Sciences and Technology program faculty instructor. "We can't change what employers require, but we knew we could build a strong BAS degree on the breadth and depth of our existing programs."
The BAS-ENV includes highly relevant classes from CPTC's other Bachelor of Applied Science programs as well as classes from its AAS program that are better suited for a four-year degree, including environmental law and introduction to air pollution. A project management component is also included to position graduates for career advancement.
Graduates of the BAS-ENV program will have the skills, knowledge and credentials needed to jump into an array of environmental, biotech or natural resources careers.
Created for all students
Curriculum for the BAS-ENV was developed with input from current and former students and industry employers, as well as consultation with the college's Environmental Sciences and Technology Program Advisory Committee. Equity was a huge piece of the process.
"We worked hard to build a placed-based program that would create an equitable learning environment for all students," Faust said.
As a result, the BAS-ENV is suitable for everyone – from AAS degree-holding students to working adults to high school students beginning their college journey. The program offers face-to-face, hybrid and online classes.
Additional benefits also help level the playing field:
Students don't have to worry if their CPTC credits will transfer to four-year institutions.
The cost savings compared with Environmental Sciences BAS degrees at traditional four-year colleges and universities, particularly private institutions, is substantial.
The CPTC program creates a pathway to advanced degrees. Graduates of the BAS-ENV program can complete a Master of Environmental Studies at The Evergreen State College.
Making dreams a reality
For many Clover Park Technical College students who are working toward their AAS degree in Environmental Sciences and Technology, news of the BAS program is a game changer – and a huge relief.
"I was worried about the limited career options and the high cost of going to a four-year university, so my plan was to join the workforce and slowly continue my education in my spare time," said CPTC Environmental Sciences and Technology student Kat Britt. "This program means I can get my BAS degree faster and continue my education in a familiar environment with wonderful instructors. My worries have faded."
With a BAS in hand, Britt hopes to work with the Washington State Department of Ecology or Department of Fish and Wildlife where she can help improve and maintain the environment for future generations. She also plans to pursue a master's degree. "I'll be able to have the career I've dreamed of and support my family and help us own a home," she said. "It's a little slice of the American dream."
A growing list of BAS opportunities
With the addition of the new BAS in Environmental Sciences, Clover Park Technical College now offers five Bachelor of Applied Science degrees. Other programs include Cybersecurity, Interior Design, Mechatronics Engineering Technology & Automation, and Operations Management.
Read more about four-year degrees at CPTC and how they meet the need for high-demand jobs.
Ready to learn more? If you're interested in the BAS-ENV and would like more information, contact Derek Faust at derek.faust@cptc.edu.
More CPTC News