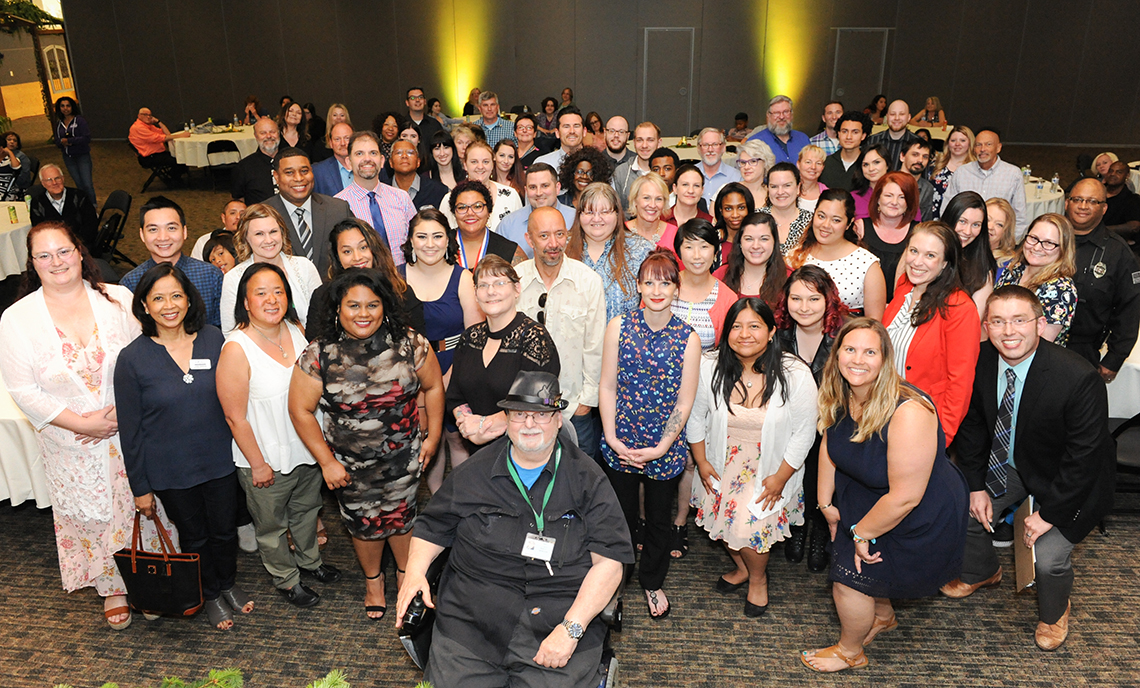 CPTC Honors Excellence at Student Awards Ceremony
June 14, 2018
As the academic year approaches its conclusion, Clover Park Technical College continued a tradition of recognizing its exceptional students, faculty, and staff members on June 6 at the sixth annual Student Awards Ceremony.
More than 200 attendees enjoyed pre-ceremony appetizers and activities, including a photo booth, as the Office of Student Involvement decorated the McGavick Conference Center with a Secret Garden theme. A total of 11 awards were handed out over the course of the evening.
"Thank you for joining me tonight as we celebrate excellence," CPTC Manager of Student Engagement Alison Pau said to open the ceremony. "Nominees – we are here this evening because someone thinks you are awesome. Tonight is all about celebrating those exemplifying academic and community leadership moments at Clover Park Technical College. Whether you win an award or receive a certificate, being nominated is a big honor."
Club Mechatronics received the Organization of the Year honor, while math instructor Tula Mollas was named Faculty of the Year. International Education Program Specialist Yuko Chartraw received the June Stacey-Clemons Student Advocate of the Year award for her dedication to assisting international students. She was introduced for the honor by Quan Tran, who later in the evening received the Outstanding Student Leader award.
A variety of speakers introduced each award with a description of its qualifications and the various ways the recipient surpassed those qualifications. Each award honored contributions in class and around the CPTC community. CPTC President Dr. Joyce Loveday also took a few moments to recognize the three students who received All-Washington Academic Team honors earlier this year: Lam Ho, Christina Pruitt, and Holly Williams.
Vanessa Vinup received the Transformation Award, while Darryl James, Andrez Molano and Clare Ah-Foon all received the CPTC Excellence Award. Following a guest musical performance, the final three awards were the Vice President of Instruction Award, the Vice President of Student Success Award and the President's Award.
Holly Williams received the Vice President of Instruction Award after overcoming numerous obstacles to serve as a Peer Ambassador and President's List honor for her grades as a Cosmetology student. Alexandra Haley received the Vice President of Student Success Award for her work within Student Leadership across campus over the past year. Heather Morgan received the President's Award for her success in the Human Services program, her involvement on campus and her work as an intern at the CPTC Foundation.
"Clover Park has done so much for my life, and it's opened so many opportunities for me," Morgan said. "All of my instructors here have been the most helpful people ever. They go above and beyond at this school, and so I felt that I could do that. This is where I blossomed and found myself. I am one of those students who has needed scholarships and emergency assistance to get through, so it's very important for me to help other students like me. I love this school, and this school will forever hold a special place in my heart, along with so many people here."
To conclude the event, CPTC Director of Student Involvement Cal Erwin-Svoboda offered a special thank you to all the friends and family members in attendance who helped the students, staff and faculty members achieve their success.
"Without your support and sacrifice, we would not be where we are today," Erwin-Svoboda said. "We acknowledge that there may be one student in the class, but there is a whole vast network of people supporting their academic aspirations. We acknowledge the importance of the roles those people play in our lives."