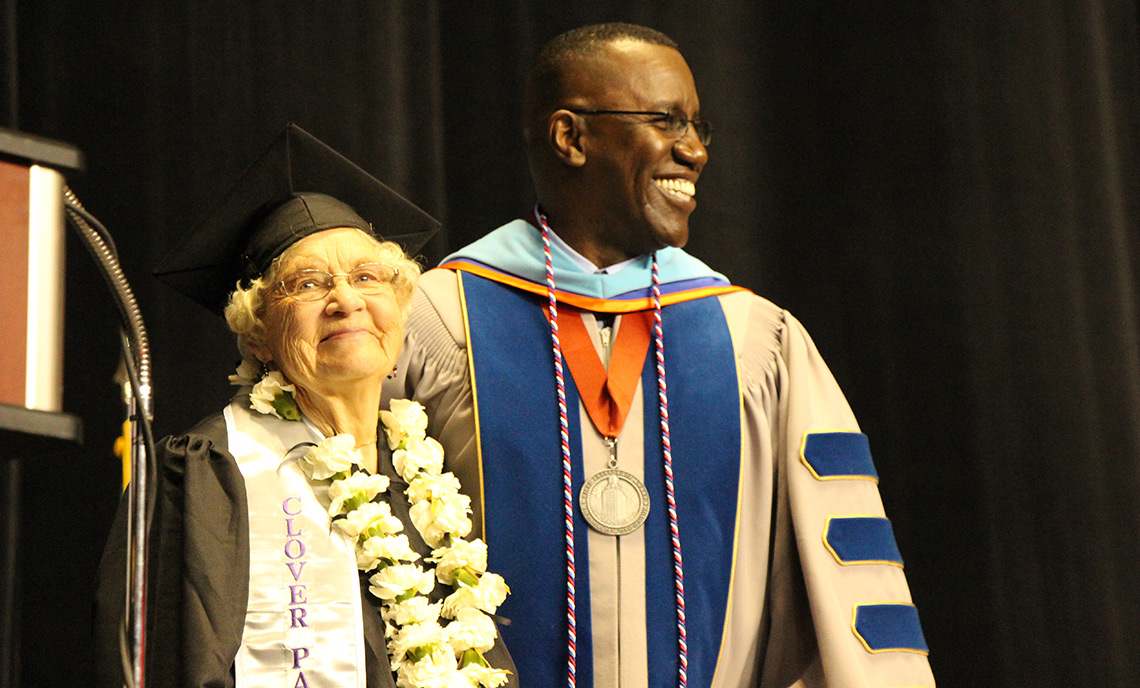 CPTC President Reflects on His First Year of Tenure
November 10, 2014
This September marked the one-year anniversary of Dr. Lonnie L. Howard's tenure as president of Clover Park Technical College. Since he started Sept. 16, 2013 Dr. Howard has implemented many changes to give CPTC a more strategic focus.
Highlights from the last year under Dr. Howard's leadership include creating a clear strategic direction for the college, an increase in online and evening courses, the launch of the college's first bachelor's degree program, removing the graduation fee and awarding the college's first honorary degree.
Dr. Howard sat down to reflect on the past year, and to look at where the college has come from and where it will continue to go.
Q: What was your first order of business as CPTC president when you started Sept. 16, 2013?
Dr. Howard: To talk about my vision. Before I started as president I went through and read everything that I could about Clover Park. I began to think about things I had done in my past in terms of some of the successes I had and figured which could be implemented at Clover Park. How could they be improved to help take Clover Park to the next level? In addition to that, what were those components at Clover Park that I could take what I knew and use the existing resources and mesh it together and come up with something that would not only benefit our college, but our community as well.
Q: What was your vision for the college, and has it changed in the last year?
Dr. Howard: My vision from day one has been very clear in terms of our strategic priorities: To increase student success and educational access, to be more responsive to the local community and to business and industry, and as an institution to become more entrepreneurial. That's why I'm so delighted we're one of two colleges in the state of Washington to recently receive a $2.5 million grant from the federal government. That's huge.
Q: What has been your personal highlight of your first year?
Dr. Howard: I just love Ms. Elnora Medley (Cosmetology Program volunteer). She has served the college over 50 years in a volunteer capacity, and prior to my tenure here no one gave her a pat on the back. She was using her own resources, time, money and effort to support our students. With the faculty's approval, to be able to present her the college's very first honorary degree, this is the highpoint of my 22-year career.
Q: Why was it important to you to create and personally fund the President's Scholarship?
Dr. Howard: From my career having worked as a janitor, having walked in the shoes of poverty and really being able to identify with the hardships and obstacles that many students face, I made a personal promise to myself that should I ever rise out of that situation there are two things I would do: 1, I would try to reach back and help as many as I can; and 2, if I ever had additional resources I would commit those resources to help.
Q: What makes CPTC stand out among other two-year colleges?
Dr. Howard: Faculty and staff. I have worked at Tier-I research universities, four-year colleges, community colleges and now a technical college. Clover Park really does put students first. It's more than a slogan, it's a reality here. That's what made me want to be a president here. I wanted to be at a college that reflected my own personal and professional values.
Q: How have you faced some of the challenges at CPTC?
Dr. Howard: There haven't been any challenges. To me, to say we have challenges says we almost face insurmountable odds. I see the pot of gold at the end of the rainbow.
Q: What does the Clover Park way mean to you?
Dr. Howard: It's neighbors helping neighbors. To me, that's the Clover Park way. No one that comes to our campus is ever a stranger. We have this culture where we want to help each other. For many of our 7,199 students, we might be their last chance. We take that to heart. The Clover Park way is ingrained in all of us.
Q: What are you most proud of?
Dr. Howard: I am most pleased about how far we've come as an institution in a very short period of time. We have put together a strategic plan that identifies strategic priorities that work. More personally, it's the level of acceptance that faculty and staff have shown me. I feel like this is my family. We have a great Board of Trustees who work very well together, we have a great leadership team, and amazing faculty and staff. They are the people who really make the magic happen. I'm just delighted to be a part of the team.
Q: With the first year complete, what is your outlook on the second year?
Dr. Howard: Year two will begin with an assessment of year one, where we will take a very realistic look at what worked and what didn't work as well, and where we can improve the process.  As a good leader, I need to go outside my concentric circle and really engage the faculty and staff who are in the trenches. That's what I've tried to do with our shared governance model. Regardless of their rank or title, I think each person has an idea to bring to the table.