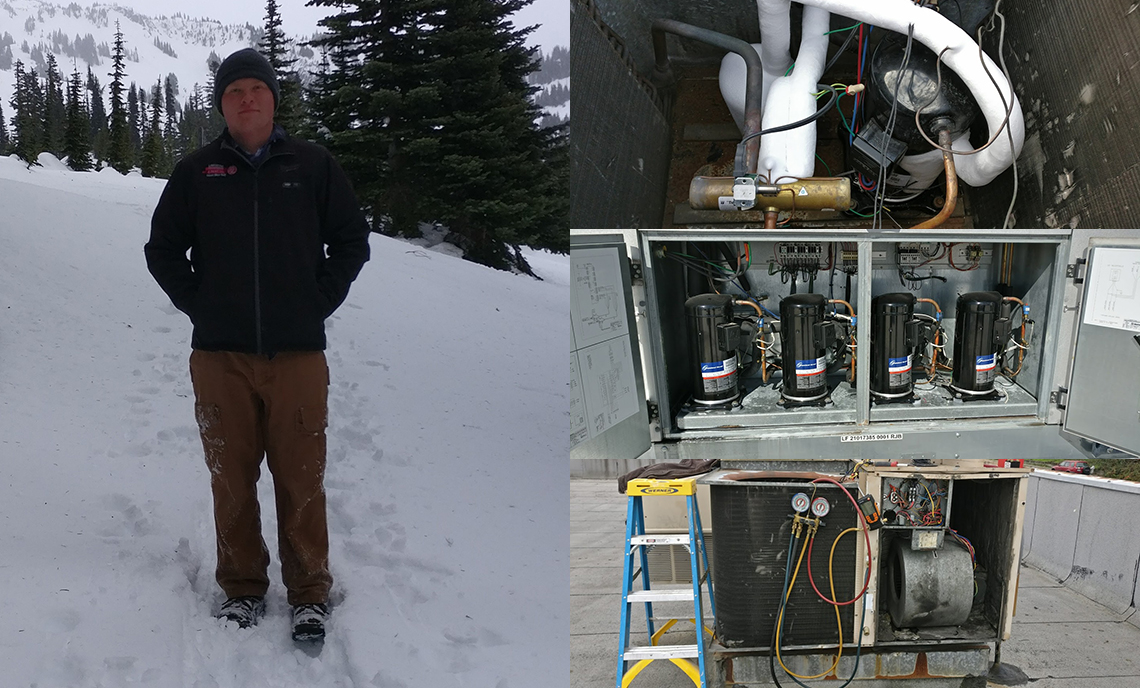 Dream Job Comes Early for CPTC Student
February 17, 2017
Not many people find their passion and dream job before officially graduating high school. But for Clover Park Technical College Running Start student – and soon-to-be alum – Caleb Davenport, that's exactly what happened.
"I've always been a go-getter; I don't like waiting around or anything," Davenport said. "I really like the job, and it's a great opportunity. I'm surprised to have the chance this soon, but I knew this was where my passion and interests lie, so I knew I would get here eventually."
That great opportunity is a Level II Technician position with Aggreko, a worldwide supplier of temporary power generation and temperature control equipment with a local office in Pacific. Aggreko provides power and temperature control for some of the biggest events in the world. Davenport acknowledges that the job might not sound too exciting to others, but for someone who grew up "literally with a screwdriver in one hand and a wrench in the other," it doesn't get much better.
"Simply put, if it breaks, I fix it," Davenport said. "Even though I really enjoy it, it's not a glamorous job. I feel really fulfilled by it, but it's not for everybody."
Davenport came to CPTC in 2015 to join the Running Start program for his final two years of high school. The Heating & Air Conditioning/Refrigeration Service Technician program drew him to CPTC "because I like to fix stuff and work with my hands, and it's one of the most diverse and well-paying jobs there is."
Sure enough, his choice has panned out. He finished the coursework for the program in December and will accrue internship credits while working until he graduates in June. And despite being several months shy of his 18th birthday, his hiring established himself in a very lucrative position.
"This is an unheard of start position," Davenport said. "I've been around it my entire life and have a passion for it and really enjoy doing it. My entire family works in HVAC, and I've always had an interest in it and done it working with my dad since I was a kid."
It's that lifelong experience and extreme devotion to craft that made Davenport the youngest person ever hired by the company.
"I do really have a passion for working with my hands and enjoy fixing stuff," Davenport said. "When you find something you enjoy, you're willing to put a lot of work into it and it doesn't feel like work."
The Running Start program played a key role in helping give Davenport the educational training for the job. It also helped him get away from a high school experience he did not enjoy.
"My high school teachers used to say 'Oh, you need this information to get into this college and do this,' but often it was stuff I didn't really need for what I wanted to do," Davenport said. "High school was a terrible place for me to learn, because I knew what I wanted to do and the classes didn't apply to those passions. At a technical school like CPTC, generally you're more focused on things that interest you. I went to HVAC class; every day I got to go out and fix stuff. I really enjoyed that, and it makes it a lot easier to show up every day and do well when you really enjoy what you're doing."
Davenport was a high-achieving student throughout his academic career, and that often led to counselors pushing him to take higher-level theoretical math and science classes. However, while he was good at math, he didn't enjoy it and instead wanted to pursue more hands-on classes like shop courses. That disconnect with his counselors about his educational focus frustrated him.
"For some people, the conventional school structure is a great path that leads them toward a great career," Davenport said. "But for the vast majority of people going through high school, they're being pushed to go to a four-year college, and that's not what should happen. They should be pushed to do something they enjoy that's going to make a sustainable career."
Now Davenport serves as a first-hand example of the value of a technical education. He discovered his passions early in life, fostered them as he grew and pursued the first opportunity for the formal education he'd need. The end result is a fulfilling and high-paying career opportunity before he's even reached legal voting age.
With just over one month between finishing courses in December and his official hiring at the end of January, Davenport spent the time in Kenya helping build a house for missionary friends they know through their church.
No matter where he goes, he's always working on building and fixing things.
Share This Story
Ready to learn more? Visit the HVAC program page on the Clover Park Technical College website.