Zero Energy House
March 1, 2013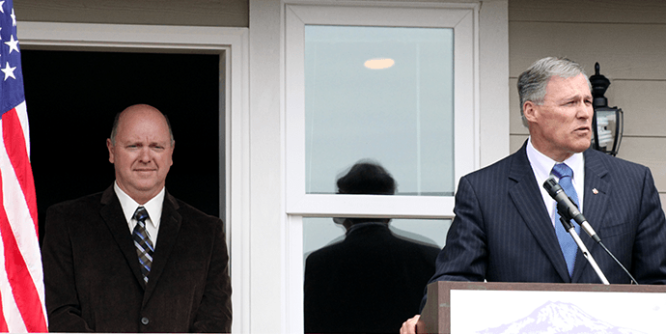 The Zero Energy House project was proposed by Dan Smith to demonstrate the concept of "build tight and ventilate right." Smith led the design and production of the home with the help of the Architectural Engineering Design, Interior Design, Construction Technology, Landscape Management and Automotive Restoration programs. Smith serves as Clover Park Technical College's Construction Technology instructor and has led his students in completing the project over the past three years.
The Zero Energy House (ZEH) is located on Clover Park Technical College's Lakewood campus, near Steilacoom Blvd.
The ZEH features passive heating qualities incorporated into the design. The vaulted ceiling over the great room features a south-facing wall of operable awning windows. This provides natural day light and takes advantage of prevailing winds and passive air movement. The home's energy production and consumption are tracked to verify zero energy consumption.
The home is part of a larger commitment to sustainability at Clover Park Technical College. The College established a Sustainability Committee in the Spring of 2010 to pursue efficiency, energy consciousness and green initiatives. The committee has championed paper reduction efforts, recycling and composting, and an energy conservation goal to lower electricity costs on campus. In addition, the College has leveraged two energy efficiency grants to strategically invest in upgraded lighting, motion sensor installation and heating, ventilation and air conditioning upgrades.
The project will bring to life program concepts taught in class and provide an example of simple changes that can add up to a big difference in the performance characteristics of a home. The house will also be used as a working laboratory for students to learn about air leakage concepts and training on air leakage testing equipment.
Other Highlights
Energy production and consumption will be tracked to verify that the house is in fact achieving zero energy consumption. Sufficient technology will measure the individual circuits of the system to experiment with the consumption of different plug loads and appliances.
Passive heating qualities include the amount of south facing glass and the ideal orientation developed during the design process. Natural ventilation will be the primary source of air conditioning in the building. The vaulted ceiling over the great room will feature a wall of south facing operable awning windows providing natural day light and will take advantage of prevailing winds and passive air movement.
A golf cart is being restored through the funding for the house. The cart will be recharged by the PV system on the house and used to promote the two programs jointly.
On campus project partners include the following programs: Architectural Engineering Design, Interior Design, Landscape Management, and Automotive Restoration.
More CPTC News