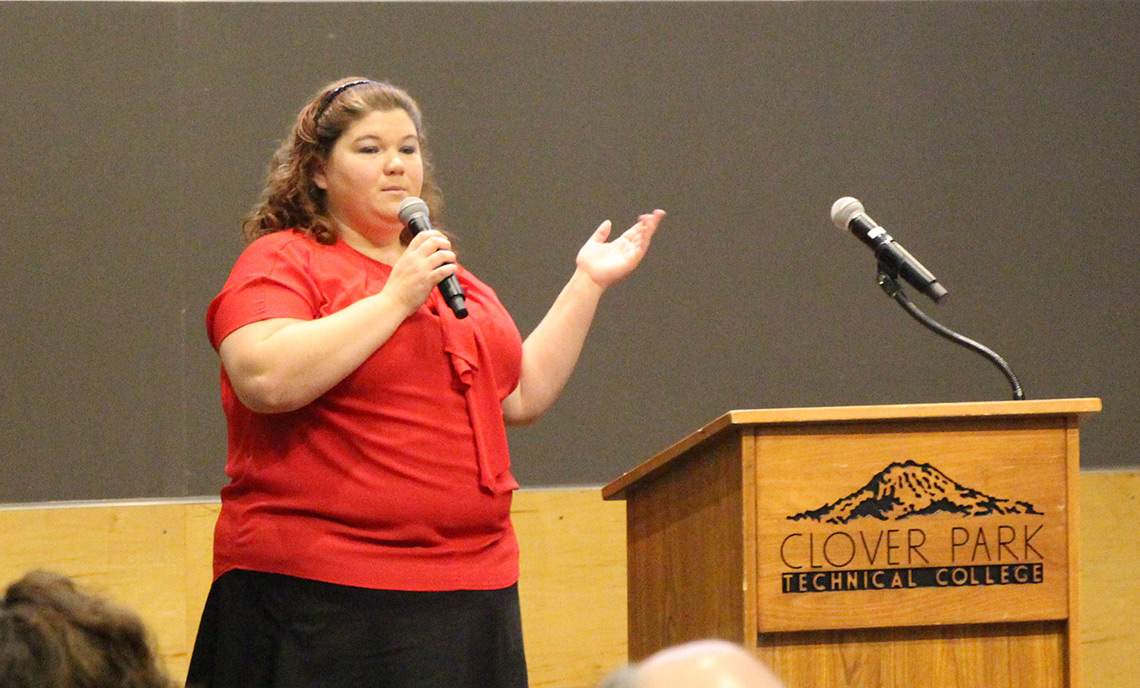 Computer Programming Students Present Spring Quarter Projects
June 14, 2016
Students from the Clover Park Technical College Computer Programming and Web Development Program offered a glimpse into six different projects conducted during the spring quarter as they presented their projects Monday morning at McGavick Conference Center.
Presentations ranged from a continuing project working with a local bowling tournament to a book recommendation site, a food management application and more. Students worked through each step of building their applications, coming up with the idea and building the database, both the front- and back-end of the web content and any necessary troubleshooting throughout the process. Through each presentation came a message of success, growth and overcoming challenges.
"I hope none of you will give up or drop out without exhausting all of your options, including fellow students," presenter Jennifer Chesnes said to her fellow students in attendance as she prepares to graduate this weekend. "You really do get the tools to succeed here."
Chesnes was part of two presentations, including serving as project manager for the nine-member team that continued work on the 9-Tap Tour. Chesnes, Kevin Carbonell, Julie Edwards, Cody Paschich, Toby Fortuner, Jenzel Villanueva, Jeff White, Tyler Hansen and John Anderson comprised CPTC's third team to contribute to the project, which works with 9-Tap Tour Director Rob Victor to create a bowling tournament application replacement.
"I've been very impressed with everybody we work with," Victor said of the students' work on the ongoing project. "I appreciate the job everyone's been doing, and I look forward to a continuing relationship with the returning students."
Chesnes also shared her work with Michele Slaght on a website called "Booksavor," which the duo designed to assist book lovers with finding and sharing recommendations and reviews of books from every genre. Fortuner worked with Maria Lernyei to build a "dating site for geeks," which they called "Nerd Need Love."
Edwards and Yvonna Peterson built a food management application. Users enter which foods they've purchased, and the app tracks expiration dates and food usage to provide alerts for when to throw out old food and when to replenish a low supply. Keith Edwards shared his progress with "FlighTour," which provides opportunities to use flight simulators for aspiring pilots. Rebecca Richards revealed the value of working with Flexbox to increase versatility when building sites to be used with different devices.