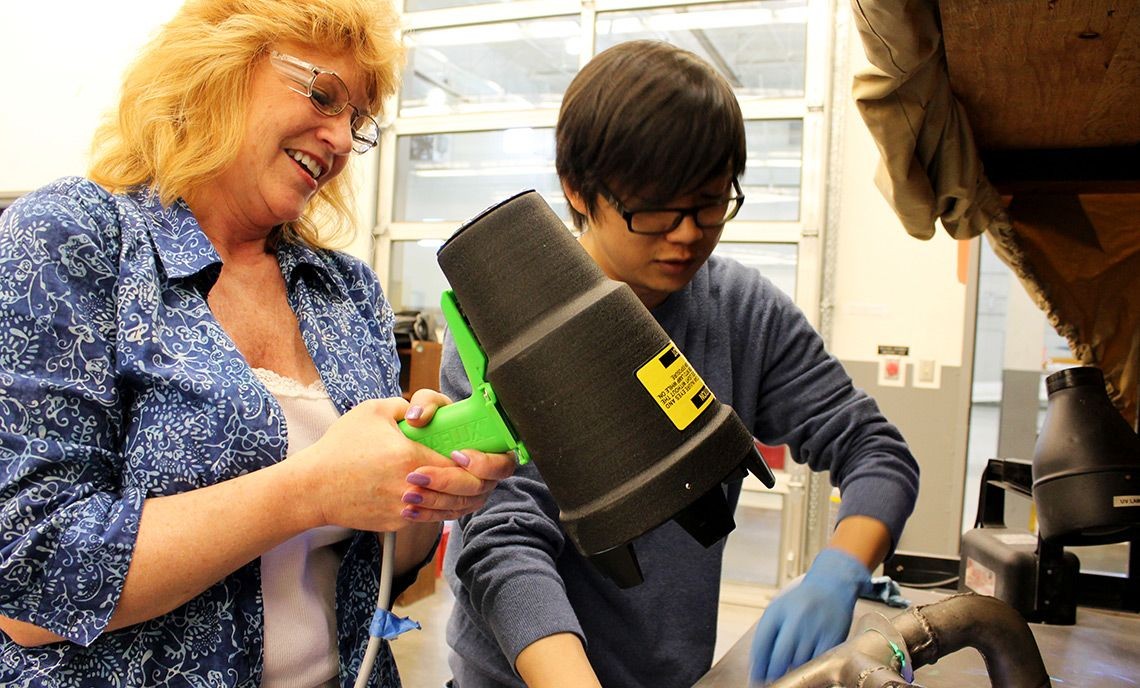 A New Start, A New Career
June 29, 2015
Naomi Hoff was in need of a new start after she was laid off at The Boeing Company for the second time in 10 years.
An aptitude test and her mechanical background led her to enroll in the Non-Destructive Testing Program at Clover Park Technical College.
The program out of CPTC's South Hill Campus provides training in a variety of analysis techniques used in industry to evaluate the properties of a material or structure without causing damage. NDT is used in a variety of industries including construction, manufacturing, civil engineering and aerospace.
"I find it fascinating," Hoff said.
The Non-Destructive Testing Program offers an Associate in Applied Science-T Degree. Students learn blueprint reading, basic metallurgy, measurement and proper use of equipment used in the various testing processes: Radiography, Ultrasonic Testing, Eddy Current Testing, Liquid Penetrant Testing and Magnetic Particle Testing.
"The need for NDT has been growing as new industries, new applications and new materials come up," said Charles Musson, program instructor.
Musson, his wife Lise Musson, and Douglas Evans bring a wealth of industry experience to the program as instructors.
Charles Musson was at The Boeing Company for 24 years before making the move to CPTC, where he wanted to help establish the new program for an in-demand industry.
"A lot of people are starting to retire from the NDT world, so it's going to open up doors for the next generation," Hoff said.
Upon completion of the program, students are prepared for the American Society of Nondestructive Testing Certification examination.
Hoff is looking forward to a start in a new field, and remains open minded as she prepares for her next venture. Born and raised in Washington, Hoff hopes to travel. Musson said those willing to travel will always find employment in NDT.
For more information about Non-Destructive Testing at CPTC, visit http://www.cptc.edu/programs/material-science.