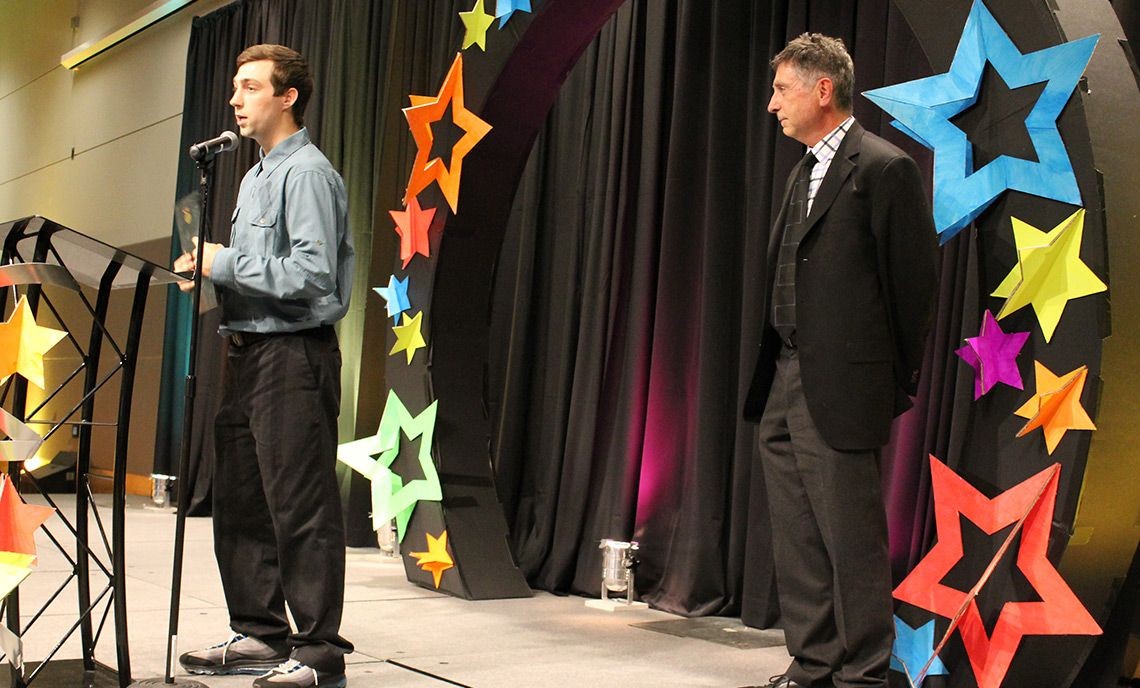 A Night to Celebrate Leadership
June 8, 2015
The red carpet was rolled out June 3 in celebration of the annual Student Awards Ceremony at the McGavick Event Center.
The ceremony, hosted by the Office of Student Involvement, recognizes those exemplifying academic and community leadership at CPTC. Students, staff and faculty submitted nominations for various award categories.
Mechatronics Technician student Adam Yunker was aware one of his instructors had nominated him. As a student in Mechatronics 121 and 122, he used his previous experience in computer design to work with the instructor and create a curriculum to help other students. While the instructor provided the lessons, Yunker worked with his peers one-on-one.
Yunker was awarded the 2015 Presidential Award for excellence in academic performance, leadership and service.
"It's amazing, I really was not expecting it," he said.
Yunker was studying mechanical engineering at another school when he heard about CPTC's Mechatronics Technician Program, which encompasses mechanical, electrical and computer engineering into one program.
"I love prototyping, designing and making things," Yunker said. "I take things apart and put things together."
For her hard work, devotion and commitment to students, Linda Rick received the Outstanding Student Leader Award. Deronda Thomas received the Service to Community Award for her commitment to community betterment.
The CPTC Motorsports Club received this year's Outstanding Student Organization Award, and the June Stacey-Clemons Student Advocate of the Year Award was presented to staff employee Randy Holt.
Graphic Technologies Instructor Jeromy Condon received the Faculty of the Year Award.
Division award recipients for outstanding academic performance include Matthew Dahl and Ronald Denning (Aerospace, Technology, Manufacturing and Workforce), Katrina Sullivan and Haley Duggan (Health, Business and Human Services), and Shakira Robinson (Basic and Academic Transfer).
For more information about the Student Awards Ceremony, visit http://www.cptc.edu/student-awards.