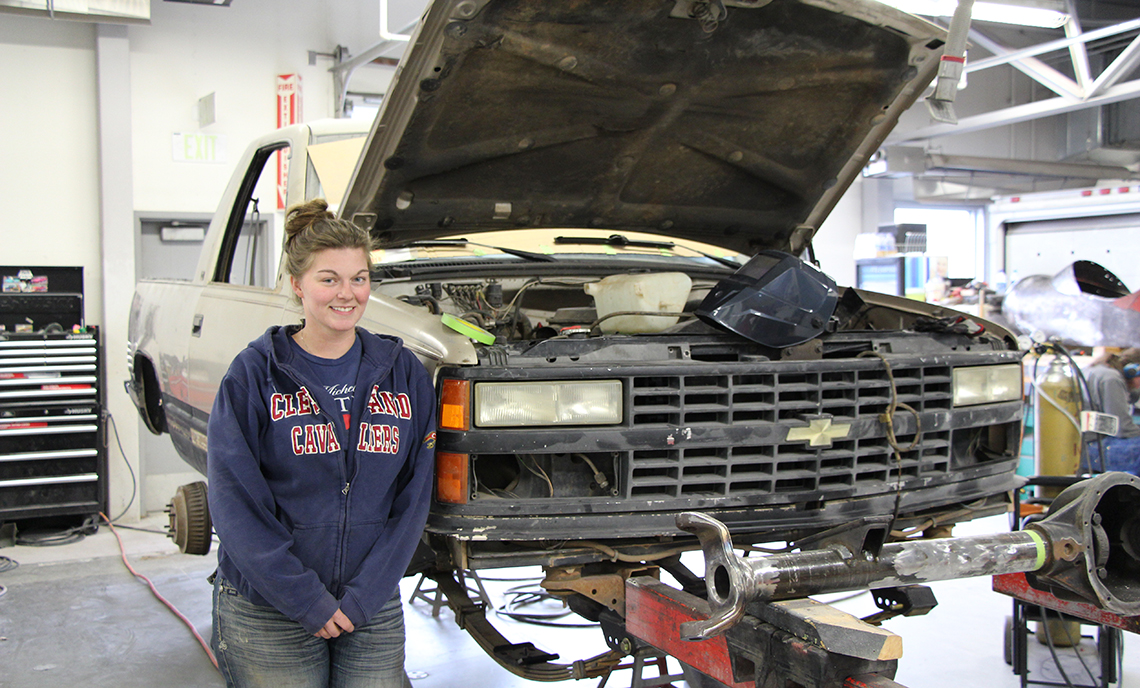 Automotive Student Finds Art in Restoration and Customization
March 22, 2017
Ericka DeBoer is an artist, and her canvas is a car.
The Clover Park Technical College Automotive Restoration and Customization student knows some people will hear that and look at her funny, but it's true.
"I'd always doodled and enjoyed designing cars, giving different looks to vehicles," DeBoer said. "I've always liked the art part of cars."
It's that passion that drives DeBoer in her work at CPTC and has helped her overcome numerous obstacles to reach this point. Growing up she was drawn to cars, but she never had the opportunity to work with them.
"It was more 'You're a female; you're not to be around cars' sort of deal," DeBoer said. "My father wanted me to be a doctor."
DeBoer grew up in the area, but after graduating high school she moved to Tennessee for several years, enrolling in Job Corps and working as a wildland firefighter. She returned home after finding out about her father's recent health issues.
"It gave me the opportunity to realize there was something else out there," she said of her experience in Tennessee.
After tending to her father's needs, DeBoer decided to pursue her dream of working with cars. She drove by Classic Reflections Coachworks down the street from CPTC's Lakewood Campus, and they directed her to CPTC.
She worked through prerequisites and discovered restoration and customization as her calling. Now two quarters away from concluding the course, she has a job at Classic Reflections Coachworks and gets a chance to do what she loves both at school and at work.
"She's one of my star pupils," instructor Kurt Freeman said of DeBoer. "She came in with lots of desire and very little practical knowledge. She took that desire and turned it into a good work ethic and great effort, and that turned into her getting more things done so she learns more, completes tasks faster and gets more opportunities to do bigger and better things."
Of course, the work ethic comes naturally for DeBoer when the topic is her art. And after a long time trying to do what she thought others wanted for her, she has found her home.
"It's what I love. At some point in my life I had to figure out it's about what I want to do and not what others want for me," she said.
None of that would be possible for her without the CPTC Automotive Restoration and Customization program and its instructors. In many ways, they've been more than instructors to her over the past two years, and their impact has changed her life.
"The people I've met here have stepped up and been more than just instructors; they've been role models in how to carry myself, deal with life and take care of myself," DeBoer said. "They also helped me find scholarships and grants, and they help us work through wherever we're struggling."
DeBoer remembers a time when she was working three jobs and getting some brief rest sleeping in her car before class. Now she's three months in to her job at CRC and a few months away from graduating and getting married. Meanwhile, she continues to build those relationships and grow her knowledge in the shop at CPTC.
"I work very closely with that shop as well, so that connection stays," Freeman said of CRC. "The experience is much greater than just her schooling, as she does work here and over there. For our students who apply themselves at that level, those opportunities come up all the time."
It's an experience the instructors believe prepares students for the workforce far more than focusing on theory in a lecture setting. Students spend most of their time doing hands-on work and practical application while working alongside instructors.
"We develop kind of a family relationship within the unit," Freeman said. "Students are more like my apprentices than students, so you'll see me in the shop working side-by-side with them. I don't point and tell; I offer instruction and direction, and if that's not enough then we will get hands-on together until they can pick it up themselves."
As DeBoer prepares to wrap up her time at CPTC, she's working on customizing her Blazer in the shop. That's part of the experience for students as they advance through the program – having an opportunity to do work on their own car to transform it into the art they've always wanted.
But one project remains in the back of DeBoer's mind: a 1963 Split Window Corvette Stingray. That was her mom's dream before she passed away from cancer when DeBoer was young, and the daughter carries that dream forward. She expects it to be a lengthy restoration project, her most personal canvas.
"I don't want to buy a fresh one or a new one," DeBoer said. "Not only is that a lot of money, but you don't get the meaning or sentimental value behind it."
As always, the process and heart is the most important. Spoken like a true artist.
Share This Story