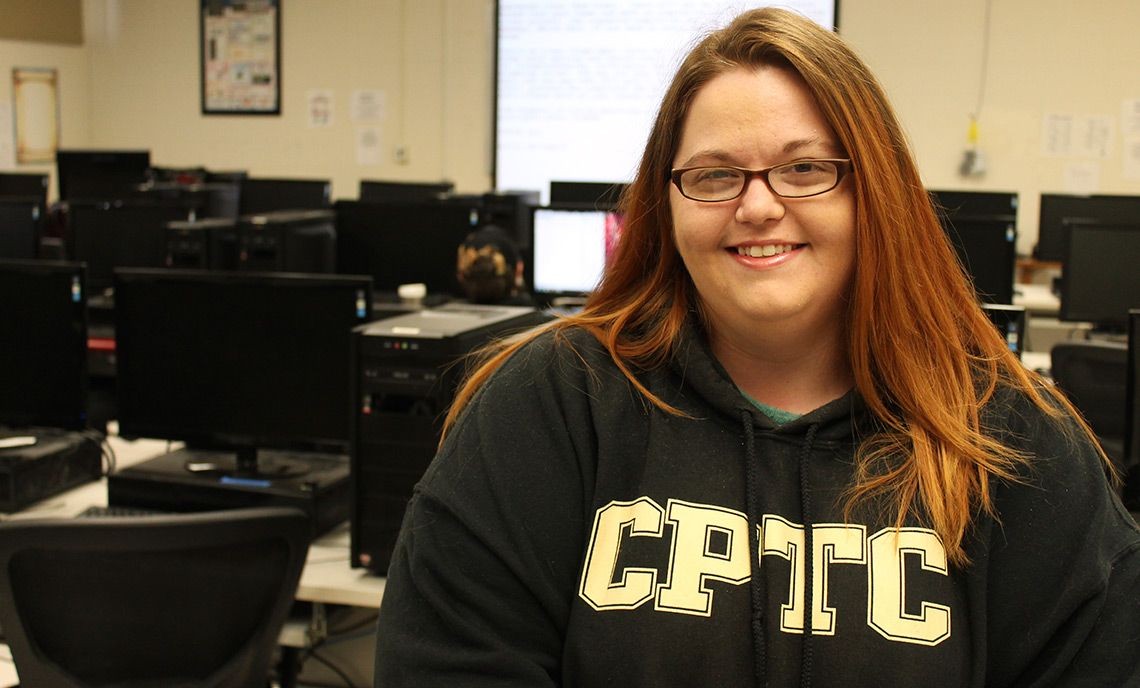 CNISS Student Named All-USA Gold Scholar
March 13, 2015
Callie Dukett shared her secret to achieving a 4.0 GPA at Clover Park Technical College.
"It's a lot of work and a lot of studying," Dukett said. "And you have to love what you do. I absolutely love what I'm studying."
Dukett has one quarter left in the Computer Networking & Information Systems Security Degree Program with two security certificate options. She gives a lot of credit to the CNISS instructors for her success and confidence in the program.
"They all have a good gauge of what you're comfortable in and they push you past that," she said. "They're always pushing you to be better."
Dukett's commitment to excel in her program has paid off. She was recently named to the 2015 All-Washington Academic Team, along with Computer Information Technology graduate Walker Mattson. Dukett is also one of 50 students in the country to receive a Coca-Cola Community College Academic Team Gold Scholar Scholarship, which recognizes high-achieving two-year college students. Dukett will receive a medallion and a $1,500 scholarship.
Her Gold Scholar award helped her decide her next step after CPTC: to pursue her bachelor's degree at Green River College.
Dukett's success at CPTC wouldn't have happened if not for her husband's interest in the college. After Aubrey Clow received permanent change of station orders to Joint Base Lewis-McChord from Fort Bragg, North Carolina in 2008, he visited CPTC to learn more about the college's aerospace programs. Dukett accompanied him and spotted an information card for the CNISS Program.
"I like computers a lot and wanted to learn more about them and what makes them tick," she said. "So I enrolled in the CNISS Program in summer 2013."
Because of her positive experience with the instructors and curriculum, Clow also enrolled in the CNISS Program two quarters after Dukett. Clow is about to deploy with the National Guard, but when he returns Dukett will have a degree that should allow her to find work wherever the couple is stationed.
"The desire and need for computers, and for people who know how to work with them, is never going away," Dukett said. "No matter where you go, there are always computers."
Dukett is involved in the Cyber Techs Club, which provides CNISS students additional hands-on training. She was also one of the founding members of a Linux Users' Group that helps prepare students for the third quarter of the program.
"She is dedicated to her studies, leads by example and provides a role model for other female students in a male-dominated profession," CNISS Instructor Don Souza said.
Dukett's long-term goal is to work as an independent contractor for the security division of the Department of Defense. She believes women bring a unique perspective to the IT workforce.
"Computers are for everybody," Dukett said. "Don't be shy, don't be timid. Dive in. If you make mistakes, you can fix it."
For more information about the Computer Networking & Information Systems Security Degree, visit http://www.cptc.edu/programs/cniss.