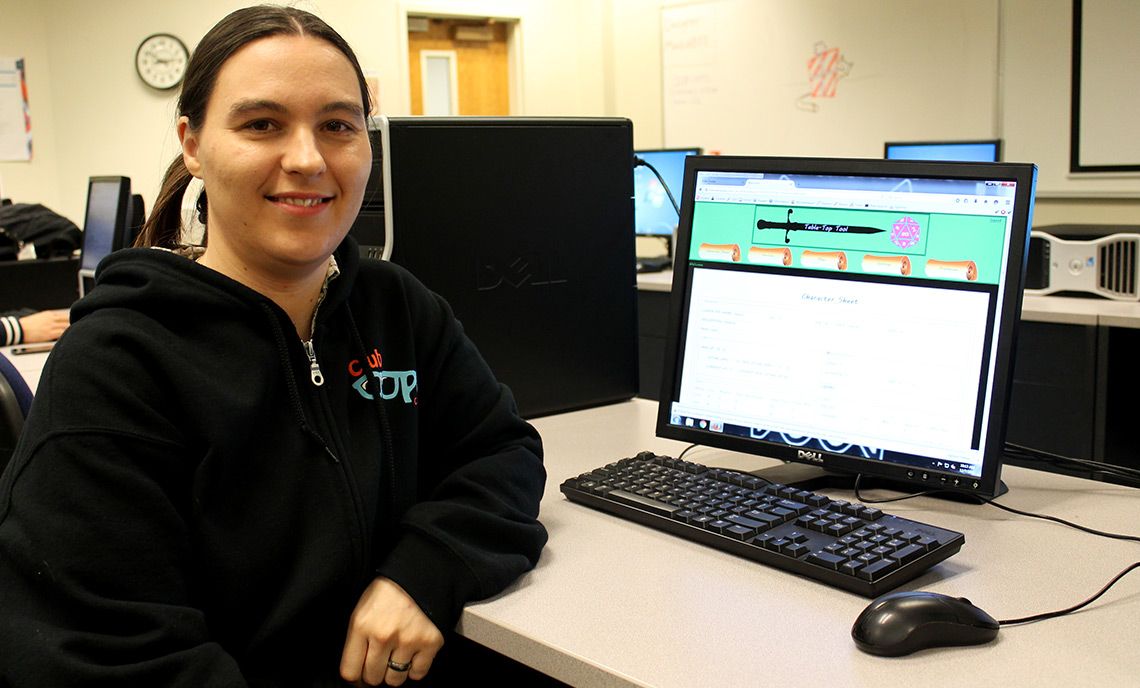 Coding Their Future
December 9, 2015
Julie Edwards has always had an interest in computers.
She first learned the BASIC language at the age of 6, and in middle school she built computers from scratch as a member of the computer club.
When the time was right for Edwards, she enrolled in Clover Park Technical College's Computer Programming and Web Development Program to earn an associate's degree, along with a .NET Developer Certificate.
"Ninety percent of programming is troubleshooting, and I absolutely love it," Edwards said. "You write a paragraph of code then spend the next three hours figuring out what you did wrong."
Edwards and her peers presented their latest projects at the program's end of quarter presentation on Dec. 3. Edwards had the opportunity to share the Dungeons & Dragons character management website she created.
Edwards, her husband and their friends are avid players of the fantasy tabletop role-playing game, but Edwards isn't a fan of manually updating character sheets. Using what she learned in the Computer Programming and Web Development Program, Edwards created a way to automate the process.
"I created an interactive character sheet that you can update and rearrange," she said. "I'm trying to simplify it and scale it down so I can use it on my phone."
Rebecca Richards also presented at last week's event. She teamed up with classmate Sean Federico to create a WordPress website for a client.
The experience of working with a real world client helped Richards gain valuable knowledge not easily taught in the classroom.
"We had the experience of working with the client, learning her vision and then building what she sees," Richards said.
With a background in wireless phone technology, Richards had an idea for an app but no idea how to develop it. She initially enrolled in CPTC's Computer Programming and Web Development Program with no intention to earn a degree. Six months into the program, Richards decided to pursue a degree along with the .NET Developer Certificate.
"This has been a great place to be," she said. "While I was extremely overwhelmed in the beginning, the instructors were very patient and really encouraged me."
Richards has been able to work on her app as part of her classwork and has built the database. The program has provided options for Richards' next career move.
"It really opened up a lot of doors," she said. "I can work for a web dev company, or along the lines of computer programming. Whatever I can do to enable me to work on the app is what I want to do."
For more information about Computer Programming and Web Development, visit http://www.cptc.edu/programs/computer-programming-web-development
Share This Story