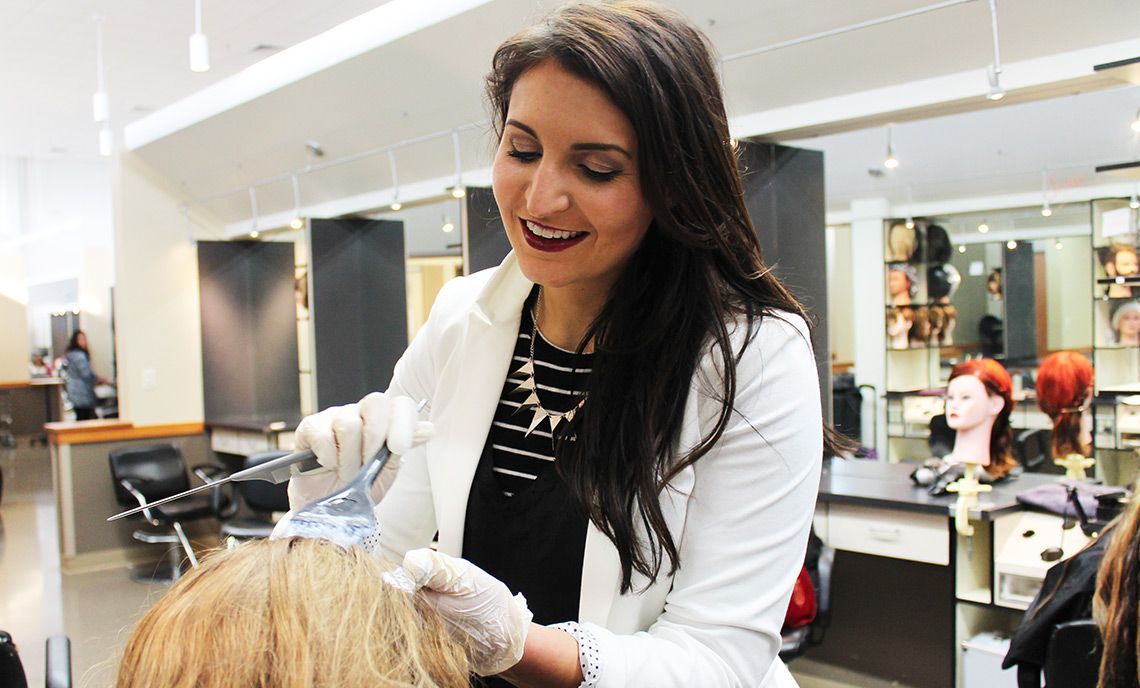 Cosmetology Student Gives Back
December 12, 2014
When Ashley Lewis first toured Clover Park Technical College, the aspiring cosmetologist knew it was the place for her.
"Having both a degree and a cosmetology license, you can't pass that up," she said.
Lewis enrolled in the Cosmetology Program last year and recently ended an 8-year career in business management.
As a member of the Quinault Indian Nation, Lewis receives funding assistance for her education, a fact she doesn't take for granted. As she nears her final quarter of her program, Lewis is giving back to those who have helped her.
"I'm really passionate about working with the tribe," she said.
Following encouragement from Cosmetology Instructor Denise Klug, Lewis reached out to a local tribe to see if her skill set fit in with any needs on the reservation. The Puyallup Tribal Nation invited her out on Dec. 4 for a special holiday event.
Lewis arrived at the Puyallup Tribe Elder Center with her cosmetology kit in hand and received a list of names of tribal elders who signed up for hair care. From 8 a.m. to 6 p.m. Lewis took care of elders from Puyallup and other visiting tribes.
It was an experience unlike any Lewis has had at CPTC's Personal Care Service Center. For some clients she saw that day, it was their first time receiving professional hair care.
"That experience is so valuable to me, to take care of another person," Lewis said. "It was very humbling."
In a typical day Lewis sees 2-3 clients at the CPTC salon and at times feels exhausted afterward. But after 10 hours of caring for tribal elders, she left feeling energized.
"I felt invigorated to do more," she said. "It was so obvious to see the difference it made for them. They felt special."
Lewis hopes her experience has opened doors for continued opportunities. She knows wherever this venture leads it will be a good place for her.
Lewis is thankful for the new friends she made and people she met as a result of her day of volunteering on the reservation. After Lewis finishes the program Winter Quarter 2015, she's not putting a limit on what can happen after CPTC.
Klug is confident good things are in store for Lewis as she prepares to launch.
"There was something about her when we first met her, we just knew she was destined for something," Klug said.
For more information about the Cosmetology Program, visit http://www.cptc.edu/programs/cosmetology.