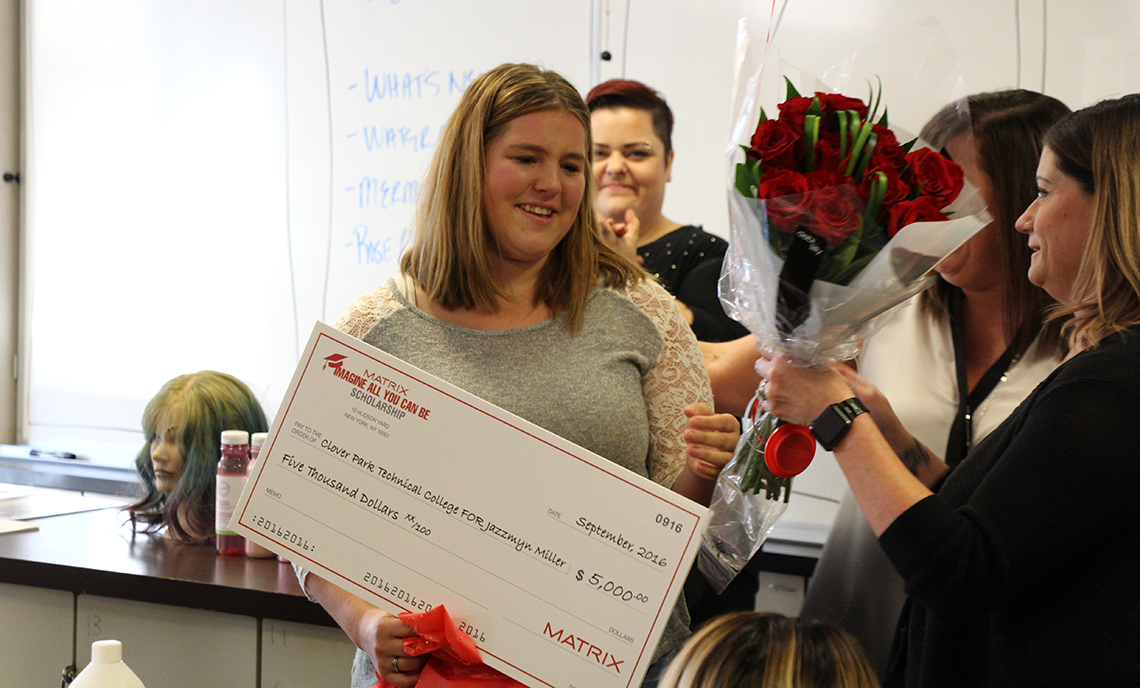 CPTC Cosmetology Student Receives Matrix Scholarship
September 27, 2016
For most Clover Park Technical College students, Sept. 27 was simply the second day of fall quarter classes. For fifth-quarter cosmetology student Jazzmyn Miller, it was quite a bit more special.
Representatives from Matrix and SalonCentric interrupted Miller's afternoon cosmetology class to award her with flowers, balloons and – most importantly – a $5,000 scholarship check as part of the "Imagine All You Can Be" program.
"This means so much," a teary-eyed Miller said after accepting the check. "I work three jobs around my school schedule to pay for college. This is really nice to have a break, take a deep breath and know that I don't have to work quite so hard."
Miller is one of 20 winners nationwide out of 200 applicants. The scholarships total $100,000 in the third year of the program. Miller is the fourth winner from CPTC in those three years, the most honorees of any program in the region.
"It has been amazing," Miller said of her CPTC experience. "There's so much support, and the teachers will help you if you're struggling. They're there for you no matter what and are always there to talk to you and support you."
The scholarship application process required students to upload a video to YouTube detailing what they imagine they can be. For Miller, that imagined future boiled down to the ways she can give back through cosmetology. She has a soft spot in her heart for special needs children, and her dream is to own a salon that specifically caters to them with a relaxing and welcoming atmosphere where they can get their hair cut.
"Cosmetology has brought out the best in me," Miller said in her application video. "It has shown me that I can be a stylist at a well-known corporation, like Great Clips or HairMasters. It's also shown me that I can make a name for myself, be the next Guy Tang or John Frieda. It's also shown me that I can open my own salon where everybody is welcome: those with special needs, disabilities, everybody. That's why I love cosmetology. And I love that it's shown me that that's what I want to do for the rest of my life. I'm so excited to finish school, get my license and soon start my journey to who knows where it will take me."
Share This Story