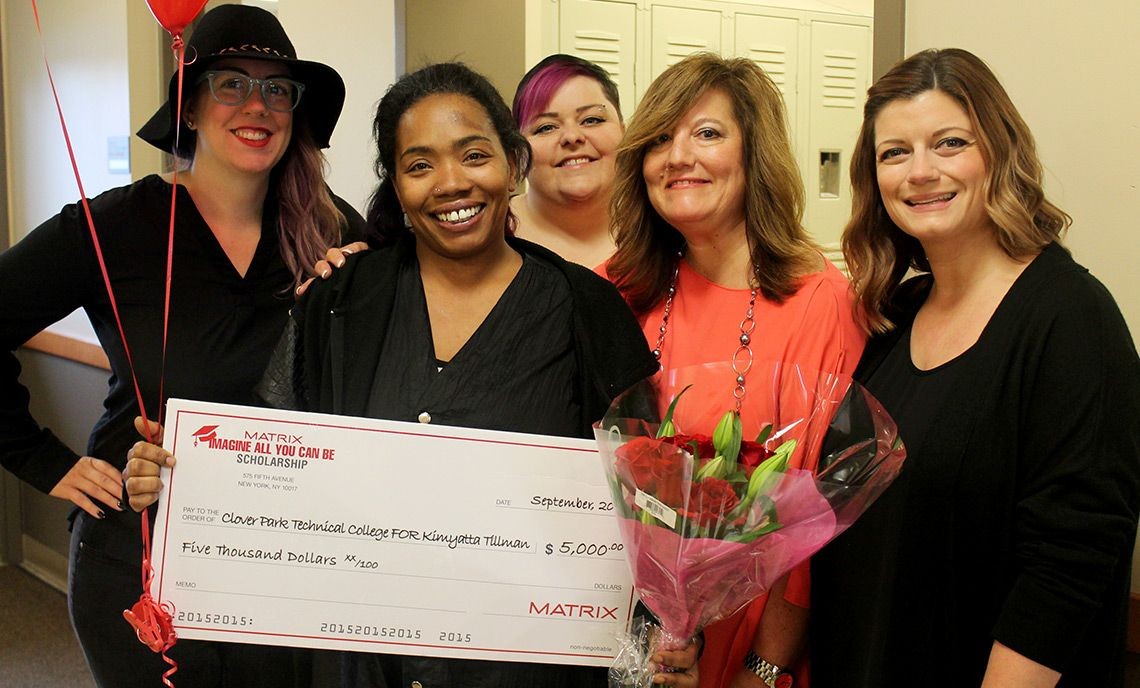 Cosmetology Student Surprised with Scholarship
October 1, 2015
Kimyatta Tillman thought Sept. 30 was just another day of class in the Cosmetology Program at Clover Park Technical College.
The fifth-quarter student was excited to learn program graduate Misty Winesberry was visiting to share her experience in industry, and wouldn't have missed the presentation for anything. It's a good thing she didn't.
During the presentation, Tillman was surprised with a $5,000 Matrix Imagine All You Can Be Scholarship, flowers and balloons from Matrix representatives. Tillman noticed her last name on the scholarship check as the reps walked in, and couldn't contain her excitement.
Tillman was selected based on a short YouTube video she submitted where she explained what she imagined she could be. The mother of seven shared her goal to be an entrepreneur in a field that's her passion: beauty.
"I thrive and experience joy when anyone actually noticeably feels and looks better than when they came in," Tillman said in her video.
When Tillman realized her dream is to become a licensed cosmetologist and owner of her own salon, she enrolled in CPTC's Cosmetology Program at the age of 38. The scholarship puts Tillman one step closer to making her dream a reality.
While Winesberry shared her industry experiences, she was also able to celebrate with Tillman. Last year Winesberry was surprised with a Matrix scholarship.
For more information about the Cosmetology Program, visit http://www.cptc.edu/programs/cosmetology.
Share This Story