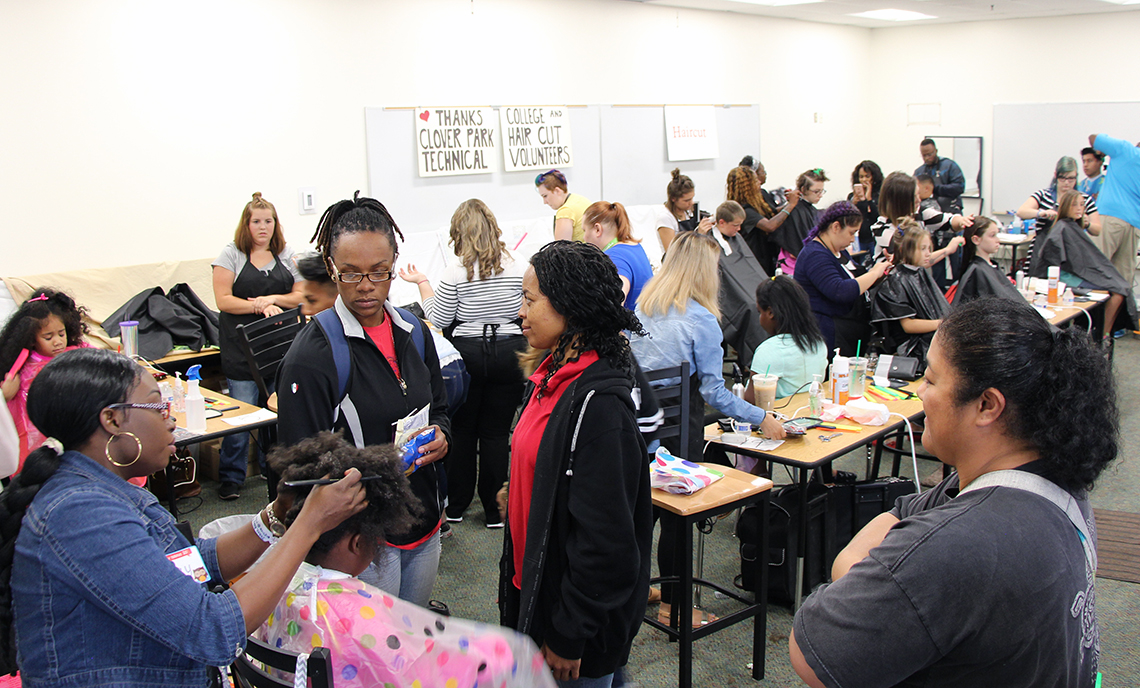 CPTC's Haircuts Help Students Get "Ready to Learn"
August 8, 2016
More than 100 local kids will sport a fresh look heading into the new school year thanks to a group of Clover Park Technical College cosmetology students and alumni who spent several hours cutting hair Saturday morning as part of the annual Caring For Kids "Ready to Learn Fair."
The annual fair provides school supplies, clothing and more to students and families from Steilacoom, University Place and Clover Park School Districts who qualify for free or reduced lunch at school. For the past decade, CPTC students, faculty and alumni have volunteered to give free haircuts at the event.
"It started off small with just the barbering program, and then we included cosmetology and it just grew," said Jill Folk, volunteer and former president of Caring For Kids. "It's great for the CPTC students because to get good practice you have to have the opportunity to actually cut different types of hair. Doing this gives the students a chance to work with kids who have all different styles and types of hair. It gives them good experience and lets the kids start the school year with great haircuts."
Hundreds of kids and families attended the fair, with the line stretching out the doors of Clover Park High School Saturday morning. Inside, kids received various school supplies depending on their age, along with personal hygiene supplies and new socks and clothing. The fair also included hot dogs and toys, and the Pierce West Fire Department handed out bicycle helmets.
"We've had a great turnout at the event," Caring For Kids founder Diane Formoso said. "I started Caring For Kids 42 years ago, and it grew and grew and grew. Our first 'Ready to Learn' event was actually at the Clover Park Technical College Rainier Room many years ago."
The last room in the event maze featured more than 20 stations populated by close to 30 CPTC students, faculty and alumni ready to cut the kids' hair. For the students, the event is an opportunity to gain valuable experience. For the alums, it's a chance to return to their roots and give back to the community.
"This is my third year here, and I just love Lakewood," CPTC alum Jordan "JP" Parker said. "I'm a Lakewood native, born here at Lakewood General. It's not even there anymore – that was Lakewood's hospital. I love Lakewood, and I love giving back. I love the service and getting the chance to talk to the kids and give them some advice. My passion is for people, so anything I can do to help people, I'm all for it."
Parker earned his barber license at CPTC 10 years ago, and he and his wife Kyro have owned Lakewood Barbershop for almost one year. He brought his own barber chair Saturday and bounced around the room to support CPTC students with any challenges. Meanwhile several cosmetology instructors also provided assistance when needed to help the students give the best possible haircuts.
"I love coming to these events. I love seeing the long line of kids coming to get their hair cut," CPTC cosmetology instructor Carine DeLeon said. "It makes you feel good when the kids leave happy. Some of these kids have never had a haircut and been pampered like this. It just makes me proud and makes me feel good to be part of that."
Share This Story