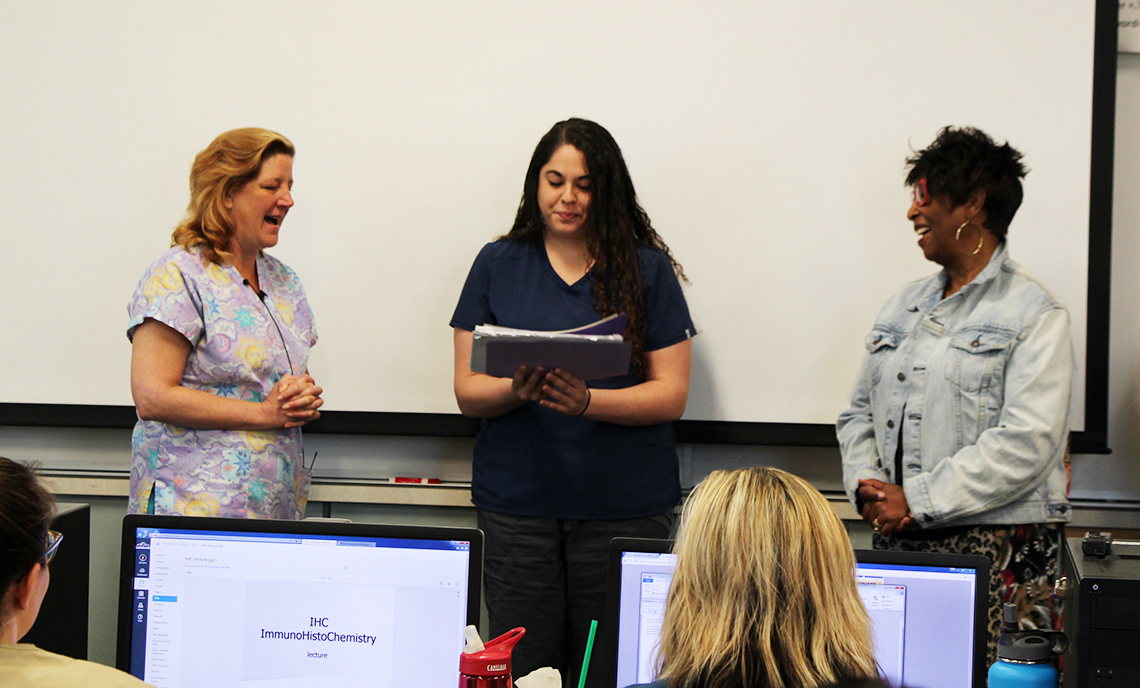 CPTC Histology Student Receives Prestigious ASCP Award
May 23, 2017
Clover Park Technical College Medical Histology student Allison Hughes has been named a recipient of the American Society of Clinical Pathologists National Honor Student Award, and she received her certificate during her morning class on May 17.
Instructor Bekki Haggerty nominated Hughes for the award, which is given to students who have demonstrated academic excellence, community service and leadership, according to the ASCP website. Up to 10 laboratory science students are selected for the honor each year.
"When I found out that Bekki had nominated me for the award, I was more than honored that she had chosen me out of all her students; I was beyond excited to then find out that I had actually won the award a few weeks later!" Hughes said. "This program comes with its own rewards, but to win a national award and bring even more recognition to this program is more than I could have asked for. I hope to continue to excel in histology and make Bekki proud."
ASCP is the entity that issues the certification examination and is the national institute that provides accreditation to become a histologist. Haggerty explained that she nominated Hughes for the prestigious award due to her grades, qualifications and driven personality.
"She is driven and takes her future into her own hands," Haggerty said. "She took it upon herself to volunteer in a lab in Lynwood and helped the supervisor prepare for an inspection team to come. She also took it upon herself to be the 'go to' person and was instrumental in a donation of a solvent recycler to our program. Ultimately, this will save our program thousands of dollars in the future. There are very few histologists who have received this award, and I am extremely proud to say that one of my students is among them."
Share This Story