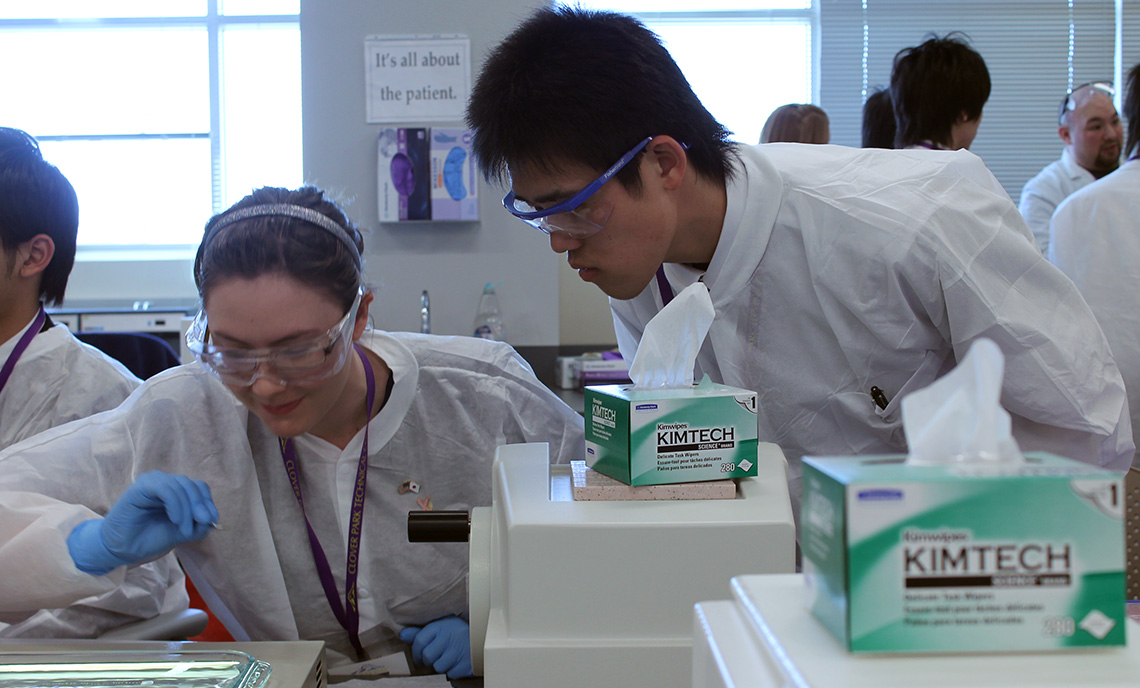 CPTC Hosts Study Tour for Japanese Students
May 29, 2014
Medical laboratory students from Japan worked with Clover Park Technical College Medical Histology Technician students on hands-on lab activities, toured campus, and visited Seattle as part of a three-day study tour May 20-22.
The medical laboratory study exchange program is a recurring partnership between Osaka Jikei College and CPTC. The trip is required for the Japanese students as part of a three-year program and is one of the reasons students want to attend OJC.
On the first day of the program, OJC students worked with CPTC students on microtony and CBC (complete blood count) analysis. The exchange students watched a histology workflow presentation and then transitioned to a hands-on lab. In the microtony lab students cut tissue samples and mounted them on slides.
"When we're shaving them they come out like ribbons," OJC student Kaho Oya said about learning to prepare a slide.
CPTC students were paired with Japanese students to help them learn and walk them through the microtony processes.
"They were really good teachers," OJC student Aozora Kanemaru said as he was guided him through techniques they hadn't yet learned in their program.
Several exchange students' favorite part of the lab was working with human organs, cuting slices of a human brain. So far students have only practiced techniques on rats at OJC.
Working with the exchange students was also valuable to CPTC students' learning experience, CPTC student Michelle Graham said. Teaching showed Graham what areas of histology she had a strong knowledge of and what areas she needed to further study to have a successful career.
The exchange students visited Harborview Burn Center and CellNetix in Seattle to see the medical laboratory techniques they are studying in action.
"I like how highly the profession is regarded in the United States," said OJC student Erika Nakano.
The exchange program concluded with a cultural exchange in the McGavick Student Center and a presentation of CPTC completion certificates. CPTC and OJC students participated in activities along with histology faculty including a chopstick game and a Japanese cooking tutorial.​