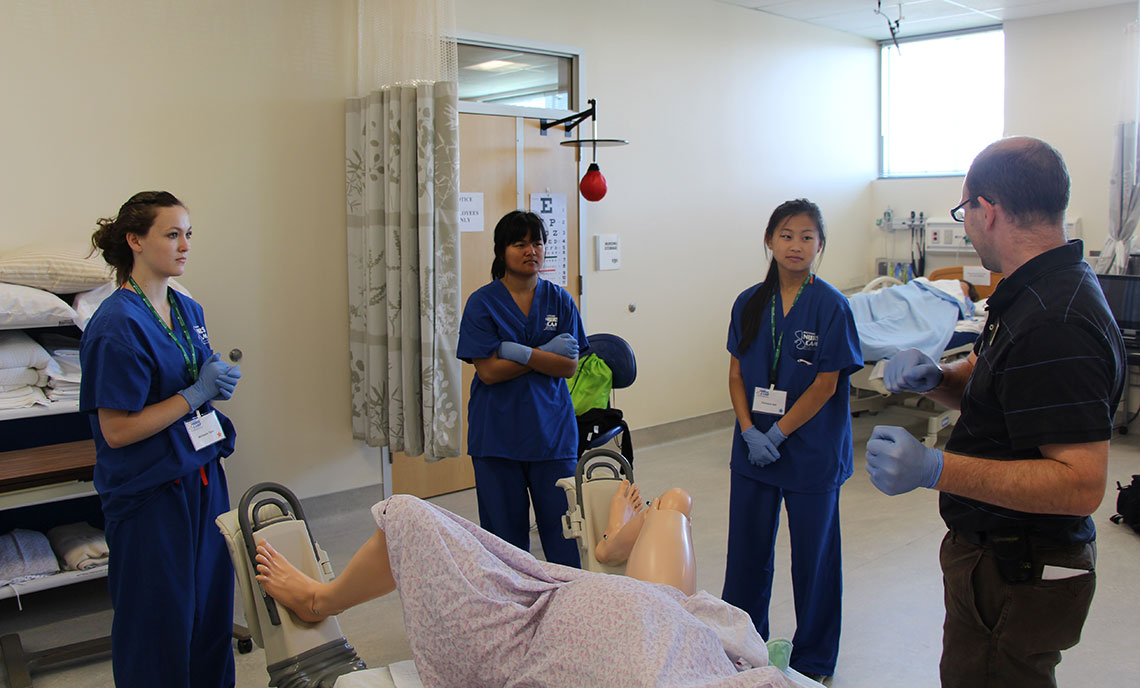 CPTC Offers Nurse Camp Students Hands-On Experience
July 14, 2016
Clover Park Technical College's health sciences and human services programs enjoyed a special group of visitors Thursday afternoon, as 18 local high school students joined CPTC's instructors and students for some hands-on experience as part of the 2016 Nurse Camp.
"We have students from high schools all over Pierce County coming here for sessions and experience with a simulated delivery, applying and removing casts and dialysis," CPTC outreach coordinator Janet Holm said.
The weeklong camp is hosted annually by MultiCare, with students taking their classroom and job shadow learning from the first half of the week into a laboratory environment at colleges in the area. Following an introductory lunch the group split into three sessions, with the high school students working side-by-side with CPTC instructors and students.
"We've done the nurse camp several times, and it's great," CPTC hemodialysis instructor Ken Markovits said. "I enjoy doing it, and the students enjoy doing it. It brings in a generation that's learning and being exposed to potential learning opportunities for nursing. We have them do a mock dialysis treatment, with each nursing student assigned to a unit where they set up the machine, draw up the medicine and carry out a treatment."
For the high school students, the camp can reveal valuable insights about the varying opportunities within healthcare. The Thursday sessions in particular give a chance to actually get their hands into the field and step beyond the more traditional book learning and shadowing experiences they typically receive.
"This week has been such a fantastic experience, and I've learned so much," Curtis High School student Alex Stuart said. Stuart decided he wanted to work in healthcare due to his experiences with wrestling injuries.
"I ended up in the hospital a few times due to wrestling injuries, and the nurses always took great care of me," Stuart said. "It really made me want to do the same and help other patients. I saw myself in them and realized I wanted to help others."
The trip to CPTC gave Stuart a more tactile experience, as he worked on a simulated dialysis. "This is my first time on campus here, and there are so many more resources than I thought there would be. It's really interesting to learn the processes and actually work with the machines."
Fellow Curtis student Matthew Wald also joined the program to learn more about the different opportunities within healthcare. He shared his experiences as he worked with a classmate applying casts to each other's arms. Following application, they had the chance to work with a saw and scissors to remove the casts. Medical assistant program instructor Michele Jones oversaw that session.
"I've learned a lot this week about nursing and medicine in general and all the different career path opportunities, and the different ways to become a nurse where you can get the experience at a technical school rather than just going for the four-year degree," Wald said.
While groups of students worked with casts and dialysis, the third session involved the labor and delivery process. Nursing program instructor David Bahrt explained the process to the high school students and gave them the chance to catch the simulated baby at the conclusion of the process.
Overall, the annual camp gave high school students a chance to see the resources CPTC can offer for a hands-on learning experience while pursuing a career in healthcare. It also gave CPTC faculty and students a chance to inspire and encourage high school students and receive encouragement themselves.
"Being a male instructor in a non-traditional role, it's nice to see some of the male camp students come through and get a chance to work with some of our male students," Markovits said. "I think it helps them confirm that healthcare is for anyone, regardless of old stereotypes."
Share This Story