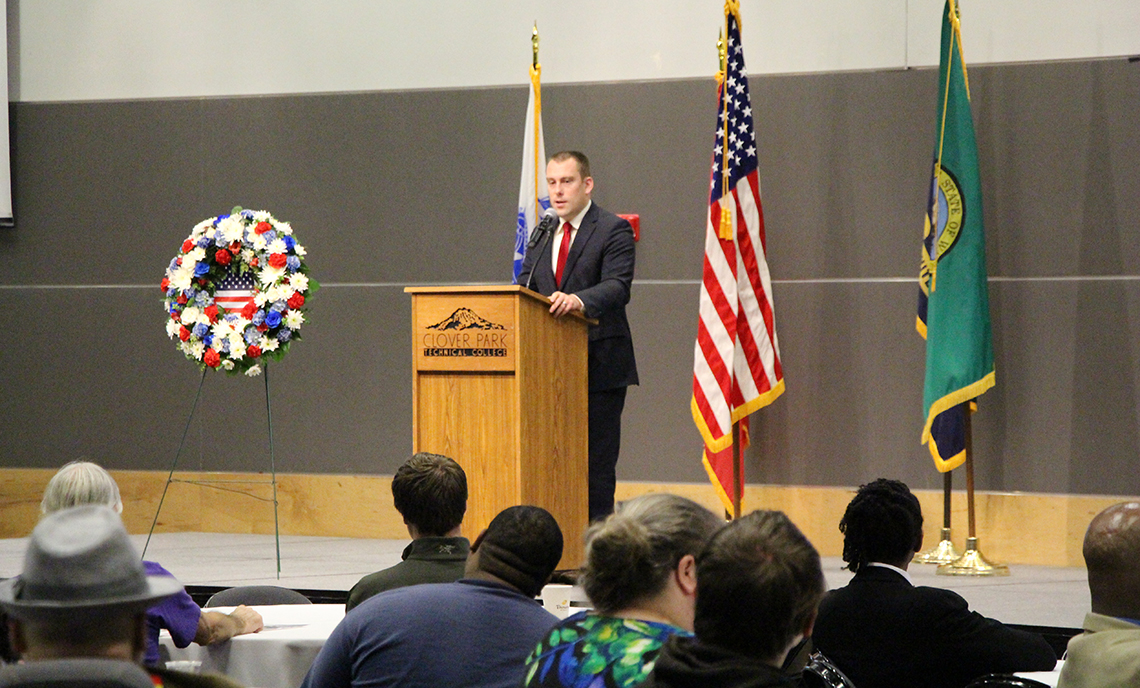 CPTC Offers Thanks at Veterans Day Ceremony
November 8, 2016
On a day that will go a long way toward determining America's future, Clover Park Technical College recognized those who have served in the Armed Forces at its annual Veterans Day Ceremony Tuesday at the Lakewood Campus.
The ceremony began in the McGavick Student Center Ballroom and concluded with a processional to the Veterans Memorial on campus, where CPTC alum and staff member Sgt. Randolph Blake Holt laid a wreath in honor of all who have served. The Joint Base Lewis-McChord Honor Guard presented the Colors accompanied by bugler Vicki Cox, and Erina McGann sang the National Anthem.
Hans Zeiger served as the keynote speaker of the event. A Washington Air National Guard member and Washington State Representative for the 25th Legislative District, Zeiger shared the story of his great uncle who fought in World War II. Zeiger read a letter his uncle wrote back to his family while living in Italy after escaping capture during the war, and he shared three things he hoped the letter reinforced.
"Three lessons that I think all Americans ought to learn, lessons that veterans of all wars can teach us. The first thing is gratitude. We are so blessed. We like to complain a lot, argue a lot here, but we're so blessed. And we ought to count our blessings," Zeiger said. "The second thing is generosity. I think when we know that we're blessed, we tend to be more generous. The third thing is a historical perspective. My uncle wrote that line, 'I hope there are others who can benefit from our experiences, buy our word for it and not have to experience them.'"
Zeiger emphasized the importance of studying history, learning from the sacrifices and efforts of the past. Centering on the celebration of Veterans Day leading into the national observance on Friday, Nov. 11, Zeiger encouraged all in attendance to honor and cherish veterans.
"We should honor them and learn from them and find ways to give back to them, to serve them," Zeiger said. "All of us should be looking for those additional ways to honor our veterans, to let them know our appreciation, and to show them that we care for them. If you're not a veteran, if you know a veteran let them know sometime during this week of Veterans Day that you appreciate what they've done for us. It may be as simple as saying 'Thank You,' because our veterans don't hear that enough."
The ceremony also featured a roll call processional recognizing the veterans from each of the Armed Forces present at the event. CPTC Interim President Dr. Joyce Loveday presented pins to thank the veterans in attendance, and she also shared that veterans comprise nine percent of CPTC students and 10 percent of CPTC staff and faculty members.
Sergeant Holt and CPTC student Army Specialist Tina Esterly conducted the Prisoner of War/Missing in Action Table Ceremony, while CPTC student Army Master Sergeant Marcel Guaring spoke as the guest of honor at the event and told about his experiences in the military.
As Dr. Loveday shared in her message, the Veterans Day Ceremony is an important annual tradition at CPTC stretching back 40 years. As the 2016 ceremony shared its date with Election Day, the ceremony and its speakers served to remind all in attendance of the need for gratitude and honor for our country and those who have served to make the election possible.
"And so to those of you here who rose in your own ways in the wars of our country and the defense of freedom, please know you have this community and this state's unending gratitude. Thank you," Zeiger said.